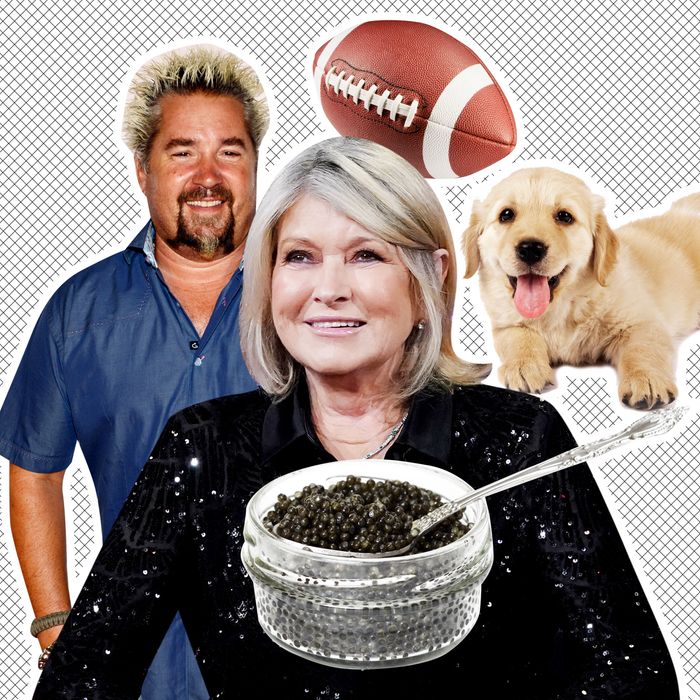 Photo-Illustration: by The Cut; Photos: Getty Images
The 2022 Super Bowl was all about Mary J. Blige's boots, 50 Cent hanging upside down, and, I guess, football? But believe me when I tell you, no one had a better Super Bowl than Martha Stewart. She ate caviar. She ran into Guy Fieri and Drake. She hung out with puppies. Could you ask for a better weekend?
Thankfully, Martha began chronicling her excursions the second she touched down in L.A. She started with a post capturing her refined assortment of private-plane cuisine, which appears to have included charcuterie, bagels with lox, and a ton of caviar. Off to a good start. Then, on Super Bowl Eve, she went out for sushi, as one does in Los Angeles, decked out in what she calls "L.A. Casual" (sparkly sweater and wedges). There, she ran into bag collector slash sexy-candle purveyor Drake. Drake, Martha, and Drake's necklace took a few photos together before she was whisked off to a second fancy dinner, the NFL Owners gala, where she watched Dakota Johnson's boyfriend sing his little songs.
Of course, the whole reason Martha was at the Super Bowl at all was to co-host the Puppy Bowl with her dear friend Snoop Dogg, which, for the uninitiated, involves staging a sports event for puppies a few hours before the game starts. On Sunday afternoon, she and Snoop got together to do just that, wearing "COACH" jerseys and sipping Champagne.
Next up was the so-called "real" Super Bowl, where Martha ended up sitting next to Tracy Morgan (wearing another truly remarkable necklace) and got to watch Snoop perform time travel via tracksuit during the halftime show. To top it all off, Guy Fieri walked under her box at some point and posed for a photo while pointing a finger gun at Martha. Why didn't anyone tell me sports were this exciting?