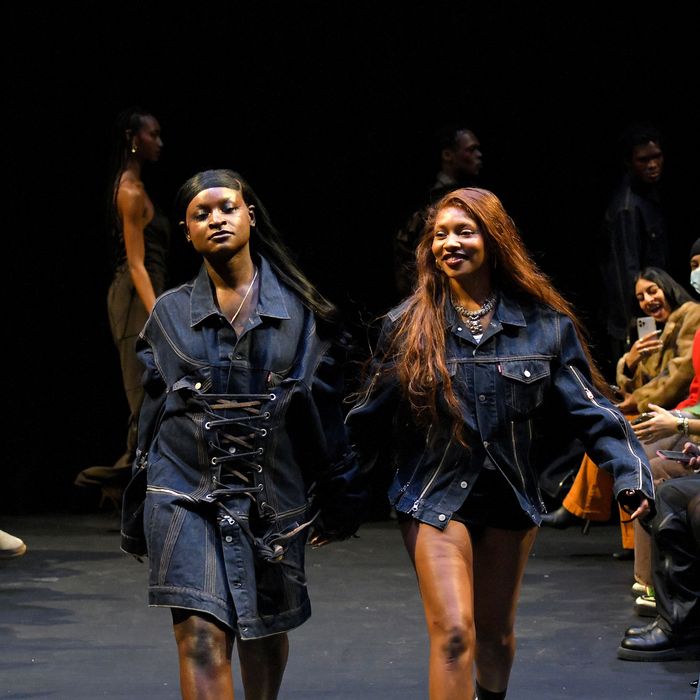 Last Wednesday, No Sesso, the Los Angeles–based fashion brand, returned to New York Fashion Week to debut its fall-winter 2022 collection. While it has been more than two years since co-designers Pia Davis and Autumn Randolph showed a collection in New York, the duo brought out rhinestone-covered press-on nails, sculptural hairstyles, '70s-inspired dolphin hoop earrings, and a few garments that revealed mild butt cleavage as a celebration of Black womanhood and femininity.
The brand also introduced its new collaborations with Levi's and the Japanese outerwear brand Tatras. Both collections are expected to be released this spring.
Below, we spoke with Davis and Randolph about the L.A.-versus-NYC fashion scene, what look from their new collection they would wear if they were stranded on a desert island, and their favorite denim brands growing up.
How would you describe No Sesso's design aesthetic to someone who doesn't know the brand?
Autumn Randolph: I would say that it's a power dressing brand; it's very expressive.
Pia Davis: You have to be someone that takes risks and that's not afraid to wear high-fashion pieces.
No Sesso started as a collective. Tell me what that means and how you divide your roles.
Davis: When I started it, I was living in Seattle and in school at the time. At first, it was more of an art practice. I would design clothing and hang them in different art galleries. The garments would never really be worn on people. In 2013, I moved to Los Angeles, and it became more of a brand in 2015. In 2019, we had our debut at NYFW, and that's when the brand became more known. As far as roles go, we both design the collection together, and we both do the styling. Autumn has a styling background because she's styled for music videos and magazine editorials. We just do everything together. We vibe off each other, and we're always on the same wavelength, so when we are creating, it's in sync and a beautiful time.
In 2019, the brand debuted at NYFW. I was definitely at the show and remember the energy. There were bucket hats, cropped tops on male models with six-packs, miniskirts, and booty shorts. After a few seasons in New York, the brand went back to L.A. to show, and now it's back in New York. How does it feel to be back and showing at New York Fashion Week?
Davis: It feels amazing to be back in New York. With the pandemic and shows being canceled, it was nice to take a break, recharge, and go back to the original way of style designing, which wasn't really on a fashion calendar. We controlled when we wanted to put out things. We took a lot of time on our couture collection that came out at the end of last year in Miami. It was really nice to have that time to just create with intention. I love showing in both cities. They are both very different. When we show in New York, it's very traditional New York Fashion Week with editors, stylists, and everyone that's in the fashion world. When we show in L.A., it's more of an art crowd. We are always showing in art spaces and museums like the Geffen Contemporary at MOCA and the Getty.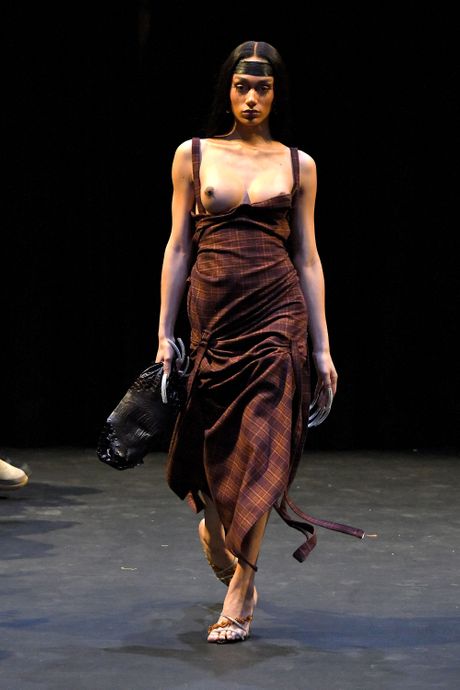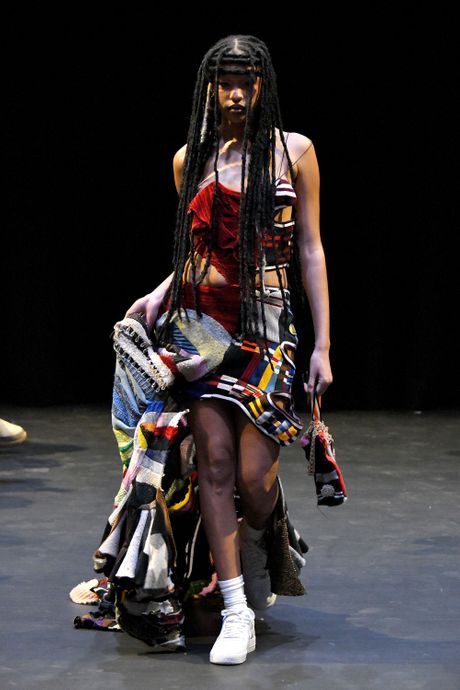 If you were stranded on a desert island and could only pick one look from the collection to wear the whole time, what would that look be?
Randolph: The one-titty dress. It's like a sexy silk dress.
Davis: There is this patchwork dress that I was working on throughout 2020 to 2021. It's a really beautiful gown that is sexy for the daytime and has a long train made out of knit textiles that can potentially work as a blanket and a towel.
There's a great deal of denim in the fall 2022 collection. I know the brand collaborated with Levi's. What were your favorite pair of jeans growing up?
Randolph: My fave jeans were Levi's mid-to-high-waist jeans that accentuated your butt really nicely and waist. I also like a little flare but also liked a straight boot cut. I was actually a big jean lover but stopped wearing them so much because I couldn't bust out in a dance move and couldn't flex as much when I wore them, and stretch denim doesn't give the same look. P's fave denim to wear was Fubu and Sean John.
Bonus question: Why is showing skin important to the brand?
Randolph: We love skin. We appreciate being covered up as well. But it's just something about moisturized skin and accentuating it and seeing it in this light that is not sexual but appreciated for what it is before being a spectacle. It isn't to be just sexy or absurd but to be relaxed, fun, creative, and confident in exposing certain body parts without shame.