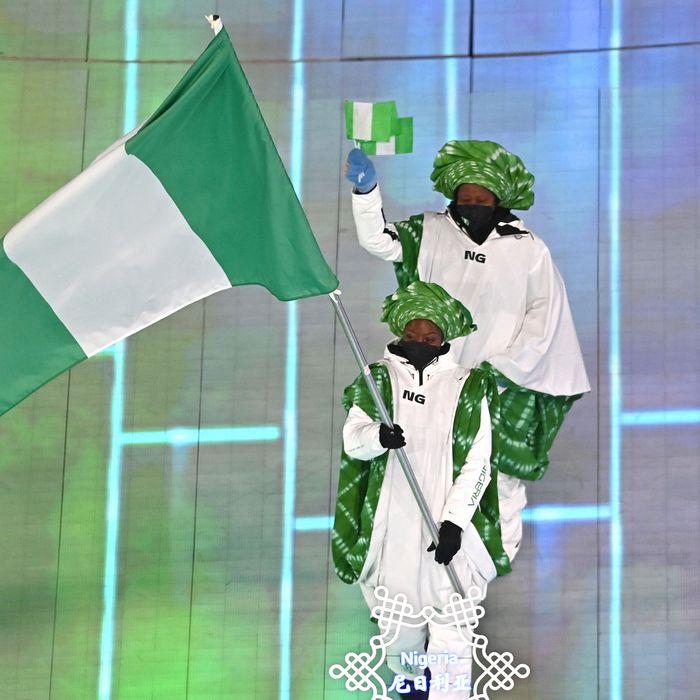 Photo: Ramsey Cardy/Sportsfile via Getty Images
Today, the Winter Olympics opening ceremony kicked off in Beijing. For the Parade of Nations, each nation represented their countries by wearing the color of their flag or a traditional garment. And as someone who loves dressing for the colder months, some of these nations had the best 'fits I've seen all winter. Here, a roundup of 13 standout looks from the 2022 Winter Olympics opening ceremony.
American Samoa
Sledder Nathan Crumpton wearing his lavalava, a Polynesian staple, to represent American Samoa in Beijing.
China
Team China went the trendy route, wearing furry bucket hats and red trench coats.
Canada
Lululemon partnered with Team Canada for a look drenched in the red of the Canadian flag's maple leaf. It's definitely a 'fit I could see Drake wearing.
Finland
Team Finland's uniform was by far one of my favorites — who doesn't love the color gray, visor beanies, and pleated skirts?
Great Britain
Team Great Britain's look was the most business casual of them all. The uniforms were designed by designer Ben Sherman. They wore the Union Jack loud and proud as sweaters.
Haiti
Team Haiti's look was a bit busy, but they wore snow suits that resembled Nascar uniforms.
Italy
Italy wearing capes made in the color of their national flag made me want a cape coat for the spring. It's like a poncho worn with pride.
Mexico
Team Mexico represented their home country by wearing calavera-themed jackets. The sugar skulls are commonly seen during Day of the Dead festivities.
Mongolia
Team Mongolia wore traditional Mongolian tunics called deels to represent their country during the Parade of Nations.
Nigeria
Team Nigeria represented their country by mixing tradition with practicality. They wore the green and white colors of their flag from head to toe. The uniforms were designed by sports apparel brand, Actively Black, which was founded by former NBA player Lanny Smith in 2020.
South Korea
Team South Korea wore North Face, and the look was giving pro-snowboarder, which I am personally a fan of.
USA
Team USA's look was subtle yet classic — very weekend skiing in Vail or Aspen. They wore uniforms designed by American designer Ralph Lauren.