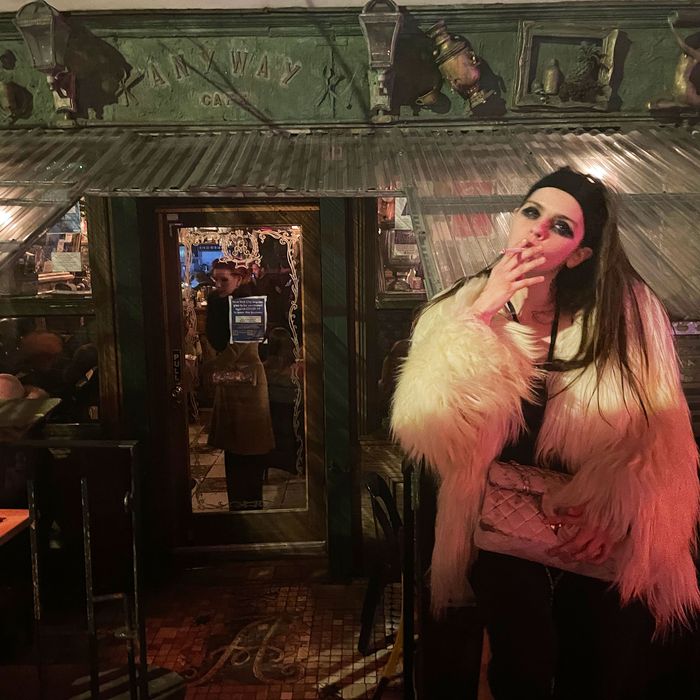 Meet Meg Superstar Princess.
Photo: Brock Colyar
Well, we made it through the holidays, January, and (so far!) the latest variant. I admit I haven't exactly spent my time off from writing this weekly missive being a sober homebody, but still, something felt off nearly everywhere I spent these freezing evenings into early mornings. Once again, scrolling my phone, it always felt like someone somewhere else was having more fun than me. Meg Superstar Princess, for example.
Meg (last name Yates) is from Manhattan (Beach, California), and when asked about her age (24), she teases, "If anyone asks, it's younger." And with her black, smudged raccoon eyes and tiny frame, she often looks it. She says she came up with the sobriquet Meg Superstar Princess when she was a teenager — drunk on wine, high on Percocet, and watching Party Monster. She confesses to having been a "very medicalized kid," but also admits that that's probably just "white rich kid problems … Which is, you know, Edie Sedgwick." Or maybe just Euphoria.
Meg moved here six years ago to study at Parsons, but dropped out to be a Lower East Side "ugly hot fashion girlie" photographer and stylist. Online, she's known for TikToking, Instagramming, and (the '90s are back alert!) blogging, on a Blogspot called Le Hipster Portal, about her "effing amaze lifestyle." Reading the latter is a particularly messy ride, with dozens of unfiltered, blurry photographs of her nights out and whirlwind diaries atoning for her bad behavior, like accidentally lighting herself on fire à la Eve Babitz. Here, an excerpt of a list she wrote of what she did after a breakup:
• sobbing in public
• getting regularly blackout drunk
• 4-hour-long Instagram Stories  
• throwing items out windows
• extreme revenge weight loss 
• picking fights at nightclubs
All very relatable (though maybe not for her teen-girl fan base; think Tavi on a bender). Now, she's been labeled as one of the kids bringing back "indie sleaze," with Paper magazine pairing her up with mid-aughts celebrity photographer Mark Hunter, a.k.a the Cobra Snake. You might also know her from the cover of the Drunken Canal's September issue (featured in real Vogue); photographing and styling shoots for Interview; or her new podcast with Office magazine, who called her the "debutante of the Lower East Side." On Saturday night, I met up with Meg and her friends for an "East Village runaround."
"I'm a party girl but not a drug addict anymore," she insists, noting that all of her eating-disorder and drug jokes are being "edgy on purpose" and sending a "big fuck you" to society. "I'm insufferable, but it's feminist because it's being real," she explains. "The world tells women to be skinny so …"
8:30 p.m. | Meg asks me to meet her and her friends at Anyway Café, which (more '90s nostalgia) has been on East 2nd Street a year longer than she has been alive. She swears that it's the "best strongest cheapest Russian vodka spot" in the city. When I arrive first, the cramped bar is packed with graying men and women attentively listening to the live Slavic guitar ditties. Several elders throw me a look that says, What are you doing here? Fortunately, Meg arrives a few minutes later, looking like a Bratz Doll come to life in a white fur coat, accompanied by a gaggle of curly-haired, boyish androgynes and a few stylish girlfriends ("You all look very … vintage," the waitress Oksana notes). We're asked to wait at the table outside. "Can we chug martinis then say fuck it?" Meg says, not eager to sit in the 30-degree weather. We plop down under the heaters anyway, light up a round of cigarettes, and order two carafes of vodka. Na Zdorovie!
8:37 p.m. | While we sip lychee- and ginger-flavored booze from skinny shot glasses, the crew talks about scenester topics, like how one of the girls, somehow not shivering in a miniskirt, got alcohol poisoning at Lucien once (which got a famous actor's son kicked out of their summer program at Parsons), or the time when Azealia Banks went to the Bushwick dive Carmelo's ("a huge moment for annoying gay people in Brooklyn," says one of the gays on hand), or how they saw Kristen Stewart at "Clando" last week but … left her alone. Okay! We talk about the (inevitable) upcoming Dimes Square reality show (*eye roll*), whether we should go see Juliana Huxtable with S&M-ish boys at Basement tonight ("Bondage gays always push me," Meg says), and how no one here has been at home enough to resort to Wordle-ing. "I'm putting myself firmly in the camp of people who do fuck. I don't know what Wordle is," says one of the boys, whom I recognize as a Beacon's Closet buyer. ("Stop bringing Zara," he half-jokes, when I ask why they never take my old clothes.)
8:57 p.m. | Still waiting in the cold considering what to do next, Meg cautions that the group is blacklisted from some of the neighborhood bars. They're not allowed at St. Dymphna's, across the street from Tompkins Square Park, for example, because they got kicked out three times in one week (for offenses including throwing drinks, throwing punches, stealing booze, breaking glasses, smoking cigs, and vomiting). For some reason, Meg tells the group, "I really thought I was pregnant this week." A man walking past asks for money, and Meg pulls out a wad of cash from her Chanel bag, which has been graffitied by an ex-boyfriend, to hand him a dollar.
9:13 p.m. | Finally, enough room for me, Meg, and three of her girlfriends opens up inside, so we ditch the boys and half-heartedly promise to meet up with them later. While a Kate Bush look-alike bangs on a tambourine and croons at the front of the room, the girls order another carafe of vodka, a round of borscht martinis (the vodka is infused with beets and dill), salmon tartare, bread (thank God), and pâté, which Meg tells me they once used as a surface off of which to snort their cocaine. "I've had plenty of eating disorders. I have a tough stomach," she says when I shoo away the gelatinous meat. At some point, Meg apparently conducts a drug deal at the table, but somehow I don't notice it. Sneaky!
10:21 p.m. | "CULT GUY TEXTED ME CULT GUY TEXTED ME CULT GUY TEXTED ME," Meg screams over the music, her tiny body excitedly unraveling out of its default fetal position. She's newly single and has a crush on a boy — "Machine Gun Kelly meets Bob Dylan" — who is in town visiting his "cult" and is coming to meet up with us tonight. A striking girl with a new nose whom I'll call Emily, who is with us, is also trying to get a boy to meet us tonight. He's a musician, so she sends him a text lying that they're with a music writer from Rolling Stone. "It's all happening!" we all shriek in unison, an Almost Famous reference. They love being groupies.
10:45 p.m. | There's pâté in Meg's hair. Do I say anything?
11:11 p.m. | After another round of martinis, Meg pays for the hefty bill from that wad of cash, and we head out for a smoke, where we meet a Turkish man — a Persian rug dealer, not a drug dealer — who's here tonight because he has a "secret crush" on Oksana. "A lot of girls bring their Johns here," Meg's friend tells me, before adding, "It's also very lesbian."
11:38 p.m. | After a quick stop at the corner deli for gum to deal with Meg's borscht breath, we hop into a car driven by one of her friends. We're headed to a "bad party with hot guys" at the original Nublu, "Nublu Classic," on Avenue C.
Midnight | At the door to the party, the bouncer asks that we wait outside, again, and the boys from before, after ditching them, don't seem likely to come to our rescue. Meg begs us to be patient — "Can we all suck ass for five minutes, then we can be bitchy?" — until she finds out there's a cover. "I'm not going if it's a cover. That's embarrassing in New York!" she says, while we all walk back to the car, everyone's clenched jaws smacking loudly on the gum.
12:32 a.m. | The friend with the car decides to head to Basement, so the rest of us, too drunk and not drugged up enough to rave, head to St. Dymphna's, where despite claims to their being pariahs, we are let in easily. Teeny-tiny Meg tears through the crowd, currently jumping around to ABBA, by force, heading straight to the bar. "This guy hates me. He gets off on rejecting women, I swear to God," Meg says, pointing to the bartender who is, nonetheless, pouring us another round of vodka shots.
12:45 a.m. | Meg and I squeeze into a tiny, very damp restroom to "chat." Except we do actually chat, about what it means to be "Meg Superstar Princess," which, for her, has something to do with being a woman, or what she calls "the femme experience." I ask if anyone ever compares her to another hot mess, Cat Marnell. "I genuinely didn't know who she was. I didn't know I was such a copycat until I was dating a graffiti writer. Then I was like, Fuck, we have the same PCP plug. I look like a retard." Still, she is okay with being a "groupie loser fan" who hangs around "angel-dust graffiti-writer dudes" who love the Velvet Underground, and also girls like her. She knows it's just a myth she's bought into and she's playing her part. "There's no new thing. It'll be us. It's a DJ. We are the remix," she says. Oddly, I find the spiel to be refreshingly self-aware. To boot, she quotes "Doll Parts," by Hole: "I fake it so real, I am beyond fake."
12:54 a.m. | Briefly, we dance, because Robyn's on, and then get the hell out of the bar, where there's at least two broken beer bottles on the dance floor and where we've collectively lost one coat, one scarf, and a credit card. "Alexa Chung's ex-boyfriend is in there and I want to fuck him," Emily says once we're outside, and Meg starts up a conversation with a supposedly "famous rich married guy" who's headed to the Blond. When he finds out I'm a reporter, the invitation to join is rescinded.
1:27 a.m. | Instead, we go next door to Lucy's, an even shittier bar that Meg says she hasn't been to since she overdosed on ketamine there. It's full of bros in Canada Goose jackets and the women trying to get cozy with them, including one, in a cleavage-baring tank, who asks to borrow some quarters ("I'm flirting with a dude who wants to play pool, but I have no quarters"). Meg declares, "The best thing about women is how beautiful and annoying we are," before letting a man who thinks she's Julia Fox take her photo.
2:21 a.m. | Meg and Emily text a number of friends to see where the parties are at, but no one responds. "Nobody likes us, bitch!" Meg complains, walking down Avenue A, while Emily drunkenly presses every apartment buzzer on a nearby building. We decide to try Nublu again.
2:37 a.m. | This time, we get inside without paying the cover. A crowd of very pretty, bleary-eyed young people are dancing to Chic's "Everybody Dance" and smoking cigs inside. Gray Sorrenti is here, looking chic in sweats. Meg slides onto the dance floor, and I chat with an internet crush from L.A. who claims we've met even though I know that to not be true, unless Tinder or Grindr count (he never responded to my messages). The DJ plays the Cure, the Stones, and Diana Ross, and I make a poor attempt at dancing with the boy, but something about our moves doesn't mesh (is this the femme experience?). A short butch girl dances around all of us, asking almost everyone, "Can I get your Instagram? Can I get your Instagram, girl?"
3:42 a.m. | We dance, huff poppers, dance, huff poppers, and somewhere along that routine, Emily and I offer the poppers to a guy in a Knicks hat who gets very angry and then apologizes for getting angry. "He's newly sober, including poppers, and wants to hit on girls, but he's actually crazy. He's ugly and broke," Emily explains. As the party starts to wind down, everyone starts to couple up, and Meg realizes her cult guy never met up with us. Emily and I drool over a himbo in a white sleeveless shirt. "We're gorgeous beautiful women, it's all about our personalities. We're just annoying, nothing else," Meg says, her motto.
4:03 a.m. | As the babes and the boys stumble out the door of Nublu, Emily heads home, clearly wasted, and I, looking no doubt about the same, order a car. "This is why we don't go out on Saturdays," Meg says, not wanting the night to end because she hasn't had enough fun yet. She bums me a cigarette, and we talk about a mutual interest, Lana: the last on a list of "It" girls and hot-mess superstars we've talked about tonight, like Penny Lane, Edie Sedgwick, Audrey Hepburn, Marilyn Monroe, Courtney Love, and even more Edie Sedgwick. "The iconography supersedes the person," she says, seeming both blasé and maybe hopeful.
I remember how she told me that "all my artist turmoil is just from being a spoiled white girl." What does she want, I asked? She told me a different list:
• a gay husband 
• a stepchild my age
• to buy whatever clothes I want
• to get as many drinks as I want 
• an Uber ride home
• to not completely humiliate my parents