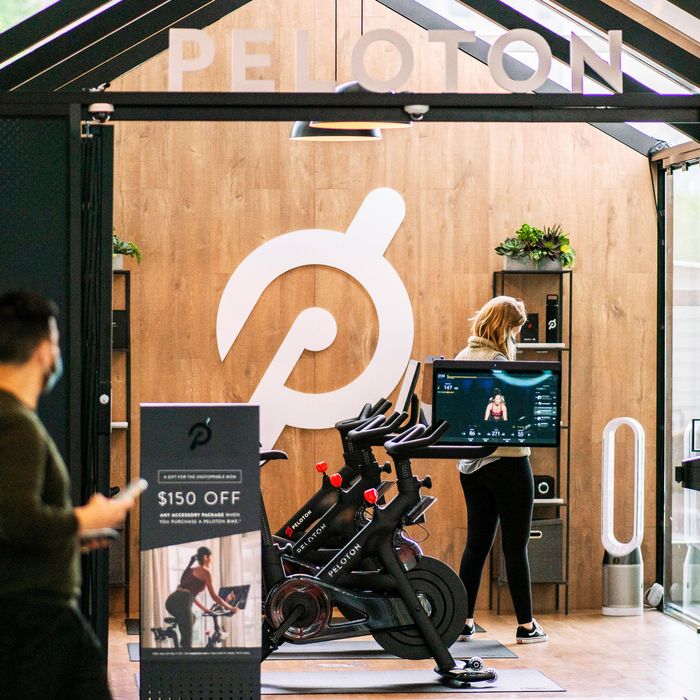 Photo: John Smith/VIEW press/Corbis via Getty Images
It's no secret that the past year has been rough for Peloton. The "fitness unicorn," which was founded in 2012, gained a cultlike following during the pandemic. While you were in your bedroom, using milk gallons as dumbbells, it seemed like everyone else was in their lounge, peddling away on a $2,000 stationary bike as Cody Rigsby twerked on a livestream. But in recent months, downfall has seemed imminent: Bike demand slumped, owing to gym reopenings and competitors selling less expensive stationary bikes. Then there were accusations of poor customer service, not to mention the time that the company had to recall all of their treadmills out of growing safety concerns (and the death of a six-year-old child). Shitty TV husband Mr. Big died from a heart attack after his thousandth Peloton ride, which may have triggered a small dive in real-life Peloton stock (and he wasn't even the only TV character to have a Peloton-induced heart attack).
Last month, CEO John Foley posted a note to the company website, acknowledging declining demand and hinting at future layoffs. Now, Peloton has announced that it is cutting 2,800 jobs, news that Foley apparently broke in a 5 a.m. email. He's also stepping down as the company's CEO, following criticism from investors about his poor leadership skills and alleged "mismanagement." Judging by the $55 million East Hampton compound he recently bought and the fact that he's slated to become executive director of Peloton Interactive, Inc., it sounds like Foley will be just fine. It sounds like he thinks the employees he laid off will also be just fine, considering the generous severance packages he's giving them, which apparently includes a year of complimentary fitness classes. Excuse me, but: What the fuck?
Foley explained: "We are equipping every team member leaving Peloton with helpful tools to make them as comfortable as possible as they explore their career path post-Peloton," he wrote. If you were to ask me what tools would be most helpful in a severance package, it would be more money with which to pay my bills while I search for another job, but okay. (The severance package will reportedly also include extended health-care coverage, as it should).
In a press release, Peloton has assured members that the changes won't affect their riding experiences, though they have yet to comment on this severance chaos.