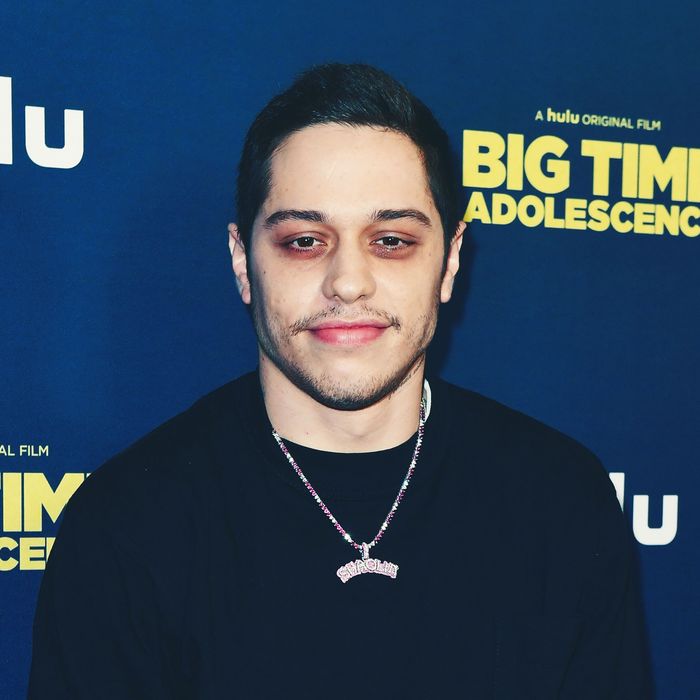 Pete Davidson, Kardashian boyfriend.
Photo: Angela Weiss/AFP via Getty Images
Well, well, well. Look who's (sort of) done playing coy. Why, it's Pete Davidson, who recently referred to Kim Kardashian West as his girlfriend. Kind of.
In a new interview with People (The TV Show!) — not my editorializing, that parenthetical is literally part of the show title — Davidson talked about what it's like to live a highly publicized life when he's just a regular guy from Staten Island who's also dated some of the most famous people in the world. "Well, I don't really have Instagram — I don't have Instagram or Twitter or any of that stuff. So, most of my daily life is getting into cars and showing up to a set," he said. "Or, if I'm off, I just either hang with my friends or chill with my girlfriend inside. So I don't do much." Chilling with your girlfriend, you say? Hmmm, who ever could that be?
Of course, he didn't explicitly mention Kim's name when referring to his girlfriend. Because where is the fun in that! Regardless, this is as close as either Kim or Pete has gotten to publicly addressing their relationship since the two were first seen holding hands on a roller coaster. Which is to say … I'll take it! Meanwhile, Ye is going to dinner with someone who looks exactly like Kim. (No, not Julia Fox.)
"Girlfriend" comments aside, nothing sounds more wonderful to me than getting into cars, showing up places, hanging with friends, and not having Twitter. Perhaps I, too, should date a Kardashian.