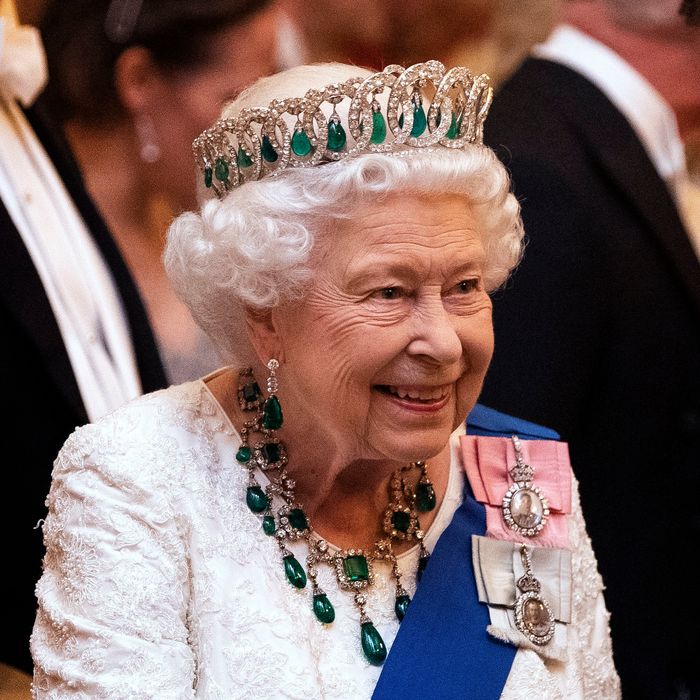 Photo: Victoria Jones/Getty Images
After the palace confirmed that Queen Elizabeth II had tested positive for COVID-19 on Sunday, it was inevitable that people would start to speculate about what would happen if the 95-year-old monarch died. However, it's safe to say that no one expected the truly bizarre saga that unfolded next, involving a death hoax published by the pop culture tabloid Hollywood Unlocked, a Vogue editor's wedding, and also a '90s rock band.
On Tuesday, Hollywood Unlocked announced on Instagram that they could "exclusively" reveal the queen had died. Citing "sources close to the palace," the post claimed Queen Elizabeth was scheduled to attend British Vogue editor Edward Enninful's wedding on Tuesday before she was found dead. That story didn't exactly jibe with the statement the palace had released earlier in the day, which stated that the queen had been experiencing mild cold-like symptoms after her COVID-19 diagnosis but was well enough to continue with "light duties" despite pulling out of her virtual engagements.
It also didn't line up with Instagram's fact-checking policy, apparently, because once Hollywood Unlocked put up a second post about the queen's death, the app flagged it as false information.
But after the post was flagged, the founder and CEO of Hollywood Unlocked, Jason Lee, doubled down, insisting that he stood by the story. A Notes App screenshot on his own personal Instagram read:
Regarding the Queen Elizabeth story…

1. I've never lied.

2. I've never been wrong.

3. I trust my sources.

4. I have yet to see an official statement from the palace saying otherwise.

5. I'll be at the Donda concert tonight with YE.
On Wednesday, Hollywood Unlocked seemed to have changed its tune, at least on Twitter, where an account with its name wrote that an intern had mistakenly published a drafted post and called the error an "embarrassing situation." They sent "deepest apologies" to the royal family. But even then, Lee appeared unfazed — and also, I guess, unconvinced? On his personal account, he wrote that he woke up to "some fake account posting a retraction" and reiterated his argument that the palace hadn't released a statement denying that the queen had died.
In case it wasn't clear, the queen is, as far as we know, alive. Buckingham Palace confirmed that she attended her weekly meeting with Boris Johnson via video on Wednesday, though her two virtual meetings scheduled for Thursday were postponed. The queen also doesn't appear to have any personal relationship to Enninful, nor was she on any published guest lists for his wedding. But when confronted with this information on Wednesday, Lee yet again stood by his story, telling BuzzFeed that a guest at the wedding received a call and "reacted emotionally to a few people, and those few people were informed that that's what happened."
Some theorized that Hollywood Unlocked may have gotten Queen Elizabeth mixed up with singer Mark Lanegan, who was in a rock band called Queens of the Stone Age and died unexpectedly on Tuesday. Lanegan might have been invited to Enninful's wedding (some of the guests had connections to '90s alt-rock), so there's a chance Hollywood Unlocked's "source" could have mistaken news of Lanegan's death for the queen's passing.
Lee finally walked back his statements on Friday morning via a new Hollywood Unlocked post titled "Fact Check: 10 Reasons We Believed Queen Elizabeth Was Dead." After reiterating the tip Lee had received from a guest at Enninful's wedding, the post provided photos of Enninful talking to Prince Charles and his wife Camilla as proof that the queen could have feasibly been on the invite list. It also claims that Lee spoke with someone in the British military, who reportedly told him the palace had been locked down and all top generals were being summoned to Windsor Castle "for an undisclosed reason" — which sounded to Lee and his team like the beginnings of Operation London Bridge, the official palace protocol that's activated if the queen dies. The publication also acknowledged Wednesday's report that the queen had spoken with Johnson and said they reached out to Buckingham Palace for a statement about that news and received no response.
The lengthy bulleted list outlining the "evidence" is followed by a quote from Lee:
Although I've never been wrong when breaking the story because this involves The Queen this one time I would want to be. And based on Wednesday's report from the Palace, I can say my sources got this wrong and I sincerely apologize to The Queen and the Royal Family.
Yet even after this post, the original Hollywood Unlocked piece announcing the queen's death was still up as of Friday afternoon. Lee seems to be taking the whole ordeal in stride from Miami, where he's been chronicling his adventures in a Dan Flashes–inspired tracksuit in great detail. Maybe he got another scoop at the Donda concert?