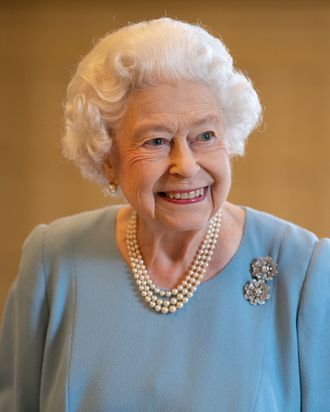 Photo: Joe Giddens - by WPA Pool/Getty Images
Another royal case of COVID-19 has been confirmed. Just ten days after Prince Charles tested positive for the virus, and six days after his wife, Camilla, Duchess of Cornwall, confirmed she also had COVID, Queen Elizabeth II has tested positive for the coronavirus.
Buckingham Palace announced the news on Sunday, with a statement saying that "the queen has today tested positive for COVID," and noting that she was "experiencing mild cold-like symptoms." According to the official press release, the queen will "continue light duties at Windsor over the coming week" as she is treated and follows "all the appropriate guidelines." You'd think that if anyone could take some time off after testing positive for COVID, it would be the 95-year-old queen of England, but okay. (Granted, so far her public duties during COVID have consisted of releasing a congratulatory message to Great Britain's curling team on their Olympic victory.)
It's unclear how she might have contracted the virus. Queen Elizabeth has been keeping a very low profile since the COVID-19 pandemic began, isolating at Windsor Castle and limiting social gatherings, both private and public. However, as the U.K. has begun loosening COVID restrictions, she has picked up some public appearances, notably celebrating her platinum jubilee, marking 70 years on the throne. Per the New York Times, she also had contact with her son Prince Charles on February 8, two days before he tested positive. And CNN reported that there are "a number of cases" currently among the Windsor Castle staff as well.
Though her symptoms appear to be mild, Queen Elizabeth is 95 years old, which puts her at a higher risk for complications, and her health has reportedly been in decline in recent years. It's also unclear whether or not she was fully vaccinated, as the Palace only confirmed she received her first shot in January of 2021, later citing her privacy as a reason not to disclose vaccination status. Meanwhile, she's also got a fair amount of stress to deal with. Her son Prince Andrew just settled a lawsuit brought against him by Virginia Giuffre, who alleged that he sexually abused her when she was underage, and Prince Harry, her grandson, is currently fighting in court for the right to pay for police protection for his family when he visits the U.K.
Prime Minister Boris Johnson is expected to announce an end to pandemic restrictions on Monday.