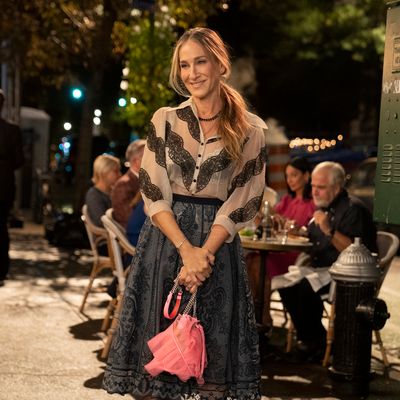 Photo: Craig Blankenhorn/HBO
Welcome to the Cut's recap series for And Just Like That …, from the brains behind the pop-culture museum THNK1994. Spoilers ahead.
Dear Samantha,
This will be the last time we write to you, for now. As Natasha Bedingfield once said — and now Carrie Bradshaw, too — the future is "unwritten," so from today, we devote ourselves to praying for season two. You once said, "Prayer seems to be a guiding light." You also once described fans trying to bully you into returning to the role of Samantha as "miserable." The lesson we needed to learn is now totally clear. You are God. Our faith in your return is now stronger than ever before after this great test. Until then, we have this exquisite tome of an episode that we will study religiously until the series returns.
Speaking of religion, Rock's they-mitzvah was wild. Over brunch, Charlotte announces she has found a trans rabbi named Jen (Hari Nef), who is all business. Rock apparently hasn't been studying the Torah, so Anthony, who recently invented sourdough challah, gives Rock a talking-to about what it means to be the star of a show. Despite these strong words and Harry offering them an Oculus, Rock refuses to go through with the ceremony. Rock does not want to be labeled anything, not a girl, not a boy, not nonbinary, not Jewish, and not even a New Yorker.
With the stakes this high at an event, cancellation is not an option. Charlotte simply steps into Rock's place and, of course, she nails it.
Someone who is always the star of the show, as you know, is Che. They gather everyone they love to announce that "Hollywood called, bitches." Yes, Che is making a pilot. A stunned Miranda finally walks a mile in Steve's shoes as she becomes confused and angry at the commotion. That is, until Che invites her to L.A.
Miranda immediately quits her coveted human-rights internship, dyes her hair red again, tells a recently semi-separated Nya that she's following her heart and can't really hang out for the next few months, and starts packing her suitcase. It really pisses off Carrie, but Jen the rabbi overhears them fighting in the bathroom and tells them they need to protect their bond.
Carrie is, as always, in her own world. She gets fired from her podcast by Che, who blows the whole project up for Hollywood; she talks to her bedside lamp because she thinks her dead husband is inside it; and she goes on a boring-ass date with Peter the teacher. Oh, and Big's brother takes her to lunch to look over the layout of the family crypt in Connecticut since she still has Big's ashes on a shelf in the closet. She asks her lamp for guidance and receives a vision in a dream of Paris.
She books a flight, wears a stunning (and stunningly impractical) dress, and dumps Big over the bridge where they embraced over a decade ago. Then she does something kind of crazy.
She texts you. The actor playing you in this series is a phone, and it makes so much sense. You are 5G. You literally cannot go near airports. At this meeting, which we don't see, you must have fixed everything. Because upon Carrie's return, all is right in the world. She now has her own podcast; it's called Sex and the City (!!), and her really hot podcast producer made out with her in the elevator out of nowhere! Your power is truly great and terrifying.
So at the end of this latest chapter, Carrie is back with Sex and the City, Charlotte has finally become a woman, and Miranda is a redhead in L.A. being the Tom Arnold to Hollywood's newest Roseanne (Che's words). Seema has met the man of her dreams and they're having incredible hotel sex and smoking Dunhill's. Nya almost ran over a gay couple with a toddler in Brooklyn, and LTW wore those boots in Greenpoint. Big is in a lamp, Anthony is innovating bread, Stanford is in Tokyo, and you are somewhere out there watching over us all.
Until next season, when we believe you will return. This is the word we will spread to nonbelievers, no matter how many times we may be shunned. Thank you for listening.