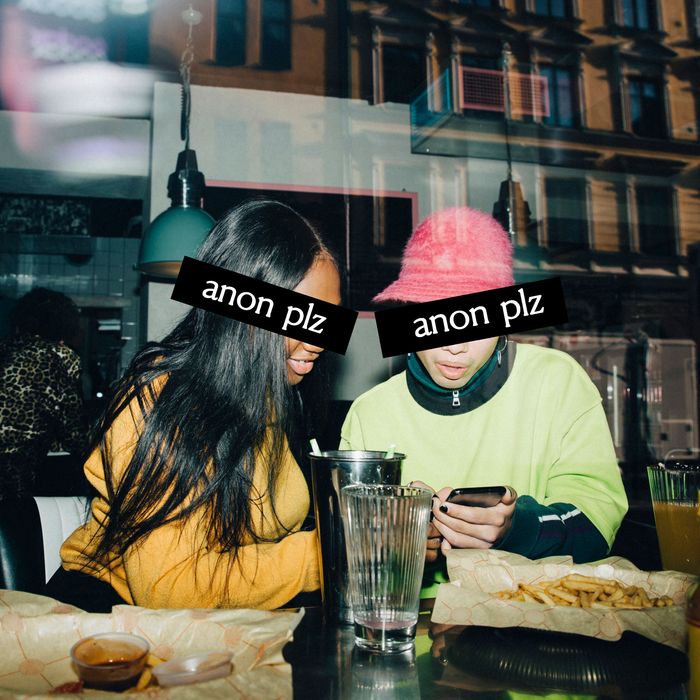 Photo-Illustration: by The Cut; Photo: Maskot/Getty Images
Each era of New York City isn't defined by its hot spots — it's the people convincing you to make a reservation by telling you how many celebs go there. The grizzled sleuths at "Page Six" began keeping us informed of celebrity publicist's updates in the late '70s. In the mid-aughts, Gawker Stalker told us what those publicists wouldn't. And today, it's the Instagram account DeuxMoi, which crowdsources celebrity sightings and stories from its 1.3 million followers (some of which are probably publicists), that's sending visitors and locals alike to the restaurants where they can see, or at least eat, like a celebrity.
DeuxMoi's influence grew over the pandemic months thanks in large part to New York City's rich and famous, who were forced to take their meals outside in sidewalk shed seats — in easy view of passersby and their iPhones.
Each Sunday, DeuxMoi's Instagram stories hosts reposts of blurry stolen shots, screenshots of DMs, and requests for "anon please," from regular people who spot celebs like Andy Cohen, Sarah Jessica Parker, Hugh Jackman, Dianna Agron, Chloe Sevigny, Julianne Moore ("she's always at Bar Pitti"), Jake Gyllenhaal, Nicholas Braun, a number of Real Housewives, Selena Gomez, Justin Bieber, and even Christopher Meloni hanging out around town. It's known as the "Sunday Spotted" roundup, which often includes details like who they were with, what they were discussing, and how they reacted to being asked for a photograph.
As the page's popularity has grown, so too has the parasocial relationship between follower and followed. Once we've seen enough of our favorite famous person from a front-facing lens, what had once been a prized, rare, and highly controlled inside peek into their personal lives has become normal, expected — something we the people deserve, really. So why shouldn't we eat alongside them, too?
Celebrities used to have more control over when and where they were spotted, explained Lindsey Peckham, who spent years at hot spots like Standard Grill and Minetta Tavern before co-founding Pomme, a restaurant branding and PR company. Thanks to DeuxMoi, it's no longer their choice.
"New York is a little different than L.A. — there of course are the paparazzi setups where celebrities will call a photographer and want to get their pictures taken. But that happens once out of about 50 times that a celebrity would come to a restaurant that I've worked at. The majority of time, they go out dining in New York to disappear and to feel some semblance of normal, whatever that might mean," Peckham says.
Most of the "Page Six" items about famous people dining out at places she's worked in the past were, in her experience, largely placed with the celebrity's consent. "Because if you want that famous person to come back, exercising discretion is the best way for that to happen in the majority of cases," Peckham said.
Then, of course, there are the places that celebrities deliberately go to see and be seen. Los Angeles has the Ivy and the Polo Lounge; New York has Carbone. Over the last two years, the Italian hot spot — a favorite of Rihanna, J.Lo, the Kardashians, the Biebers, and Lily-Rose Depp, and a place where Leonardo DiCaprio, Kevin Connolly, David Beckham, Kate Hudson, Goldie Hawn, and Russell Wilson were once all spotted on the same night — has become one of the most-cited restaurants on DeuxMoi. "They're known for being difficult to get into and being a little splashier and fun. And that's part of the fun of it, right? For sure that's a deliberate choice. You don't necessarily go to Carbone when you want to disappear," Peckham says. "You make that choice of which restaurant you want to be at to do that."
"But good luck getting a reservation," says DeuxMoi herself, calling from a restricted number but using her normal (and, honestly, nondescript) speaking voice after a flurry of DMs and emails arranging an interview. Part of the fun is the anonymity behind DeuxMoi and her informants. Despite the dirt she's dishing on other people, she's religious about keeping her name a secret (though Hailey Bieber apparently knows who she is) and uses a voice changer when speaking publicly. "I heard there was a secret email address," she continues, "but I don't know if that's true. I even DM'd Mario Carbone. My followers are getting reservations and eating there, I just don't know how." (According to The New Yorker, the secret VIP email does exist, though Major Food Group, which owns Carbone, did not respond to an emailed request for comment.)
One of those followers, Marcella Cepeda, is such a fan of DeuxMoi that she even purchased a $60 branded DeuxMoi sweatshirt, which she wore proudly to lunch at Carbone after her friend snagged a 2 p.m. reservation that popped up out of nowhere on a recent Thursday. The friend had been trying to get in for months.
"DeuxMoi is such a big part of our culture right now — everybody knows DeuxMoi, and they look forward to Sunday Spotted," Cepeda said. "My friend was texting me, 'I don't know what I'm going to wear.' And I was like, 'I know exactly what I'm going to wear, my DeuxMoi crew neck.' And I was like, 'You know what? If somebody sees me and takes a picture of me and sends it in and I end up on the Spotted, DeuxMoi in the wild, that would be amazing.'"
Cepeda said she didn't see anyone cool during their hour-long meal (and the meatballs, disappointingly, were sold out), but she still posted about her lunch — and made it onto the Sunday Spotted roundup herself, wearing the DeuxMoi merch, after tagging the page. "Just the possibility of someone writing in about you, that whole thing feels a little bit like you're part of the pop-culture moment. And that's what gives you excitement, aside from being at an amazing restaurant with delicious food," she said.
"Call it the distributive property of hotness," Helen Rosner, The New Yorker writer who snagged the elusive Carbone email address, wrote in her review of the restaurant. "If Kendall Jenner and Bella Hadid go to Carbone, and Rihanna and A$AP Rocky go to Carbone, and then you and I manage to go to Carbone — us, we're just like stars!" And DeuxMoi is happy to give her followers that celebrity experience by reposting them to her million-plus following — especially when they're wearing her merch.
Ro Torres, who visited the city from Colorado in December, snagged a brunch reservation at American Bar after seeing it on DeuxMoi. "It wasn't necessarily about the food, honestly," Torres, whose photo of her cinnamon rolls and brunch cocktails got reposted to the celeb-spotting account, says. "The food was okay, but it was cool to go there and have the potential of seeing somebody."
DeuxMoi has posted sightings of celebrities ranging from Hillary Clinton to John Mayer at American Bar, but Torres didn't see anyone famous at her dinner — she thinks. She did spot a curtained-off table, but she wasn't able to ascertain who was seated behind it. That was enough.
"I just wanted to have the New York experience," Torres tells me. "It's fun to have the possibility of going somewhere that, even if I didn't run into a celebrity, I've gone somewhere that celebrities have gone."
Danie Baker, a Seattle food blogger, saw that Blake Lively had eaten at Rosemary's — and guess where she made a reservation when she and her sister visited the city. "I know if it's good enough for Blake Lively, it's going to be good enough for me," Baker says.
Blake Lively was, of course, not there, but the experience was worth it anyway, Baker tells me. "It was delicious, and yeah, that was basically the whole gist of it."
Carlos Suarez, who owns the restaurant group behind Rosemary's and also Claudette — a favorite of Alec and Hilaria Baldwin, who live down the street, which you know if you follow DeuxMoi — doesn't really understand the phenomenon.
"We're just a pretty regular neighborhood restaurant. Although, obviously, we operate in the West Village, so certainly a handful of our neighbors are famous," he said. "But at the end of the day, I think they just want to be treated like everyone else, with care and attention."
Before DeuxMoi, it took a celeb being papped outside a restaurant or getting featured on a popular show like Sex and the City to result in "that sort of celebrity gawking traffic, for lack of a better word," Peckham says, along with the foot traffic that comes with it. "Like when Carrie went to Pastis, that was such a big deal. It feels like DeuxMoi has become a sort of niche version of that, almost."
Suarez's own top celebrity sighting isn't necessarily one you'd find in the Sunday roundup. "I don't know if it's interesting to your readers, but having Dario Cecchini, the butcher from Panzano, having breakfast in your restaurant is pretty cool," Suarez tells me. "Though he would definitely not appear on DeuxMoi." Maybe if he wore the sweatshirt?
But one restaurateur, Keith McNally, the mastermind behind DeuxMoi favorites like Balthazar, Morandi, Minetta Tavern, and Pastis, has been upstaging DeuxMoi by posting his own roundups on his personal Instagram page. So far, he's posted a postcard left for him by Martha Stewart after dinner, a photo one of his employees took of Ansel Elgort celebrating his birthday clad in full western attire along with 22 of his friends, reposted an Instagram "celeb stalker" who posted a list of celebs they spotted at Balthazar, and notes when celebs like Sienna Miller and Frank Ocean pop into his various hot spots as part of an occasional "daily restaurant report." He also slips in "Page Six"–worthy gossip in the Instagram captions, including details on the comped Champagne he sends Miller (he has fond memories of the time she rented his village brownstone in 2012) and blasting Graydon Carter for repeatedly no-showing on reservations.
"I'm surprised that he outs them like that, to be honest," the woman behind DeuxMoi says. "As a restaurant owner, I would think he would want to keep it discreet. Listen, celebrities aren't stupid. They know where to go to be seen. And as good as the food is at some of these places, this is New York City. There are a million restaurants where they could get an equally good meal that's not as high-profile." In other words, if they're not already being Sunday-spotted at dinner, they probably don't want to end up gossiped about in the owner's Instagram caption either.
For DeuxMoi, even she can't resist the power of a celebrity endorsement. She's still waiting for a chance to snag a reservation at Via Carota — where she's posted sightings about stars like Timothée Chalamet, John Mayer, B.J. Novak, Kiernan Shipka, Judd Apatow, Keri Russell, Antoni Porowski, Susan Sarandon, Sabrina Carpenter, Steph Curry, and Maggie Gyllenhaal. She told me she's been wanting to go since she saw celebrity jewelry designer Jennifer Fisher post about it on Instagram.
And as it turns out, even DeuxMoi is just like us. Despite her million-plus followers, her anonymity has made getting into hot spots as difficult as it would be for any of them. According to an attendee who was there, she wasn't able to get into her own holiday party, hosted by Real Housewife of New York Leah McSweeney at Studs last month. The celeb non-sighting was submitted to me the same way DeuxMoi's followers might: "anon please."