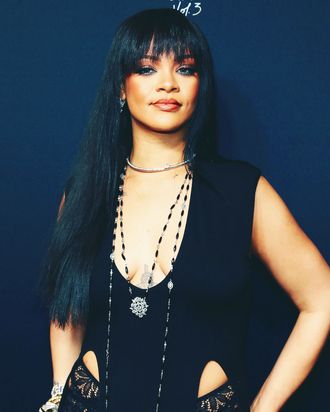 Mother!
Photo: Monica Schipper/Getty Images for Savage X Fenty
In the three days since Rihanna announced her pregnancy, I have not known rest. When is she due? Is this why she and A$AP Rocky wore giant comforters to the Met Gala? Will the child also be Barbadian royalty? How is Drake doing? Rihanna could sense these questions, I'm sure. Thus, she did what any loving mother would do: give her baby (me) a little treat!
On Wednesday, Rihanna posted a new picture of her baby bump on Instagram alongside a handful of the (obviously planned) paparazzi photos that came out earlier this week. She captioned the set of photos "how the gang pulled up to black history month." Call me Seth Meyers because it's time for "A Closer Look" at this new pregnancy photo.
Let's start with the obvious question: Whose bathroom is this? Rihanna's?? If so, why does it all look so … regular? The over-the-door hooks, the very normal bathroom lighting. This looks like a picture she would have texted to the group chat. Or a picture her mom would post on Facebook with a caption like, "Guess who's gonna be a glam-ma!" Of course, this is where the similarities to the rest of us end. In the new picture, Rihanna is wearing bright orange gloves — very Kimye of her. She has on an athletic jersey for, I wanna say … a sports team? Then there is the baby bump. A gorgeous bump! A beautiful bump! What else is there to say except … yes!
I look forward to (hopefully) many more pictures of an increasingly pregnant Rihanna. And sure, okay, A$AP Rocky too.