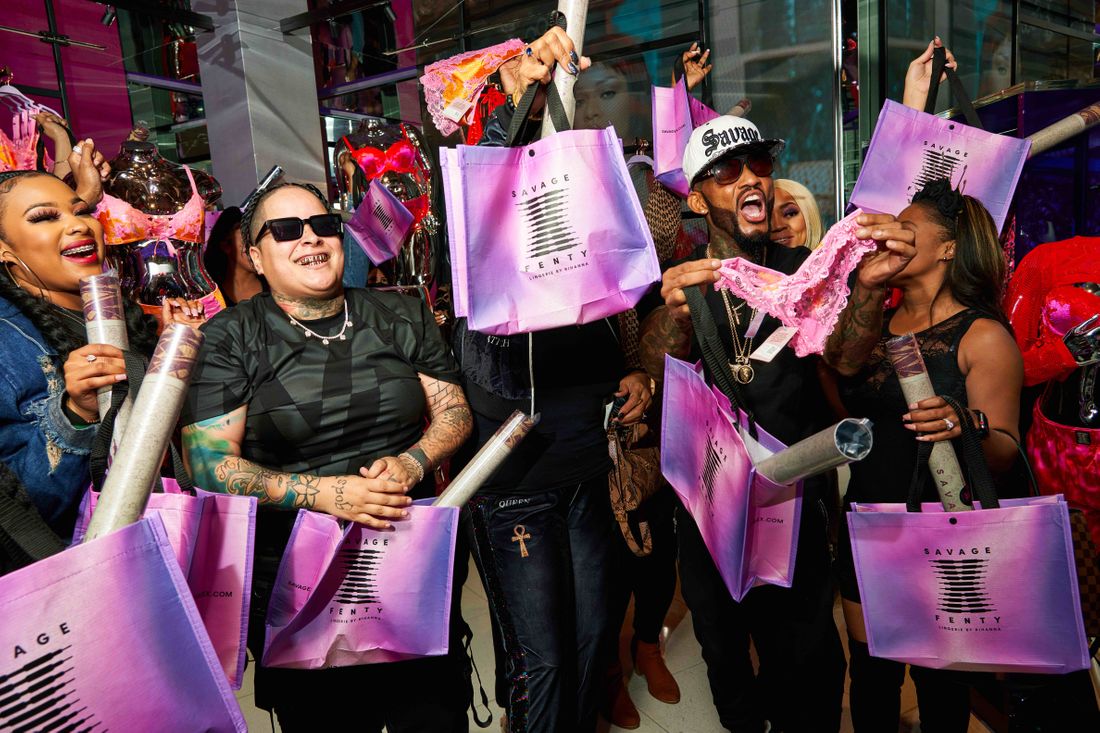 Savage X Fenty's Las Vegas opening.
Photo: Michelle Groskopf
The new Savage X Fenty store at the Fashion Show mall in Las Vegas is a little like the European-sculpture wing of the Met, only instead of lean white marble statues, it's full of curvy lavender mannequins striking thirst-trap poses in crotchless teddies and fishnet slips. Recently, on the shop's opening day — the first brick-and-mortar location of a brand that until now has sold online and through pop-ups — I found myself pressed up against an entire wall of lifelike body parts, which serves as something of a permanent art installation in the space. The closest form to me was a perky round butt modeling a $23 caviar-colored thong that stretched across the plastic flesh like a spiderweb. A small gold X chain dangled in the middle, just above the crack.
The butt looked real because, in a sense, it was. The mannequins in the store are replicas of actual Savage X Fenty models of all shapes, sizes, and genders. (Bras run from 32A to 40H, underwear from extra-small to extra-extra-extra-large.) Flanking the butt was a woman of realistic proportions in a lace set and a man who resembled Michelangelo's David if he stopped working out, his gut hanging ever so slightly over valentine-red boxers.
"It's nice when you see a guy like, you know …" said a customer named Marcela Beatty. "Like me!" chimed her boyfriend, Tim Strong, proudly patting his stomach. A pair of red Savage boxers peeked out over his sweatpants. The couple was visiting Las Vegas from Colorado for the weekend and, like most of the other shoppers, was hoping for a glimpse of Rihanna, née Robyn Fenty, who founded Savage in 2018 and who had teased a photo of the mall on Instagram earlier that week. (Nobody knew it, but Rihanna was in New York, orchestrating an elaborate pregnancy reveal with her boyfriend, A$AP Rocky.) Identical twins Lastarza and Lashonza Featherston arrived at 8:30 a.m., an hour and a half before the store opened, to make sure they were first in line. A group behind them had flown in from Oklahoma for the occasion. Another shopper, Me'lanie Mason, told me she planned to hang out all day at the store, where there was a supply of free canned vodka cocktails and mini-slices of cake. "I'm literally on the website every single day," she said. "I've been a fan and VIP member ever since she started the brand, so I was just so happy to get here and see it, and feel it, and experience it in person. I'm overjoyed, actually." She wore sheer black tights with SAVAGE X FENTY scrawled down the leg, plus a pair of Savage sheer black gloves, proving that Rihanna's wares can be worn far beyond the bedroom.
What inspires such devotion? Compared to a brand like Victoria's Secret, which long dominated the intimates market by serving up a certain kind of hotness (thin, blonde, perky) to a certain kind of gaze (straight, male), Savage X Fenty felt like an invigorating slap on the industry's ass when it launched in 2018. Its first runway show, which took place during New York Fashion Week, was one of the most diverse and exciting events that season, with a set that looked like a weed greenhouse. One model was nine months pregnant and went into labor almost immediately afterward. Meanwhile, Victoria's Secret was starting to seem fusty, hardly the right energy for a lingerie brand. Not long after the Savage debut, a Victoria's Secret executive told Vogue that transgender models would never appear in its shows because they didn't fit the brand's "fantasy"; in 2020, the CEO of its parent company stepped down after revelations about his ties to Jeffrey Epstein. It didn't seem like a coincidence that just a few months after Savage partnered with Amazon to stream its fashion shows, Victoria's Secret's canceled its own program indefinitely, citing low ratings.
Savage is still nowhere near the scale of Victoria's Secret, which has annual sales of some $5 billion and 846 stores. And it's hardly the only intimate-apparel brand to tout inclusivity as its core value. Kim Kardashian started selling her own line, Skims, in 2019, and in the past decade a slew of other small, similarly priced, direct-to-consumer female-founded ventures have emerged, including Cuup, True & Co., Parade, Negative, and Lively. Several have subscription options that represent a step beyond the traditional lingerie companies' loyalty programs; Adore Me offers a monthly Elite Box by mail, while Savage's $49.95 VIP tier provides access to various deals and rewards.
More so than its peers, though, Savage has combined the fashionableness of more traditional lingerie labels — like Journelle, La Perla, and Cosabella — with the life-optimizing nature of a millennial start-up. It's where you can go to buy nude basics (in a range of skin tones) and onesie sweatsuits, but also a neon lace-up corset and panties that create what is known, sublimely, as "butt cleavage." What really sets Savage apart is that it's not just sexy; it's overwhelmingly, unabashedly, even hilariously horny. Savage X Fenty fucks. "I don't think there are any brands that are directly equivalent to Savage X Fenty in the marketplace right now," says Cora Harrington, the founder and editor-in-chief of the blog the Lingerie Addict. "They're fairly uniquely positioned."
Savage is a word that can mean different things to different people, but it very specifically belongs to the internet. To be "savage AF" is to be aggressively yourself and not care what other people think. It's wearing silk pajamas and feather heels in the streets of New York while carrying a wineglass; it's attending the Met Gala in a see-through gown and no bra; it's dressing up like a giant joint in the pages of an international fashion magazine — all things Rihanna has done.
Savage X Fenty merchandises this vibe. Consider the assless flannel pajamas the brand dropped this winter. They're comfy and smutty at the same time, and they're also a meme, intended to elicit a reaction online as well as in the boudoir. One discount prices them at just $14.99, implying that they might fall apart after not much, uh, use. But the endorsement of @badgalriri makes Savage garments seem more upscale than they are. "The actual quality of a garment matters a lot less than people's perceived quality of the garment, and that's where that amazing branding comes in," says Harrington. "What matters is that people think it's luxurious. What matters is that people associate it with Rihanna."
In keeping with her image, the Las Vegas store is designed to look and feel more like a nightclub than a retail establishment, with soft lighting in hues of pink, purple, and red, creating a mood that's somewhere between Amsterdam's red-light district and the video for Drake's "Hotline Bling." "Our instruction is: Every single day you are coming to a party," said Lakisha Robinson, the store's manager, who wore black silk pajamas — the Savage employee uniform — and shimmering purple eye shadow. "I tell my staff, 'You are the party host,' " she continued. " 'We just left the Rihanna concert, and this is the after-party, and we're hanging out.' " Recently, the rap duo City Girls performed live in the store, projecting out into the mall lyrics like, "I make him grow / Like Pinocchio."
The location is the first of five scheduled to open across the U.S. in the next three months. The others will be in Los Angeles, Houston, Philadelphia, and Washington, D.C., and more may come overseas. The expansion is possible thanks to $310 million Savage has raised over the years from a list of investors including L Catterton, a private-equity firm backed by LVMH's Bernard Arnault, and Marcy Venture Partners, a VC firm co-founded by Jay-Z. (As of last year, Rihanna held a 30 percent stake.) Savage is also enlarging its men's category to include lingerie, which means aspiring Magic Mikes can now find a $30 "Glossy Flossy" mesh top that's so cropped it barely stretches below the armpit, with matching $20 mesh briefs. In Las Vegas, shoppers are greeted by a male mannequin perched above the entrance like a kinky gargoyle, wearing a red Savage harness.
When I returned to the store the day after the opening, the music was turned down and the crowds had dissipated, but the employees still had their energy and the space still had its James Turrell glow. Every other shop in the mall seemed stale in comparison, including the Victoria's Secret — which, in a nod to the times, has a mannequin larger than a 32B out front. According to Robinson, some of the employees there came over recently to ask if Savage was hiring. "Too many," she said, shaking her head. "I'm like, 'Talk to me after the launch.' "
This article has been corrected to show that a Savage store will open in Philadelphia, not Phoenix.
More From 2022 spring fashion issue
See All