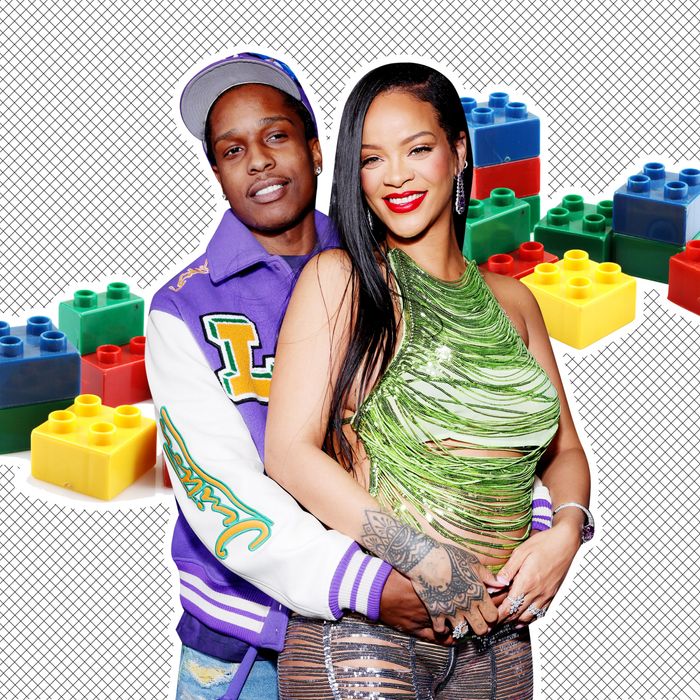 Photo-Illustration: by The Cut; Photos: Getty Images
Rihanna is a billionaire, entrepreneur, entertainer, Met Gala showstopper, fashion designer, makeup-mogul extraordinaire, and mother-to-be. She is also, apparently, a LEGO "nerd." On Valentine's Day, while Cardi B was getting six Chanel bags from Offset and Kourtney Kardashian was coming home to giant Minnie and Mickey Mouse statues covered in red roses from Travis Barker, Rihanna was being treated to an outdoor dinner and a bouquet of Lego flowers. That's flowers made out of Legos.
The typically private pop star shared some photos of what appears to have been her romantic Valentine's Day celebration with A$AP Rocky, with whom she is expecting her first child. "Nerdz," she captioned the photo carousel, which opened with a close-up image of the bouquet of Lego flowers artfully placed in a glass vase. (Did she get those for Valentine's Day? All signs point to yes.) She also shared a photo of what seems to have been a meal of caviar, a Valentine's Day card, and a photo of the sunset. One of the photos teased a glimpse of an extravagant pinkie ring that spells "Rih" in big, diamond-encrusted letters. I'm guessing that's what might have been inside the box that came in Lego wrapping paper seen in the first pic.
I have two main questions about this Lego gift: (1) Do we think A$AP Rocky bought it himself or got it for free from the company? And (2) did Rihanna build it herself?
The Lego flower-bouquet set retails for $49.99, though it's currently back-ordered on the official Lego website. And it comes with 756 pieces, which I assume would be awfully hard to do with Rihanna's nails, not to mention her schedule. Then again, the flowers only made it to Instagram on Wednesday, two days after V-Day, which could be just enough time to build a complex Lego set. If anybody could do it, it's Rihanna.