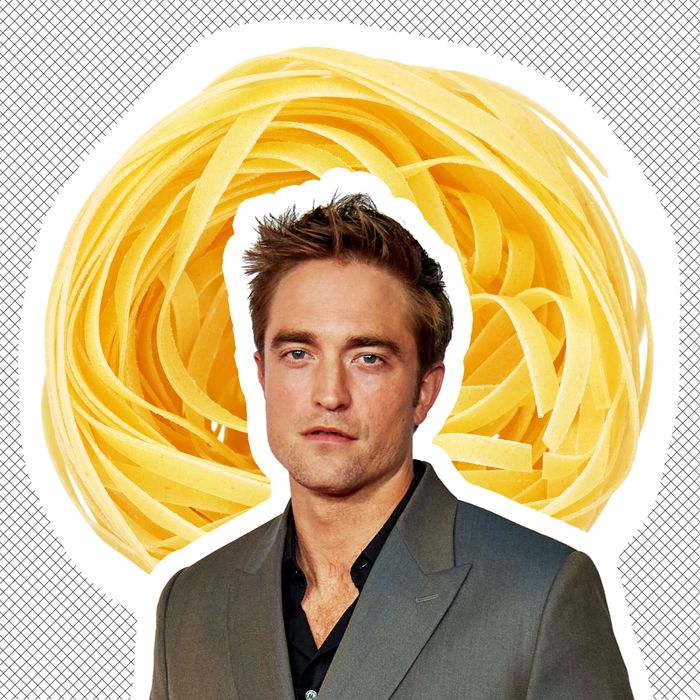 Photo-Illustration: The Cut. Photos: Rob Latour/Shutterstock; Petr Malyshev/iStock/Getty Images
Robert Pattinson, former teen heartthrob, actor, Batman, and pasta innovator, is back with an update on his hellish creation, the pasta pillow. Spoiler alert: The pasta dreams continue.
It was May of 2020 when Pattinson first introduced the world to his pasta experiment, going through a doomed cooking demonstration during an interview with GQ. The whole idea came from a very simple question: "How do you make a pasta that you can hold in your hand?" His dream seemed to be something of a pasta Hot Pocket and required very few ingredients: penne, cornflakes, sliced cheese, sauce, a hamburger bun, and sugar. He called it a "Piccolini Cuscino," or a "little pillow."
How the Piccolini Cuscino tasted, we'll never know. As detailed in the original profile, Pattinson cooked the pasta in the microwave, layered all the ingredients together on a piece of aluminum foil, and attempted to bake it all together in the microwave. Sparks flew, a bang was heard, and all of us at home breathed a collective sigh that Pattinson hadn't just blown himself up in his apartment.
Fast-forward to 2022 and, in a new profile with GQ, Pattinson has doubled down on his dream pasta dish, insisting that, despite what fans may have thought, he was 100 percent serious about the idea. "I was fully actually trying to make that pasta," he said. "Like I was literally in talks with frozen-food factories, and hoped that that article would be the proof of concept." He was so serious about it, in fact, that his manager had to actively dissuade him from the idea. "My manager was like: 'Is this really want you want to do? You want your face on handheld pasta? You know you've got to go to Walmart and really sell it, for potentially very little return.'"
Okay, that last part about being in touch with "frozen-food factories" and discussing the idea with his manager seems too good to be true, but I fully believe that Pattinson really wanted the pasta pillow to work out. Might I suggest he simply try to stuff pasta into a tortilla next time?