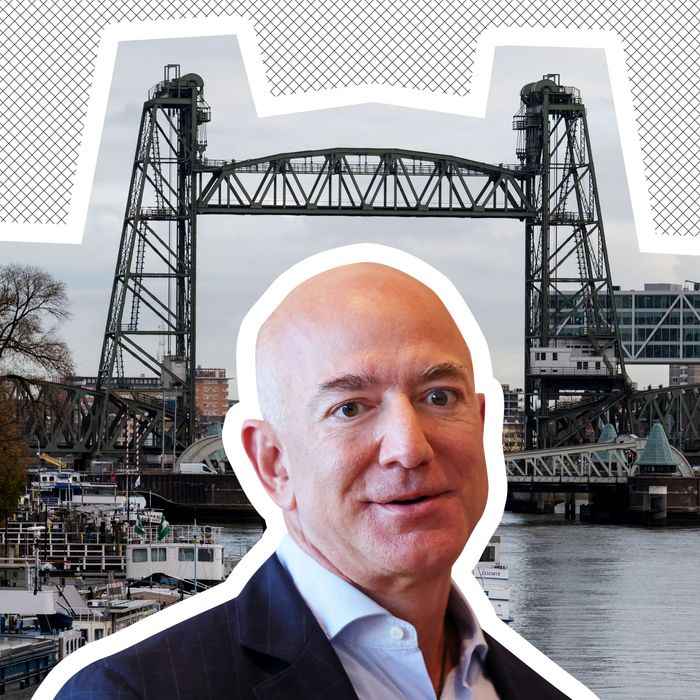 "Rotterdam was built from the rubble by Rotterdammers and we don't just take it apart for the phallus symbol of a megalomaniac billionaire. Not without a fight."
Photo-Illustration: The Cut. Photos: Getty Images
Ahoy, please: fresh boat drama on the horizon. This time, the catalyst is not — I'm sorry to say — a giant container ship wedged resolutely across one of the world's biggest shipping corridors; it is Jeff Bezos, a less sympathetic villain whose megayacht may soon be responsible for the dismantling of a historic Dutch bridge. If the half-billion-dollar boat passes through Rotterdam, some concerned citizens may pelt it with rotten eggs. They have made this plan known via a Facebook event months ahead of time, which is to say: fair warning.
As you may recall, the man formerly known as Mr. Amazon commissioned himself an unreasonably large yacht over two years ago: a 417-foot behemoth so big it comes with another, smaller yacht. The New York Times reports that it will be the world's largest sailing yacht, an achievement of which I am sure Bezos is quite proud, which will cost upwards of $500 million to complete. But with all that bigness comes logistical problems: In order to launch the S.S. Bezos into the sea, it will have to maneuver from Alblasserdam (its birthplace in the Netherlands) through Rotterdam under the Koningshavenbrug — impossible to do without bashing its masts into the structure even with a 130-foot boat clearance.
To accommodate Bezos's ship of dreams, city officials have floated the idea of removing the bridge's middle section and then putting it back — all at no cost to taxpayers: Either Bezos or the company building the yacht, Oceano, would foot the bill. The bridge, which also goes by the name De Hef, is not currently in use, but for vexed locals, it is the principle of the thing. They love their bridge — the first railroad bridge of its kind constructed in Western Europe! — and have previously blocked the city from tearing it down. As Siebe Thissen, who wrote a book about De Hef entitled The Boy Who Jumped From the Bridge, told the Times: "It's a working-class town, and they all know that Jeff Bezos, of course, he exploits his workers, so people say, 'Why should this guy be able to demolish the bridge for his boat?'" An excellent question.
The city has not yet signed off on any bridge construction, but according to Jalopnik, some aggrieved residents are ready to take matters into their own hands. "Rotterdam was built from the rubble by Rotterdammers and we don't just take it apart for the phallus symbol of a megalomaniac billionaire. Not without a fight," reads a Facebook post calling for protesters to throw their old eggs at the boat as it sails by (per Jalopnik's translation.) The event's organizer, Pablo Strörmann, told the Times that he "mostly" meant the egging as a joke — though approximately 3,000 people have reportedly replied "attending" and a further 10,000 are "interested" — but reiterated: "Rotterdammers are proud of their city and don't tear down iconic buildings just because you are superrich."
The Bezos boat better watch its back.