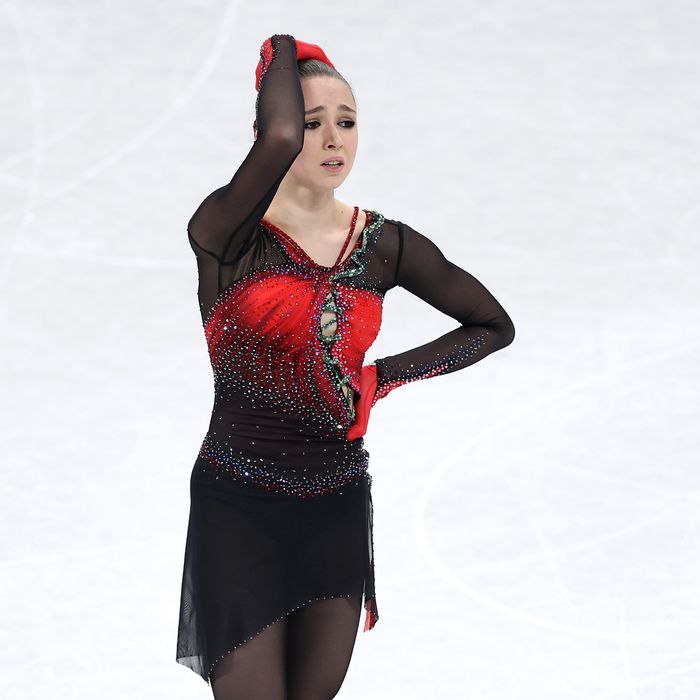 Photo: Matthew Stockman/Getty Images
The Olympics aren't over until the medals are handed out, and Team Russia is learning that the hard way. After a historic showing that included the first successful quad Salchow by a female skater at the Olympics, the Russian Olympic Committee were poised to receive their gold medals for the team-skate event on Tuesday, February 8, but the ceremony was abruptly canceled for "legal consultation." Now, we know why.
Kamila Valieva, the 15-year-old Russian star who landed that quad Salchow during the first week of the Games, has reportedly tested positive for trimetazidine (also known as TMZ), which is used to treat various heart conditions, based on a sample taken December 25. Trimetazidine increases blood flow to the heart and is listed as a "metabolic modulator" by the World Anti-Doping Agency, and experts have speculated that it would boost stamina in sports with high cardio activity like cycling and long-distance running. Experts have said that TMZ could have potentially helped Valieva train longer, but it's still not clear whether the drug can actually enhance athletic performance in figure skating.
If she is deemed to have been using TMZ for performance enhancement, Valieva won't face as harsh a punishment as she would if she were older, especially if she can prove she used it unintentionally. As a 15-year-old, she's considered a "protected person" under some anti-doping policies. Any adults who might have known about it or given her the medication (coaches, trainers, medics) would get bigger penalties.
On Monday, the IOC announced that Valieva — who is the clear favorite in the women's figure skating competition — would be allowed to compete for the rest of the Games but wouldn't be able to receive any medals until her case is resolved. (If she medals in any of her competitions, the awards ceremony for those events will be postponed.) The decision, which was reached by an arbitration panel formed to determine if Russia was right to lift Valieva's suspension after only a day, goes against the wishes of the IOC itself, as well as the World Anti-Doping Agency, who announced they were "disappointed" by the panel's decision and argued that even protected minors are supposed to be suspended if they fail a drug test.
The U.S. and Canada's Olympic committees also condemned the decision, with the chief executive of the U.S. Olympic and Paralympic Committee saying that it denied clean athletes "the right to know they are competing on a level playing field."