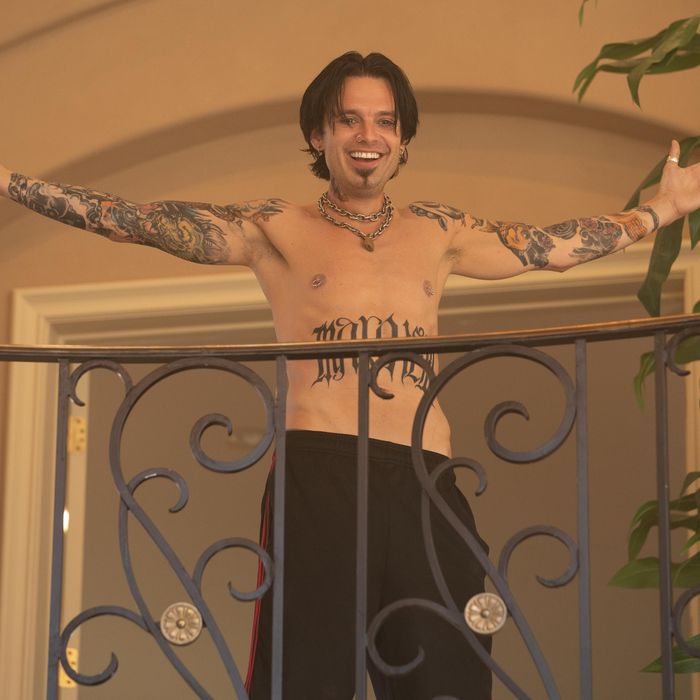 To play Tommy Lee in Pam & Tommy, Sebastian Stan wore fake pierced nipples, fake tattoos, multiple fake penises — one of them even talked — but by far the most surprising wardrobe accessory the actor used to get into character were steel balls.
Stan and his co-star Lily James appeared on Jimmy Kimmel Live on Tuesday night to promote the Hulu series, and both talked about the long, and sometimes painful, transformation process they had to go through to play Lee and Pamela Anderson. For James, that meant shaving her eyebrows (and a wearing whole host of prosthetics and fake tattoos). For Stan, it involved shaving his body so that replicas of Lee's tattoos could be adhered onto his skin. And then, there were the balls.
"For the duration of the shoot, you know, Tommy was … a big man," Stan told Kimmel, referring to Lee's reputation as being well-endowed, as he took a pouch from his pocket. "So, I wore these bare steel balls." Stan then took two steel balls out of the pouch and placed them on Kimmel's desk. "Just in case you need a little weight when you walk into a room," he joked.
The steel balls were, apparently, something Stan took from his acting coach, Larry Moss, who once told Helen Hunt to wear nickels in her shoes for As Good As It Gets "so you know what it's like to stand up on your feet for 12 hours." So just like Helen Hunt before him, Stan decided to use metal objects to get into character. Only instead of coins, he used steel balls, and instead of putting them in his shoes, he stuffed them down his pants.
"I know it sounds insane to you, but trust me, I was like, I need to kind of feel like a man," Stan told Kimmel. And to that, I say … sure?