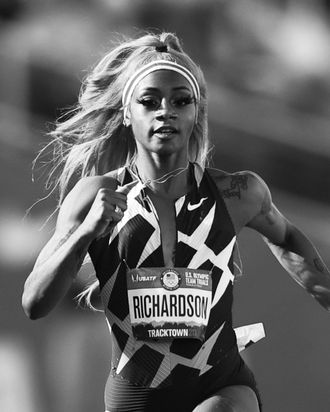 Photo: Patrick Smith/Getty Images
On Monday, the International Olympic Committee announced that a panel had decided to allow 15-year-old Russian figure skater Kamila Valieva to continue to compete in the Winter Games after she tested positive for trimetazidine, which is considered a performance enhancer by the World Anti-Doping Agency. It's a controversial decision: In 2019, Russia was banned from the Olympics for two years after its state-sponsored doping program for athletes was exposed, and it's currently only able to send Valieva and other Russian athletes under an entity called the Russian Olympic Committee. Many countries are now concerned their athletes won't be competing on a level playing field, and even the IOC itself is challenging the decision.
It's also infuriating for athletes like Sha'Carri Richardson, the American track-and-field sprinter who was suspended for 30 days after testing positive for cannabis during 2021's Tokyo Games. (While there is no current evidence suggesting that marijuana is performance enhancing, WADA has other parameters that can qualify a drug to be prohibited, including if it "violates the spirit of the sport.") Like Valieva, Richardson was expected to medal. Unlike Valieva, she is Black. Also unlike Valieva: Richardson was never allowed to compete in the Games because the 30-day period of her suspension covered most of her events, and the USA track-and-field team decided not to select her for the one event she would've been allowed to do. At the time, Richardson said that she used marijuana to cope with the death of her mother, which she first learned of via a question from a reporter at the Olympic trials.
The arbitration panel that made the decision on Valieva cited the possibility that being banned from competition would cause the figure skater "irreparable harm" — which didn't seem to be a concern for Richardson or any other Black athletes who were disqualified after drug-test snafus. Richardson reacted to the news on Twitter, writing, "Can we get a solid answer on the difference of her situation and mines [sic]? The only difference I see is I'm a black young lady."
Richardson is nowhere near the first Black athlete barred from competing for dubious reasons: The Olympics has a lengthy history of using labyrinthine rules and regulations to perpetuate the insidious racism of the Games and the sports industry at large. Last year, two athletes, one of them Black, were put on probation for kneeling or turning their backs during the national anthem, and three Black track-and-field athletes were banned from competing due to their naturally high levels of testosterone. Richardson wasn't even the only one on her team barred from the Tokyo Games: Her teammate Brianna McNeal was also disqualified after missing a drug test because she was in bed recovering from an abortion. McNeal is currently on a five-year suspension from the Olympic Games despite never testing positive for a drug that is banned by the U.S. Anti-Doping Agency.
Meanwhile, Valieva is expected to take the ice again for the women's singles competition on Tuesday, in which she's the clear favorite.