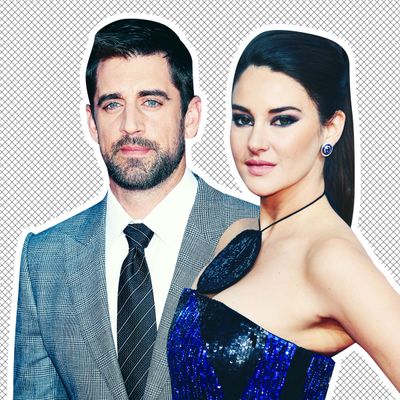 Photo-Illustration: by The Cut; Photos: Getty Images
One of my favorite things about Shailene Woodley and her NFL player fiancé, Aaron Rodgers, is that they are obsessed with feet. And right now, Rodgers's are reportedly cold. Multiple outlets report that Woodley and Rodgers have called off their engagement. I guess sometimes a mutual love of bodily appendages is simply not enough.
Per People's source, the breakup is "amicable" and "there's no bad blood" between them. As for the cause of the split, there's speculation that Rodgers "got cold feet" about their wedding.
As you may recall, these two have both been very busy since the world first learned of their engagement early last year. Woodley started posting baby feet on Instagram, which, sure. Rodgers got himself embroiled in a vaccine scandal after fudging the details of his vaccination status to the public, and then he doubled down on refusing to be immunized while showing the world his toes. Woodley declined to speak on the matter directly, opting instead to insult a random Angeleno on Instagram. Things remained chaotic until December, when breakup rumors started swirling amid Woodley's silence about her fiancé's vaccination status. But at the time sources claimed they were just "nontraditional" and not, as some were speculating, broken up. Classic mix-up. As one source put it, they were simply "agreeing to disagree" about a few … unidentified topics.
But it seems like Rodgers and Woodley may have parted ways for real this time. If either of them is looking for a little post-breakup pampering, I have some ideas.