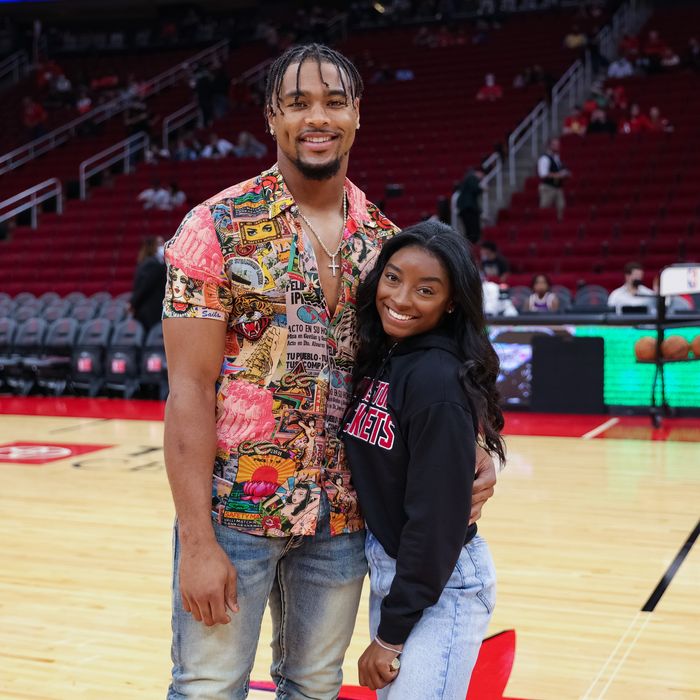 Photo: Carmen Mandato/Getty Images
I hope everyone had an eventful Valentine's Day. Personally, I ate steadily through a box of chocolate-covered grocery strawberries. Meanwhile, living superheroine and champion gymnast Simone Biles spent her Valentine's Day getting engaged to NFL player Jonathan Owens. According to TMZ, the couple have been "inseparable" since they started dating in 2020, with Owens supporting Biles through her challenging moments at the Tokyo Olympics and Biles attending many of Owens's football games and practices.
"WOKE UP A FIANCE," Biles tweeted on Tuesday morning, followed by two ring emojis and a tears-of-joy emoji (honestly, same). "I can't wait to spend forever & ever with you, you're everything I dreamed of and more! let's get married! "
As if this weren't blessing enough, Biles and Owens also announced their engagement in his-and-hers Instagram photo dumps. "Woke up this morning with a fiancée," Owens wrote in his caption. "THE EASIEST YES," wrote Biles in hers. The photos include candids from the proposal in which Biles and Owens are in a sunny gazebo. There's Owens, in his fitted gray suit and black turtleneck, down on one knee; there's Biles in a little black dress, glowing and looking absolutely joyful, as she should. There's also a short video of the ring — a diamond-encrusted band with a large oval diamond in the center — glimmering against some dark-blue velvet so we can all squint at how splendid the rock is. Behold:
Congratulations to this incredibly athletic couple.