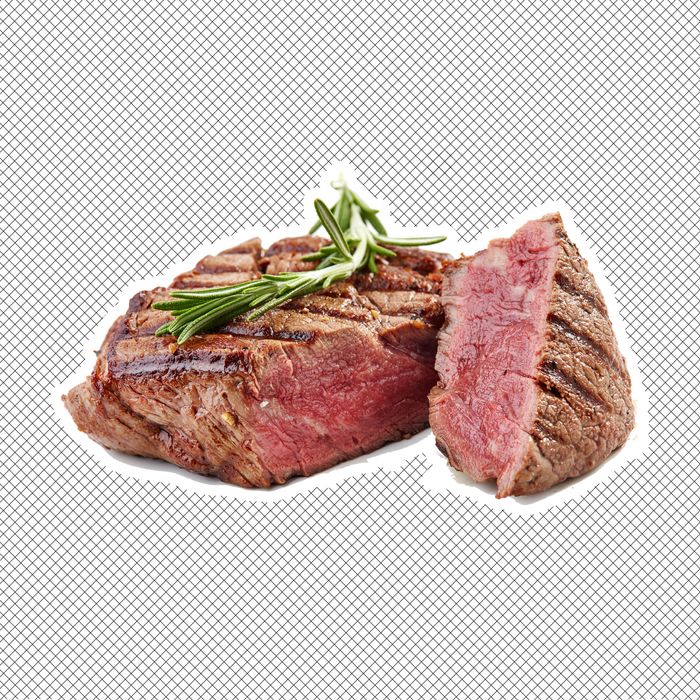 "All I wanted was some steak!"
Photo-Illustration: by The Cut; Photos: Getty Images
As the nation slouches into the third year of a broadly devastating global pandemic, many people may feel themselves approaching a breaking point. A moment when all the accumulated existential frustrations hit their boiling point and go foaming out of the pot. This is normal; we are all tired. Does such widespread exhaustion explain the all-out brawl that recently erupted inside a Philadelphia-area Golden Corral? Maybe, but at the same time, maybe not. Either way, the flashpoint appears to have been the broken promise of bottomless steak.
According to CBS Philly, approximately 40 diners found themselves in the line of fire at a Bensalem franchise of the restaurant chain, after an argument between customers escalated to a full-fledged fight. Footage from the incident shows chairs, tables, and high chairs flying through the air, scattering patrons who were probably just looking to partake of the "legendary, endless buffet at breakfast, lunch, and dinner" that Golden Corral advertises.
Speaking to TMZ, a rep for the restaurant said the evening likely devolved into violence when one customer cut the line and snapped up the last of the Corral's "signature sirloin." That sparked a disagreement, police suggested, which quickly turned physical, and the next thing you know, booster seats are crashing down all around. But local news outlet WPVI-TV spoke with a witness to and participant in the scuffle, Alexis Rios, who provided crucial insight: "I had a rare steak, which is a lot faster to cook than a well-done steak," Rios — who admits he grabbed a chair but maintains he acted in self-defense — explained. He got his steak before the person in front of him, and believes the fact that everyone was wearing masks may have contributed to the chaos and confusion. "With COVID right now, masks and everything, nobody can hear nobody sometimes," Rios observed. "There's a lot of commotion there, the cooks behind us are talking, nobody can hear nobody. You have to speak up loud."
Rios got a bruise on his nose and his brother walked away with a black eye, and no serious injuries have been reported. The investigation into the fracas continues, though the clearest answer may come from the footage itself: Toward the end of the video, a voice off-camera can be heard exclaiming, "All I wanted was some steak!" Yes well, don't we all.