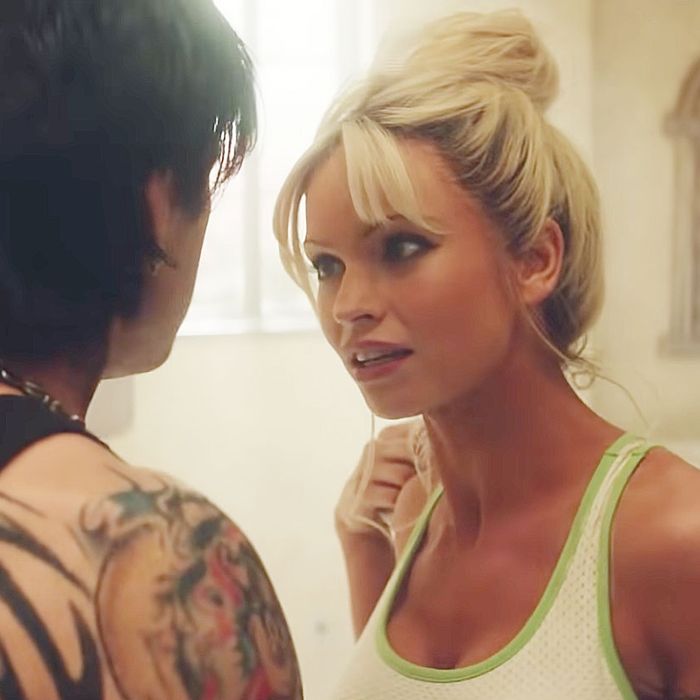 When pictures from Hulu's Pam & Tommy show were first released, the internet was stunned by the transformation of actors Lily James and Sebastian Stan into two of the most iconic pop-culture figures of our time. How did a British brunette and a Marvel actor become a bleached-blonde sex symbol and a rocker?
David Williams, makeup-department head; Barry Lee Moe, hair-department head; and Jason Collins, special-effects-makeup designer, put James through a rigorous getting-ready process that could take anywhere from three to five hours of makeup and prosthetics. The Cut talked to the team about the details of the transformation, the beauty products you can use to get a Pamela lip, and all about the creation of a certain talking penis puppet.
So we've all seen the photos. What role did makeup and prosthetics play in transforming Lily into Pam?
Williams: Every morning, Lily would go and get a hair wrap by Barry Lee Moe. He would put her in a stocking cap, which would help anchor the wig. Then she'd come back over and we would apply a forehead. The forehead would go over the stocking cap and we would glue it precisely to her skin, to just above her eyelids. We also wanted to give her a very bright, broad, wide toothy smile that pushes out the upper lips every so slightly, so we created a dental piece.
Her makeup look was originally created with Alexis Vogel, who was one of Pam's early makeup artists and became one of her good friends and confidants. Every stitch of her was covered with a wig or paint, down to her fingernails. Lily got a base of a spray tan, then a full-body makeup spray on top. It's a mixture of three or four different colors that we mixed together.
We had Lily's natural brows, bleached, lighter, so that you wouldn't see any shadow coming through. We had beautiful fine lace brows that are the high plucked shape of the time period.
We did character makeup on top of the prosthetics, to create shadows and highlights. And then there was period makeup, to exemplify what she was experiencing at the time. Then the beauty makeup — she had a pretty "base look" with great-looking skin and a soft, nude lip, sometimes with a little shine. She also had a smokey eye.
And she had body prosthetics as well, for the breasts?
Williams: There was no way to get around using a prosthetic for that because the Baywatch bathing suit is iconic. In a lot of her clothing, you also catch a lot of sideboob, so it was critical that we be able to replicate that. When creating the breastplate, the thing that stuck in my head was the Friends episode of Chandler and Joey watching Baywatch and him saying, "Run Yasmin, run like the wind!" And I kept thinking, We have to make sure that Lily runs like the wind. It's all going to move. It all has to look real and natural.
In the first week of filming, Lily was walking across the parking lot in one of those little outfits that Pam would wear. We walked by a grip talking on his phone on the back of a truck, and he literally almost fell off. I said, "Well, we didn't kill anybody today." But that's good. That's the reaction we wanted. It's getting that guy to really feel like he was looking at Pamela Anderson.
How did you get the perfect shade of hair color?
Moe: It's clear in photos and interviews that she has that bright, reflective kind of classic platinum blonde. In a few past articles, I read that she always colored her own hair because she just preferred to do it herself. It saved her time so she used a drugstore color. We used virgin hair for the wigs and compared samples with color swatches from drugstore brands to see exactly how we could achieve that blonde. It ended up being a blend of three to four different European blondes that gave us that kind of bright shiny blonde look that Pam always had.
Pam also had these interesting updos that looked haphazardly pinned together. 
Some of those hairstyles were also crazy. Like if you saw somebody walking down the street like that today, you might think, Is everything okay with this person? It was obviously effortlessly chaotic at times, but it always looked good on her. It just made sense. It was just Pam, her kind of wild, messy look.
Pam was especially known for her lips. What is the key to a Pam lip?
Williams: We did try to use makeup products from the time period, such as the original ten lipstick shades created by Bobbi Brown. She always had a slightly pouty look in the way that the lips were drawn on and having it slightly overdrawn was emblematic.
Typically, I would start with a base lipstick very lightly applied and then the liner on top and clean it up around the edges with foundation to give it that clean line and the exact shape.
I used Charlotte Tilbury's Pillow Talk lipstick and Pillow Talk liner on top as a base. The combination of the two gave the long-wear hold you need for television.
I also used MAC Spice, MAC Subculture, and Chanel Vamp liner; Chanel Nude liner is one of my top favorite liners of all time. I also used Lancome's waterproof black eyeliner, a precision one that I loved. I bought 27 of them as personal back stock that I can always go into and pull out.
Pam is considered a beauty icon. As someone who has studied her look, what makes her beauty look so iconic?
Williams: That look has been the Zeitgeist of America for more than 50 years. Starting from the '50s, we've always had peaches and cream, Marilyn Monroe, and Brigitte Bardot. Pam's hairdo was even called the Baby Bardot. The California sun-kissed look is very popular and has also always had a tremendous amount of allure worldwide. The California-beauty look seems to resonate and stand the test of time.
I read that you used over 70 nipple rings and that there was also a talking penis. Talk to me about that. 
Collins: The process was quite amusing actually. When you read the scene, you kind of have to put down the script and say, "What did I just read?" The penis was an animatronic puppet that took two puppeteers. One controlled the dialogue (mouth) and one controlled the four-way movement (up, down, left, and right). The great thing about having puppeteers operate a physical prop is that it allows the actor to have interaction with the member. Scenes can be ad-libbed and allow the actor to riff with a fleshy co-star who gives lines right back to him. It all worked really well, and I think the show is better for it as there is some absurdity to it but also some truthful tenderness in the scene. It's also good for a laugh.