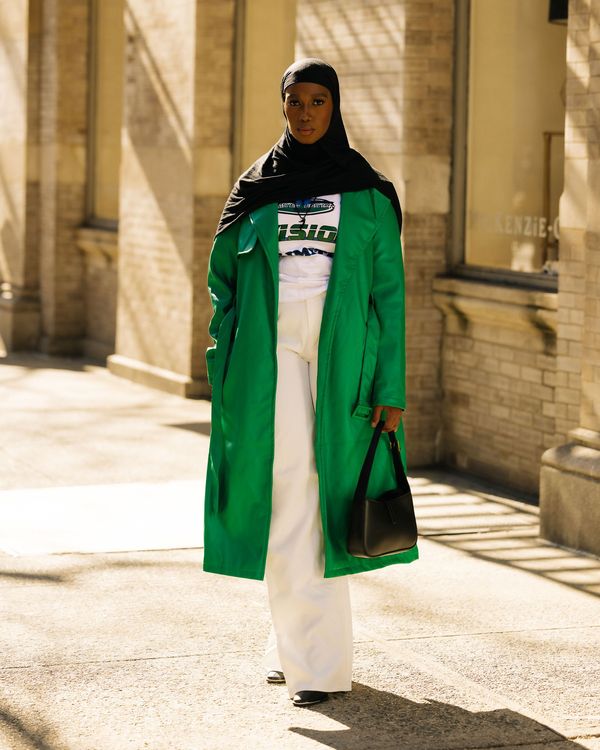 New York Fashion Week kicked off this weekend, and editors, stylists, influencers and more are showing off their most stylish looks. Photographer Darrel Hunter captured street style from the last day at the shows.
.

Day 6: Wednesday, February 16
Sophia Roe, chef
Instagram: @sophia_roe
Alaa Balkhy, creative director
Instagram: @alaa
Vienna Skye, model
Vienna is wearing PH5 top and skirt, Steve Madden boots, and a Fendi bag.
Instagram: @viennaskye
Monica Ahanonu, illustrator and model
Instagram: @monicaahanonu
Aaron Philip, model
Instagram: @aaron___philip
Olive Perry, stylist
Olive is wearing a thrifted top and jacket, Mango pants, and YSL boots.
Instagram: @oliveperryy
Imani Randolph, model
Instagram: @champagnemani
Ajani, model
Instagram: @ajvni
Anna Ross, fashion editor
Anna is wearing an Extreme Cashmere balaclava, Nanushka sweater, Arket gilet, Studio Nicholson pants, and a Celine bag.
Rosie Jarman, assistant fashion editor
Rosie is wearing a Molly Goddard dress, H&M sweater, M.Gemi boots, and a vintage bag.
Instagram: @rosiejarman
Allegra Shaw, digital creator
Instagram: @allegrashaw
Taylor Hage, digital creator
Instagram: @tayhage
.

Day 5: Tuesday, February 15
Loreal Sarkisian, entrepreneur
Instagram: @lorealsarkisian
Achieng Agutu, blogger
Instagram: @noordinarynoire
Rajni Jacques, global head of fashion & beauty at Snapchat
Instagram: @rajni_jacques
Kia D Goosby, fashion market editor
Instagram: @kiadesireegoosby
Amy Lefevre, model
Amy is wearing Peter Do and a Dior bag.
Instagram: @lefevrediary
Noor, fashion creative & podcast host
Noor is wearing a 2 Storeez coat, a Andersson Bell sweater, vintage pants, a vintage Dior bag and Loewe sunglasses.
Instagram: @noore
Amy Sall, editor-in-chief of Sunu Journal
Instagram: @amy_sall
Chriselle Lim, entrepreneur
Chriselle is wearing Peter Do and Balenciaga shoes.
Instagram: @chrisellelim
Jessica Wang, influencer
Jessica is wearing Peter Do.
Instagram: @jessicawang
Candace Marie, social media consultant
Candace is wearing a Peter Do dress and boots, an Awake skirt, Khanum jacket and a Scanlan Theodore bag.
Instagram: @marie_mag_
Chloe King, brand relations at Amazon
Chloe is wearing a NASA sweatshirt, a Noir Kei Ninomiya skirt, a vintage jacket and Simone Rocha shoes.
Instagram: @chloe4dayz
Maria Alia Al-sadek, influencer
Instagram: @mariaalia
Vanessa Hong, content creator
Vanessa is wearing Peter Do and a Paco Rabanne bag.
Instagram: @vanessahong
Naomi Elizèe, editor
Instagram: @naomielizee
.

Day 4: Monday, February 14
Val, data scientist
Val is wearing Ader Error, Findkapoor, Miista shoes, and Bonnie Clyde.
Instagram: @valslooks
Greivy, content creator
Greivy is wearing Hermès, Coach, Olivia Rubin, and Ganni.
Instagram: @greivy
Tara González, style writer
Tara is wearing Marc Jacobs, vintage Roberto Cavalli, Marine Serre x Nike, and Sezane.
Instagram: @tarigonzalez
Hannah Traore, gallerist
Hannah is wearing Gucci and Coach.
Instagram: @hannahtraore
Jasmin Savoy Brown, actress and singer
Instagram: @jasminsavoy
Kimberly Drew, curator
Kimberly is wearing Coach and Thom Browne.
Instagram: @museummammy
Michelle Li, stylist
Michelle is wearing Vaquera.
Instagram: @himichelleli
Miki Cheung, digital content creator
Miki is wearing Jason Wu, Valentino, Saint Laurent, Strathberry, and Nanushka.
Instagram: @mikialamode
Gabrielle Richardson, model
Instagram: @fridacashflow
Coco Baudelle, actress and filmmaker
Instagram: @cocobaudelle
.

Day 2: Saturday, February 12
Noor, fashion creative and podcast host
Noor is wearing Mariam Al-Sibai, Glemaud, Margiela, and vintage Dior.
Instagram: @Noore
Vienna Skye, creative and model
Vienna is wearing Marina Moscone, Prada, and Diesel.
Instagram: @viennaskye
Yusra Siddiqui, assistant market editor
Yusra is wearing LOTI top and pants, Vela Scarves and a JW PEI handbag.
Instagram: @thatgirlyusra
Solange Franklin, stylist
Solange is wearing Christopher John Rogers, Asai, Renaissance, Vavounne, and Dorateymor.
Instagram: @solangefranklin
Rosie Jarman, assistant fashion editor
Rosie is wearing a vintage blazer, Sandy Liang, Sies Marjan, Jacques Marie Mage, and Chanel.
Instagram: @rosiejarman
Kristen Bateman, writer and creative consultant
Kristen is wearing Dollchunk, Sandy Liang x Vans, Taylor Dorry, Chopova Lowena, Balenciaga, Simone Rocha, Loewe, Miu Miu and JOEYBABY.
Instagram: @kristenvbateman
Jenee Naylor, content creator
Janee is wearing Cult Gia, Stella McCartney, Chanel, and Dior.
Instagram: @highlowluxxe
Candace Marie, social media consultant
Candace is wearing Victor Glemaud, Lapointe, and Nanushka.
Instagram: @marie_mag_
Aneka Aitimova, stylist
Aneka is wearing Mugler, Tory Burch, Zara, Versace, and Michael Kors.
Instagram: @aneka_aitimova
Alioune Badara Fall, creative
Alioune is wearing Bottega Venetta, Calvin Klein, COS, and ABF Studios.
Instagram: @aliounebf
.

Day 1: Friday, February 11
Jamila Jones, fashion designer
Jamila is wearing H&M, Nasty Gal, Nordstrom, and a Telfar bag.
Instagram: @fashionistamila
Lizzy Enobakhare, model
Lizzy is wearing a vintage look with I.AM.GIA and Dr. Martens.
Instagram: @cocoalizzy
Jasmin Savoy Brown, actress
Jasmin is wearing Bronx and Banco.
Instagram: @jasminsavoy
Shannae Ingleton Smith, talent-agency owner
Shannae is wearing a Christopher John Rogers dress, a Jacquemus bag, and Dr. Martens.
"Who cares what they think?"
Instagram: @torontoshay
Allegra Shaw, designer
Instagram: @allegrashaw
Sahra, student
Sahra is wearing a Misguided top and Steve Madden.
Instagram: @sxhrxx__
Iana Rad, fashion student
Iana is wearing Ralph Lauren, Santoni, Zara, and YSL.
Instagram: @iana.rad
Aïssata Diallo, influencer
Aïssata is wearing Bottega Veneta.
Instagram: @aissatadiallo
Kristen Lam, social-media director
Kristen is wearing Frankie Shop, Designers Remix, Prada, Pêche, and Proenza Schouler.
"You can have all the money in the world, but you can't buy style."
Instagram: @kristengracelam
Olivia Perez, podcast host
Olivia is wearing Proenza Schouler.
Instagram: @livvperez
Alyssa Coscarelli, influencer
Alyssa is wearing Proenza Schouler.
Instagram: @alyssainthecity
Vanessa Hong, influencer
Vanessa is wearing Proenza Schouler.
Instagram: @vanessahong
More From New York Fashion Week
See All