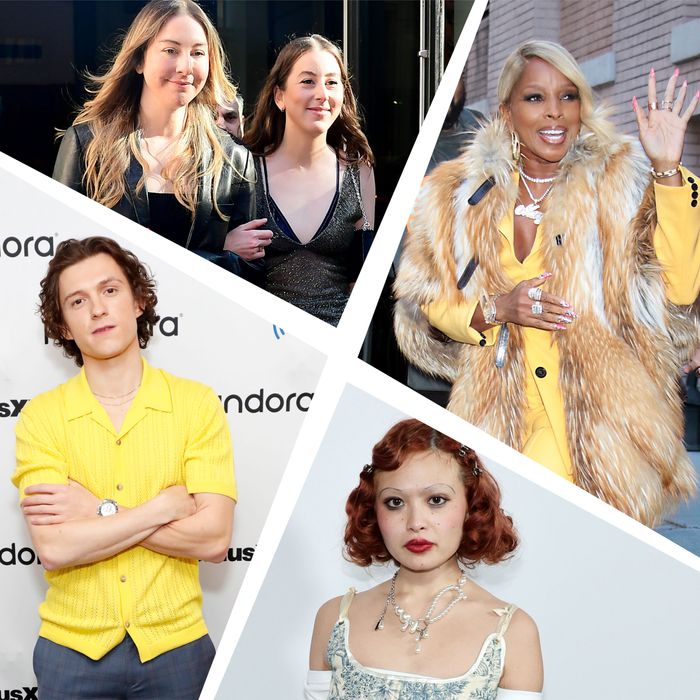 It seems every celebrity dressed to leave a lasting impression as they dashed between New York Fashion Week parties and premieres. Many decided to add color to the mix as we head toward March and, hopefully, spring. Did I mention the Spider-Man stars were everywhere in New York? If Tobey Maguire had shown up, that would've called for its own post. Plus Este and Alana Haim rocked all black and Martha Stewart was spotted in pearls. For these looks and more, scroll on.
Best top
Mina Le pairs a beautiful lace corset with some yellow bloomers, proving that the warmer the weather, the more fun tops we can wear. I love everything about this outfit down to the chunky mary janes.
Best Spider-Man (yes, I went there)
Even though Andrew Garfield is not here as Spider-Man, the star has my heart in this sleek black suit.
Best fur
I love a fur coat and Mary J. Blige's is no exception. Layered over this lovely yellow suit, the singer looks amazing and weather appropriate.
Best sisters
I'm a big fan of the Haim sisters and not just for their music but because they are so damn cool. I am obsessed with Este's boots and Alana's sheer dress here.
Best belt
As much as you may hate it, chunky belts are back. The matching pink belt, bag, and heels make this outfit.
Wait a second … best Spider-Man?
I know what I said about Andrew Garfield. But Tom Holland has had quite the week out and about with girlfriend Zendaya, and he stunts in this bright yellow button-up and some thin chains.
Best pearls
Martha Stewart is the queen of classy, and these pearls paired with a fur scarf prove it. All this outfit lacks is her bestie Snoop Dogg.