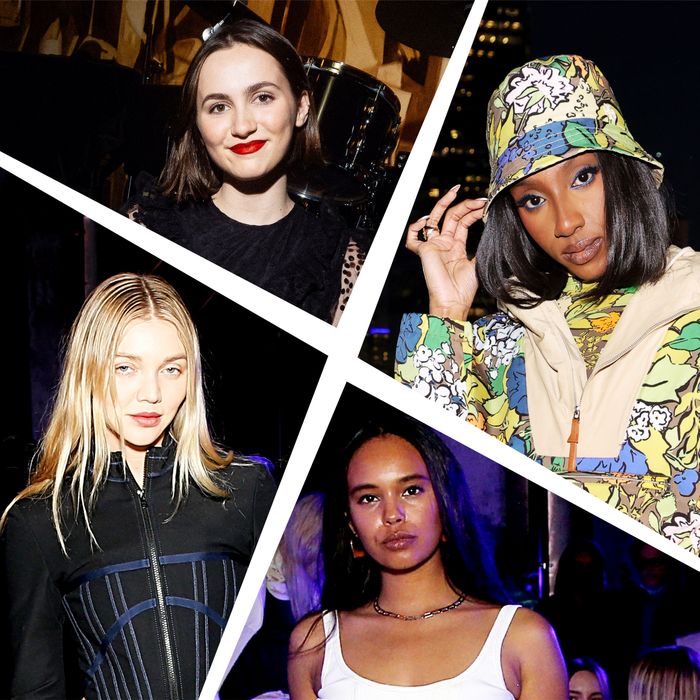 Photo-Illustration: by The Cut; Photos: Getty Images, BFA
We're back after taking a much-needed hiatus from parties and events due to the past Omicron spike. And what is a more appropriate way to make a comeback than Fashion Week? This past week and then some, New Yorkers have been showing off their very best attire to attend fashion shows and after-parties, such as actress Maude Apatow, comedian Ziwe, and drag queen Symone. Keep scrolling for all of these outfits and more.
Best Color Block
Brown is in, and so is this color-blocked look on Wildflower Cases co-founder Devon Lee Carlson. I love the shape of this dress — how it flares out on both the top and bottom — plus, a little pink never did any harm.
Best Street Style
This top is everywhere, so get used to it and pair it with baggy white trousers like actress Alisha Boe. An all-white minimalist look? Perfection.
Most Colorful
These two comedians showed up in this mishmash of bright colors and bold prints. Sarah Sherman's matching green set and Patti Harrison's top make for a fun duo.
Best Red Everything
A monochrome look is never not stylish, but this red dress with a matching leather blazer, heels, and purse is something beyond. The shape of these shoes and the fit of the jacket are what dreams are made of.
Best Red Lip
Wearing all black, Apatow's red lip color pops in the best way. Justice for Lexi!
Best Trousers
This season, we're all wearing trousers (right? Well, anyway), but none are as good as these pastel-pink ones that designer Tan France is wearing and has paired with a hot-pink sweater, pulling off a cool preppy look.
Best Florals
Head-to-toe florals is always a win in my book.
Best Sleeves
A little sparkly black dress is the uniform for literally anything, but especially a fashion show. And these sleeves! That texture!
Best Pattern
If it's not head-to-toe florals, it should be head-to-toe whatever this extremely cool pattern is. This look is So Good, especially with the chunky belt.
Best Top
I love the shape of this top and the use of blue stitching. The look: elevated but versatile.
Best Boots
These gold boots are everything I've ever wanted. A statement piece. A flattering cowboy shape. A dream. They make the outfit.
Best Mesh
Need to spice up an outfit? Add some texture. The little mesh cutout on this top adds something to this outfit while keeping the sleek look.
Best Tie-dye
As a huge fan of the resurgence of tie-dye, I'm weeping at this dress that proves the pattern can be more elevated than just T-shirts. These colors look great together, and the shape of the dress makes it flattering in all the right places.
Best Group
I'm a sucker for green, and this green suit is no exception.