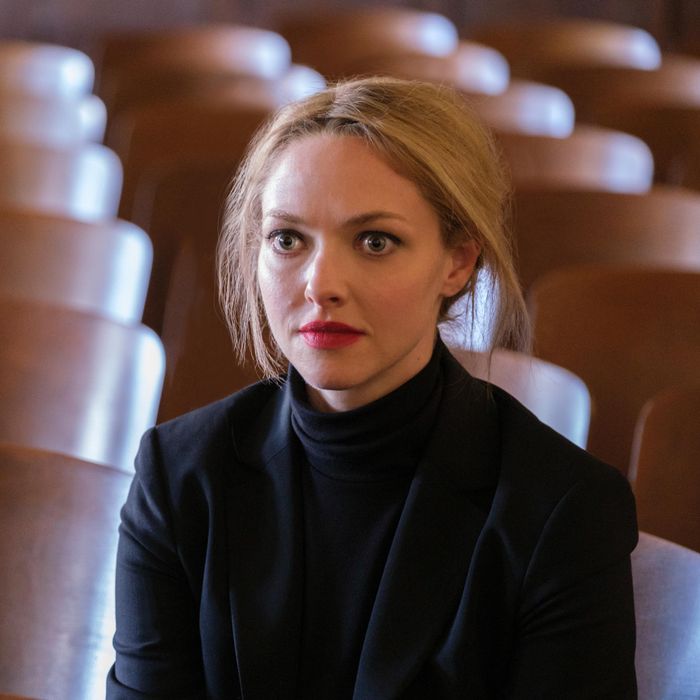 Today, Hulu released a trailer for The Dropout, a new limited series about the rise and fall of Elizabeth Holmes, disgraced Theranos founder and black-turtleneck wearer. You may remember that the real Holmes — who famously built a Silicon Valley empire off a health-care scam — was found guilty on four federal counts of fraud back in January.
Our first glimpse of fictional-Holmes came in December, when Hulu released photos of Amanda Seyfried in Holmes's signature turtleneck, red lipstick, and wide-eyed intensity. The photos were promising and left me with many questions: Would Hulu-Holmes follow the peculiar schedule the real Holmes did? And would Seyfried pull off Holmes's signature fake baritone?
Well.
Wow. For a limited series, there's so much going on here. In the video above, we get Holmes's decision to drop out of Stanford — she jogs through campus! — and then the doubt that her lack of a college degree sows among her critics. ("I don't understand how you're doing this extremely complex chemical engineering with a high-school degree," one says.) We get Seyfried bringing an appropriately frenetic (and unblinking) energy to Holmes as she backs false claims about Theranos's efficacy. And we get Holmes's relationship with Ramesh Balwani (Naveen Andrews), Holmes's former partner and right-hand man, whom she recently accused of emotional abuse.
Other gems: Seyfried quoting Yoda for inspiration, several foreboding blood drops, and, yep, Seyfried practicing that fake baritone (!). Seyfried makes for such an unsettlingly good Holmes that I'm not even sad about Kate McKinnon exiting the project anymore.
The Dropout comes out March 3, and I for one can't wait to see Seyfried fraudulently girlbossing away.