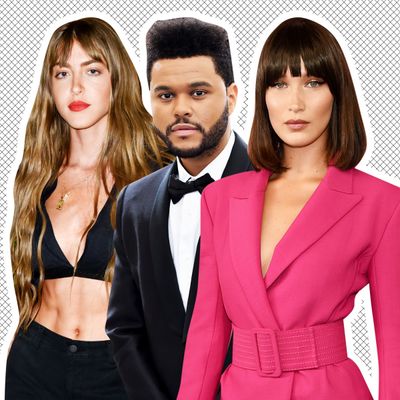 Simi Khadra, the Weeknd, and Bella Hadid
Photo-Illustration: by The Cut; Photos: Getty Images
Well, it seems the Weeknd and Angelina Jolie really were "just networking." Or perhaps they've ended their, uh, professional relationship? Regardless, it appears the Weeknd (Abel Tesfaye) has a new business partner. The partner? Simi Khadra, half of the twin DJ duo Simi and Haze. The business? Making out in Las Vegas on his birthday.
If you have been anywhere near TikTok, you've likely seen footage of Khadra and the Weeknd kissing during his birthday party on Saturday. If TikTok and its youth, you, fear not: TMZ has shared the video on its site, as TMZ is wont to do. In the 24-second clip, it looks like Khadra and the Weeknd greet each other with a kiss, which sure seems romantic to me. According to E!News, the two were also "by each other's sides the entire night" and "making out" in front of guests, which included Swedish House Mafia and Kaytranada, both of whom DJ-ed the birthday party, as well as Drake. (No word on how he's doing in the wake of Rihanna's recently announced pregnancy.) Khadra also confirmed she was at the party, posting Instagram stories about her trip to Vegas.
Which brings us to the Bella Hadid of it all. Hadid is reportedly close friends with both Khadra sisters. She also dated the Weeknd off and on between 2015 and 2019. (Their longest break was in 2017, when he dated Selena Gomez.) While Hadid hasn't publicly responded to reports of Simi and the Weeknd dating, she appears to have unfollowed Simi's joint account with her sister, @SimiHaze, on Instagram. But I wouldn't worry too much about Hadid. She has been dating art director Marc Kalman for some time now. Also … she's Bella Hadid. She will be fine.
As for Selena Gomez, she entered the chat a few days later with an Instagram post revealing she's actually been friends with the Khadra sisters for over a decade! On Thursday, February 24, she shared two photos of her posing with the twins with the caption "Since 2013." She didn't tag the Weeknd, but people in the comments rushed to do it for her, supposedly alerting him to the fact that Khadra is friends with yet another one of his exes.
Their next girls' night should be very interesting.