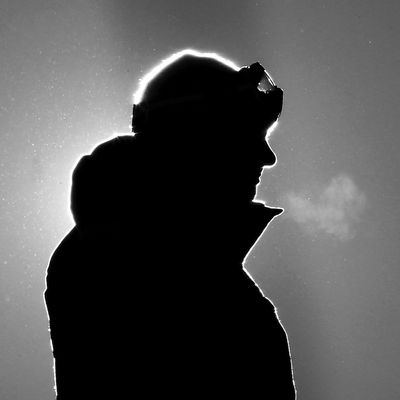 Photo: Mike Ehrmann/Getty Images
Whether it's grim quarantine conditions or a historic quad jump going south, the Olympics continue to be an utter shitshow. On Friday, U.S. Ski & Snowboard confirmed it was investigating allegations of sexual misconduct and inappropriate behavior on the U.S. snowboarding team. The allegations, which surfaced earlier this week in Instagram Stories and posts from former Olympian Callan Chythlook-Sifsof, concern two men currently representing the U.S. at the Beijing Olympics: Peter Foley, who has served as the team's head coach since 1994, and snowboarder Hagen Kearney.
In the posts, Chythlook-Sifsof delves into incidents of sexual misconduct and racism she says she witnessed in 2014, the last year she traveled with the U.S. team. Instagram has since removed some of the posts, apparently over "bullying." (Okay, Instagram community guidelines.) In the initial deleted posts, Chythlook-Sifsof alleged that Foley had taken nude photos of female athletes for "over a decade." Outsports noted in its own report that it received a similar allegation from another woman.
According to Chythlook-Sifsof, Foley was lecherous and made inappropriate comments to female team members. "One of my first impressions of Head Coach Peter Foley at 17, was him whispering between my and a female teammates ear that he wanted to 'put his tongue inside her pussy', pointing to a very young Argentinian girl on a dance floor," Chythlook-Sifsof wrote. She alluded to more "serious" stories of Foley's alleged sexual misconduct but did not elaborate, noting in her post that the stories were not hers to tell "but should come to light." For his part, Foley denied the athlete's claims, saying in a statement to Newsweek, "I vehemently deny the allegations. I'm doing my best to concentrate on supporting the athletes at the Olympics."
Chythlook-Sifsof also accused Kearney of repeatedly using a racial slur. She wrote that Kearney "routinely and continuously" used the N-word in her presence and that he defended his use of the slur with physical intimidation: "Hagen … cupped his hands to his mouth and yelled the n-word on repeat around 20 times … I stopped to face him, he approached me smiling. I said, 'Hagen if you say that one more time…'. He got 6 inches from my face, fake punched me and said, 'What? What are you going to do about it?'" Chythlook-Sifsof wrote that Kearney regularly made rape jokes about female members of the snowboarding team.
While her post names only a few men, Chythlook-Sifsof emphasized in a since-deleted post that the toxicity is systemic in the team environment at large. "The people I've named have overtly behaved toxically but the truth is the culture on the team protected this behavior," Chythlook-Sifsof wrote, according to Newsweek. "Things have been normalized that are not okay."
In a statement to ESPN, U.S. Ski & Snowboard said it takes "these allegations very seriously and the allegations are being investigated." In a separate statement, a U.S. Ski & Snowboard spokesperson told Outsports that the behaviors detailed in Chythlook-Sifsof's post "have no place in our sport or on our teams." The United States Olympic & Paralympic Committee has apparently reported Chythlook-Sifsof's allegation to the United States Center for SafeSport. That said, U.S. Ski & Snowboard has yet to comment on whether Foley will continue to coach in Beijing or whether Kearney will continue competing. The Cut has reached out to U.S. Ski & Snowboard for further comment.