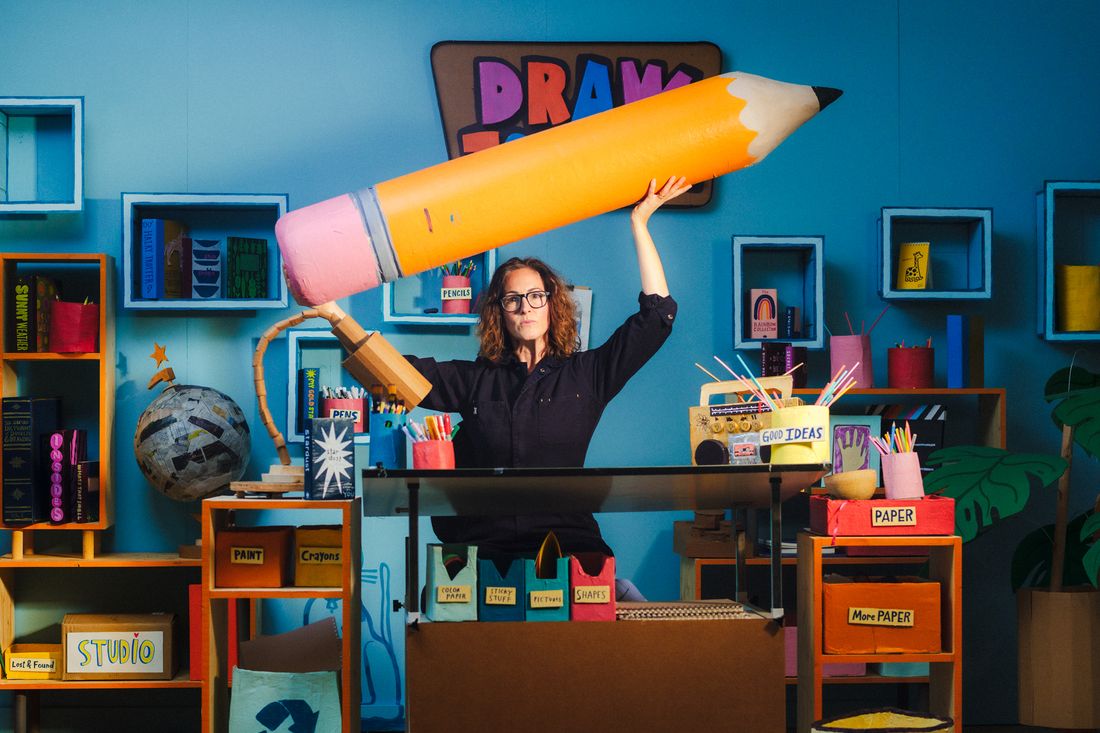 The artist Wendy MacNaughton handed me a pencil and a sheet of white paper and gave me simple instructions: Keep my pencil on the paper and my eyes on her face. Don't glance down, don't lift the pencil. Just look — really look — for 60 seconds and draw her portrait in one continuous line.
"It's going to be terrible — I promise!" she said. "Don't worry!"
MacNaughton and I were sitting in her studio at the Marsh, a community performance space on Valencia Street in San Francisco. The set, outfitted with a seven-foot-tall papier-mâché paintbrush and eight-foot-long cardboard scissors, was all oversize and handmade. This was where MacNaughton filmed the past 12 episodes of DrawTogether, her streaming art show for kids that feels like Mister Rogers' Neighborhood, if Fred Rogers drank six cups of coffee, enrolled in art school, and entered a time machine, emerging as an exuberant 40-something lesbian in a jumpsuit, beanie, and high-top sneakers.
MacNaughton first started shooting DrawTogether in her house a few miles away in March 2020, just as the world was shutting down and the idea that kids might not have day care and school, even for one week, seemed absurd. MacNaughton's wife, the writer Caroline Paul, shot video on an iPhone and streamed it to Instagram Live. The concept was simple. MacNaughton and SuSo, her rescue mutt named after Susan Sontag, would just spend some time with children making art. Along the way, she'd back into some deep how-to-be-a-human lessons. Perfectionism is a lie. Mistakes are essential to creativity. Attention is the greatest act of care we can offer each other.
MacNaughton is a low-key Bay Area celebrity, adored by lots of people you've heard of that she's too classy to name; we are, full disclosure, friends. Before the pandemic, we used to meet at the gym and try to figure out our lives. MacNaughton did not have the kind of life that begged rethinking. She'd illustrated Samin Nosrat's wildly successful cookbook, Salt, Fat, Acid, Heat. She had a New York Times column that featured her trademark pen-and-watercolor illustrations on basically whatever topics she wanted, ranging from the fake plastic grass in sushi trays to the inhumanity of prison video-chat systems. But MacNaughton wanted more than to push forward the aesthetics of her own art. She wanted to change the way her art operated in the world — make it less a one-way vehicle for delivering information, more a medium for people to apprehend each other. At the time, MacNaughton was planning an ambitious magazine project on San Francisco's unhoused population. She didn't want to just make drawings. She wanted to create public drawing stations in parks and at bus stops so the whole city could slow down, look at, and draw one another.
But the world changed. MacNaughton posted on Instagram, "If I popped up at 10 am tomorrow would people want to draw with me?" Twelve thousand children tuned in the next day to draw a dog. Fourteen thousand showed up the following day to draw a tree. MacNaughton assumed these classes would just be five minutes a day for five days — then we'd all resume normal lives, right? They turned into 30 minutes a day for three and a half months.
Over those many weeks, DrawTogether included segments on the kind of stuff you might expect, like primary colors and how to draw a unicorn fart. But after art school, MacNaughton had also earned a master's in social work, so she also checked in on kids' emotional lives. Together, they drew "inside weather" charts: sunny, rainy, stormy, windy, cloudy. This gave even preschoolers a way to name and share what was going on in their COVID-confused hearts and minds.
At the close of the 2020 school year, MacNaughton pulled on a bright-yellow blazer, tied a graduation cap on SuSo's head, and held a DrawTogether graduation ceremony. Thousands of kids from dozens of countries showed up. Thousands of parents, and MacNaughton, cried. By that point, she was exhausted from working 24/7, writing back to all the kids who had sent her letters and art. (One mother reported that her autistic son had only ever drawn inanimate objects until he watched her show, during which he drew a whale and then MacNaughton.) Soon, kid viewers and their adults were begging MacNaughton to return. So she rallied for DrawTogether summer camp. "After that, I'm pretty sure I had a breakdown," MacNaughton said, looking over the floor covered with posters and art supplies to send to teachers who use the show as art curriculum. "I don't think that I'd actually let in the fact that we had a pandemic going on."
MacNaughton took some time off and started conversations with producers. But she realized she didn't want to burn a year negotiating contracts and wait yet another year for the show to come out. So she spent some of her savings and hired a friend to build the set. Paul again filmed on a phone, and they hired an editor, giving her a bit of the advice they'd heard from the pros: DrawTogether was way too long. Kids have short attention spans! Chop those 15 minutes MacNaughton normally spent watercoloring and talking to herself and the kids to just four. The whole show should be seven minutes, eight tops. Rug rats can always hit pause and color by themselves.
"I can laugh about it now, but there was absolute rebellion," MacNaughton told me. "We got letters from parents saying that their kids started crying in the middle of coloring time. They felt rushed! I had broken our agreement. They trusted me. I had betrayed them." She returned the show to its full luxurious length.
DrawTogether's magic stems from MacNaughton's combination of effusiveness, patience, and inefficiency, her implicit promise to viewers that at least one adult in the world is happy to be there. Not desperate, as almost all parents are these days, to grab a moment for themselves, or send a work email, the instant that a child seems content and occupied.
If you cue up the show, you'll feel the comfort of having MacNaughton just be with you. "If we're going to go out into space, I want us to go together too. We're friends," she says, painting a spaceship she's drawn out of circles, triangles, and squares. "It's pretty fun to be able to go out and hang out with our friends, the shapes. We can ask ourselves, Why am I feeling a little down? Am I feeling lonely? What can I do? I can go find my friends, the shapes. We can always draw our friends, the shapes, and our weather inside will change."
"Everybody thinks that drawing is about making a good picture. And it is not!" MacNaughton said. "I mean, it can be — that's fine." There are lots of directional how-to drawing shows, where you can learn a particular technique. But then you're left comparing what you've done to a specific goal. You're left chasing a right answer. And that's not what MacNaughton is after. She's working to bring DrawTogether into more classrooms, and part of the curriculum is giving teachers tips on supportive ways to talk about art. "We're so used to saying to kids, 'That's a great dog' or whatever. But there are two problems with that," MacNaughton said. "One is that you've introduced a judgment. And the other thing is it's not a dog, okay? It's a dinosaur. And now your kid is super-bummed."
In the theater, MacNaughton drew me with mischief and calm. My portrait of her was, as promised, terrible. Nothing was in the right place, but it had flow and ease. Real attention is magnificent, for all of us. And nobody has it right now.