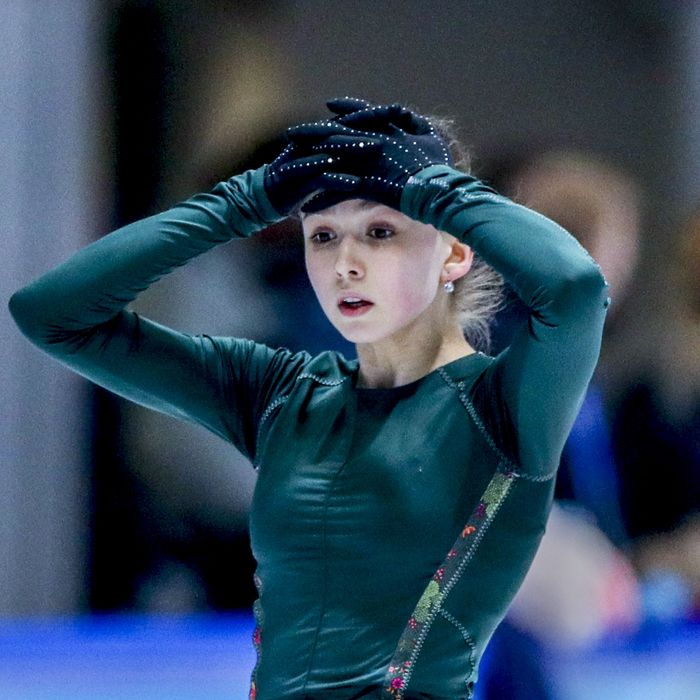 Photo: Anadolu Agency/Anadolu Agency via Getty Images
Figure skating's great quad revolution just took a dark turn. Next week's Olympic women's figure-skating competition was thrown into chaos Tuesday when, soon after the mysterious postponement of the medal ceremony for the team event, reports surfaced that an athlete on the gold-medal-winning Russian Olympic Committee team had failed a drug test. Last night, the International Testing Agency confirmed that 15-year-old Kamila Valieva, the favorite for gold in the women's individual event and a quadruple-jumping powerhouse, tested positive for trimetazidine at the Russian nationals in December.
The drug typically treats a heart condition called angina but can also help with aerobic endurance. Christopher Cooper, a professor of biochemistry at the University of Essex in England and an expert on doping in athletes, told me that trimetazidine would be an obvious choice in endurance sports like swimming but that it could also potentially help in a sport like figure skating, in which fatigue can hinder athletes especially toward the end of a long program. Cooper noted that trimetazidine is related to meldonium, a drug in wide use by Russian athletes before it was banned in 2016.
Valieva's failed test somehow sat unreported until the day after the team event concluded. Because the testing sample was taken well ahead of the Olympics, the International Olympic Committee and ITA don't have jurisdiction. It instead falls to the Russian Anti-Doping Agency, which imposed an Olympic suspension on Valieva on Tuesday only to lift it a day later and reinstate her. The IOC does have the right to challenge such decisions, and it did so, sending the case to the Court of Arbitration for Sport, where a final decision will need to be handed down before the women's short program this Tuesday.
It's hard to think of a messier situation for the Olympic experiment at a moment when it is facing credibility challenges on multiple fronts including its allowance of Russian athletes to compete at all in the wake of their country's 2014 state-sponsored doping program.
How is the arbitration likely to play out? "I suspect there will be a 'therapeutic-use exemption' argument in front of CAS today or maybe an inadvertent use with time already served," Cooper said, though he doubted there was a legitimate case for a therapeutic-use exemption.
John Hoberman, a historian at the University of Texas and the author of The Olympic Crisis: Sport, Politics, and the Moral Order, told me not to be surprised if CAS exonerates Valieva and allows her to compete. "It was CAS that halved the 2014 doping-scandal penalty and thereby sent more than 500 ROC athletes to Tokyo and Beijing," he said, pointing out that both CAS and the World Anti-Doping Agency exist under the auspices of the IOC, whose president has a history of indulging both Russia and China. "The IOC and WADA caved to Putin's demands in the 2014 scandal," he added, "and there is no reason they should do any better now."
Because she is only 15 years old, Valieva is considered a "protected person" by WADA, which means there is no requirement to make her failed test public — it only was in this case because the information had leaked to the media — and she herself likely can't be held accountable for the drugs in her system. Valieva's young age could provide just the loophole CAS needs to allow her to compete. It remains to be seen if Valieva's coach, Eteri Tutberidze, who had come under scrutiny previously for harsh training conditions and tight control over her athletes, could face sanctions. Tutberidze also coaches the two other Russian skaters in the women's competition, Alexandra Trusova and Anna Shcherbakova, who were expected to join Valieva in sweeping the medals.
A couple of weeks ago, well before this current scandal emerged, I discussed Russia's doping record with Olympic champion Scott Hamilton. "Once the investigations have happened and they understand who the responsible parties are," he said, "because they've diminished the integrity and overall viability of the sport, a lifetime ban is totally appropriate." It's hard to apply this otherwise logical argument to a 15-year-old, though. Then again, if an athlete can't be held to the same standards as her competitors, it might not be suitable for her to be competing at all. Age limits in figure skating will likely be revisited after this Olympics.
Whatever the decision by CAS, there seems to be no redeeming this Olympics for women's figure skating. If Valieva is allowed to compete, she will rightly arouse resentment from her competitors and from Olympic viewers, who will see her as having an inappropriate edge. And if she wins, we will always wonder whether she could have done so without the trimetazidine. If she is disqualified, the eventual champion will be considered a winner only by default because the best skater in the world wasn't there. Either way, there will be an asterisk in the history books next to this competition. The real tragedy of it is that as a child, the supremely talented Valieva is the mere catalyst of this scandal, not its mastermind.