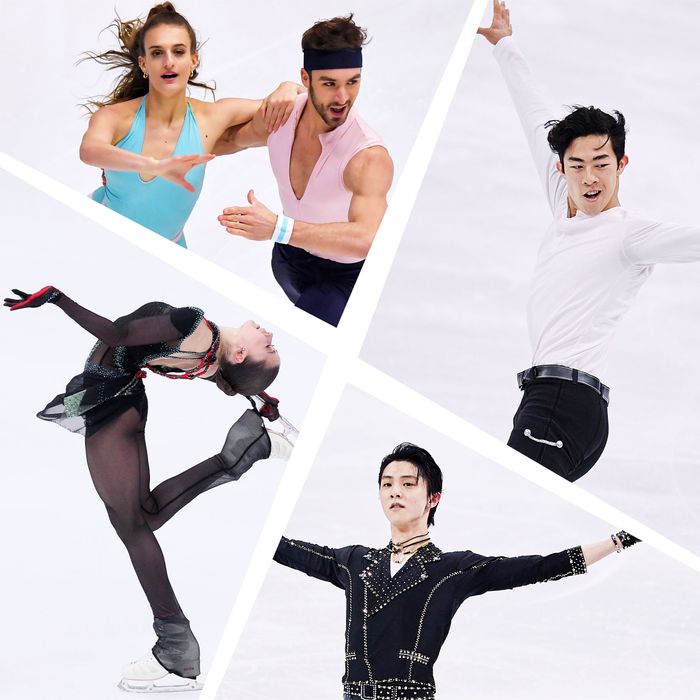 Photo-Illustration: by The Cut; Photos: Getty Images
The 2022 Beijing Winter Olympics kick off this week, which, for me at least, means one thing: figure skating. With COVID cases still surging around the world, the lead-up to the games has been dominated by familiar controversy over whether they should really be happening at all, not to mention a diplomatic boycott by the U.S. and a number of other countries in response to China's alleged human rights abuses. In other words, the mood is not great. At least we have batshit costumes, quadruple jumps, and spicy commentary from Johnny Weir and Tara Lipinski to look forward to.
If you haven't thought about competitive skating since the last Winter Olympics, allow me to jog your memory. Figure skaters compete in four categories: men's, women's, ice dancing, and pairs. Each competition includes two rounds: a short program followed by the longer free skate. The scoring system is very complex, but basically, skaters are expected to perform a set number of jumps and spins and are awarded points based on the difficulty of each element and how well it's executed, in addition to a score for the overall artistry of their performance.
This is the first year that for both men and women, the competition will essentially come down to who manages to land the most quads. Shorthand for quadruple jumps, quads are jumps where you rotate four times in the air — a feat difficult enough that even the majority of competitors headed for Beijing can't do one. Yet a handful of skaters make it look effortless, and this year's competition should be thrilling to watch. Are you invested yet? Keep reading.
Men's
If you only watch one event, I'd recommend the Men's free skate. Why? Nathan Chen. You may remember Chen from the 2018 Pyeongchang Olympics, where he was hyped as the most technically advanced skater in the history of the sport only to take a number of uncharacteristic and very sad falls. He eventually rebounded, landing six (six!) quads in the free skate — an all-time record and two more than anyone else — finishing fifth overall.
Since then, he's been practically unbeatable: He's the three-time world champion, and last month, he won his sixth consecutive U.S. title, another record. After his rocky Olympic debut, 2022 is his year to dominate. In addition to mind-blowing jumps, Chen — who also studies statistics at Yale — has a very graceful quality with a quiet confidence and understated style (he famously hates sequins). For his free skate, he's once again performing to an Elton John medley, an excellent choice, if you ask me.
Of course, Chen has a rival: Yuzuru Hanyu, a Japanese skater who has won gold in the past two Olympics. He is both a very good skater and also incredibly famous in Japan; after he skates, his fans shower the ice with Winnie the Pooh bears, his signature. Both Hanyu, who is 27, and Chen, who is 22, have signaled that Beijing will be their final Olympics — making this their ultimate showdown. To make things even more exciting, Hanyu is planning to attempt a quad axel — which, at four-and-a-half rotations, is the most difficult quad. No one else has ever attempted it in competition, and it's not clear whether Hanyu will be able to pull it off: When he tried it at Japanese nationals in December, the jump was underrotated, and he landed on two feet (both of which resulted in deductions). So, stay tuned!
Also representing the U.S. are Vincent Zhou— the only skater to beat Chen since 2018 (only once, but still) — and Jason Brown, who you may know from his iconic Riverdance program at the 2014 Olympics. A longtime crowd favorite and incredible performer, Brown struggles to land quads consistently, making him a long shot for a medal but still very fun to watch.
Women's
In recent years, American women haven't stood a chance against the Russians, and that's especially true this Olympics, where the Russian team is stacked with teenagers who can land quads. Women landing quadruple jumps in competition is a new development: Until recently, the most difficult jump women performed was a triple axel (three-and-a-half rotations), and even that was rare.
In fact, the Russian women are so far ahead of the rest of the world, they'll essentially be competing against themselves. (Though it'll be under the Russian Olympic Committee flag because of the country's ban over prior doping violations). The favorite is Kamila Valieva, who, at 15, is probably the best female skater anyone has ever seen. At the recent European championships, she performed three nearly perfect quads — an unprecedented feat. She's also balletic and incredibly fluid on the ice and just stunning to watch.
Naturally, her teammates, Anna Shcherbakova and Alexandra Trusova, both 17, are also exceptional. If this all sounds familiar, that's because the 2018 Olympics also featured an epic showdown between two impeccable Russian skaters, 15-year-old Alina Zagitova and 18-year-old Evgenia Medvedeva. Surprise: The teens representing Russia this year all train with the same terrifying coach who brought us 2018's gold and silver medalists, Eteri Tutberidze, who is known for pitting her skaters against each other. However, this year's crew of skaters is even better. Their biggest challenge may be not getting COVID: While Russia recently approved a vaccine for minors, all three skaters have received an exemption to the requirement that athletes be fully vaccinated (and one of their teammates has already withdrawn after testing positive).
Of the three American women competing, Alysa Liu is the only one who has ever landed a quad in competition, though she has said she isn't planning to attempt any in Beijing. However, some critics argue it's to the sport's detriment that the scoring system puts so much emphasis on tricks instead of the overall artistry; think of skaters like Adam Rippon, whose performances were beloved by fans even though he finished far from the Olympic podium. And at January's national championships, both Mariah Bell and Karen Chen were exhilarating to watch, skating nearly flawlessly. Bell, the current U.S. champion, has said that, at 25, she's considered "ancient" for the sport and is proud of it. Her coaching team includes Rippon, who calls himself "her fairy godmother."
Ice Dancing
You may remember a highlight of the last Olympics was watching Canadian ice dancers Tessa Virtue and Scott Moir have sex on ice. The two-time Olympic champions have retired, but thankfully there is another captivating Canadian team with a taste for flair. Piper Gilles and Paul Poirier are also skating to an Elton John medley — but with a lot more sequins:
Another team to watch is France's Gabriella Papadakis and Guillaume Cizeron, four-time world champions who narrowly lost in 2018 (though they won the competition for skating through a wardrobe malfunction). Meanwhile, American ice dancers Madison Chock and Evan Bates — one of the rare skating pairs who are actually dating in real life — will be performing a space-themed program that involves an alien costume. Fun!
Pairs
Confused about the difference between ice dancing and pairs? Both events involve skating in couples, but pairs is less about dancing, meaning it's much less sexy. Pairs skaters also jump (ice dancers don't), and they do lifts where one partner holds the other above their head while going full speed across the ice, making it pretty jaw-dropping to watch. This year, pairs is the only figure skating event where China is likely to medal: The home crowd will be rooting for two-time world champions Sui Wenjing and Han Cong.
Team Event
Since 2014, there's also been an Olympic team event. This year, ten countries will compete, choosing their top skaters to represent them. The team competition takes place before the individual events, so it's the first time we'll see skaters take the ice, starting with Nathen Chen in the men's short on Thursday, February 3. You probably won't be surprised to hear that Russia is expected to clean up, but the U.S. should make a strong showing as well.
Okay, How Do I Watch?
Beijing is 13 hours ahead of New York, so as is often the case with the Olympics, events may air at odd hours with the highlights rebroadcast during prime time. The team event kicks off on Thursday, February 3, with the men's short program, which you can watch at 8:55 p.m. ET on NBC and Peacock. Individual competitions start the following week, including the men's short program at 8:15 p.m. on February 7 and the men's free skate at 8:30 p.m. on February 9. The women's short program will be at 5 a.m. on February 15, followed by the free skate at 5 a.m. on February 17. You can see the full schedule here.