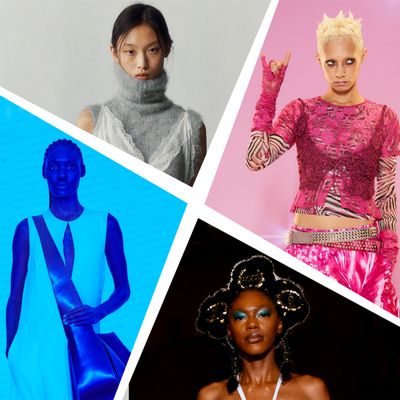 Photo: Courtesy of Commission; Charlie Engman; Darian DiCianno/BFA.com; Greg Kessler
This season marked the return of in-person shows for the first time since the beginning of the pandemic. That meant many big New York designers — including Marc Jacobs, Tom Ford, and Thom Browne — did not have shows. But that allowed younger fashion darlings such as Peter Do, Telfar, and Eckhaus Latta to take center stage. Here is what we thought was interesting from the week of shows.
Eckhaus Latta's strong showing
Eckhaus Latta — the creation of Mike Eckhaus and Zoe Latta, graduates of the Rhodes Island School of Design — had a big tenth-anniversary show the Saturday night of New York Fashion Week, and I'm pleased to say it was as odd and ornery as ever. The new collection, modeled by some familiar faces — including Hari Nef, Paloma Elsesser, and Susan Cianciolo — showed how much the designers have developed such key forms as novelty denim and knits that often involve hand details like darning and patchwork. The pieces for fall are that much more particular: a pair of jeans essentially reduced to seams and bleached panels of thread, a plain and beautiful gray pullover with two darned panels and flashes of matte gold and fuchsia, a bib-style knit top made of scraps and worn with darned jeans. — Cathy Horyn
Telfar returns, with clothes
Last season, in lieu of a show, Telfar Clemens held a press conference to announce Telfar TV. The rambling, two-hour event felt more like performance art than a presser, so I was wary when Telfar planned to again do something around his TV channel. But he surprised everyone with a delightfully strange event that included plenty of new clothes and accessories as well as a glimpse into the manic energy of Telfar TV. Some news reports called the evening a "happening," and photos of the scene at Pier 17 suggest as much, but it wasn't. There were long, mind-numbing moments of rhetoric and very little response from the audience. Still, the fresh streetwear and the sense of a Telfar community was worth the experience. — C.H.
At Commission, clothes I actually want to buy
Fashion Week always leaves me wanting to shop, but a lot of times, what's shown on the runway feels divorced from reality in the sense that it's more theatrical — or, really, more impractical — than what the average person wants to wear down the street. This, of course, is mostly by design, but I was happy to visit the Garment District showroom of Commission, a small label founded by Dylan Cao, Huy Luong, and Jin Kay in 2018 that strikes more of a balance between playful and wearable. This was evidenced by the fact that everyone I was with wanted to try stuff on. Commission's pieces inspire the urge. Fuzzy Muppet-like mohair sweaters, for example, were a hit for the brand last season, and they're back again for fall in colors like bright blue, light blush, and pumpkin orange. Everyone wanted to put on the coats, too, which have large, sloping shoulders, and the jackets, which have vests conveniently built in. The collection this season was very "urban cowboy" with models wearing denim, boots, and bolo ties. There was some pageantry, too, in the form of silver sequins and metallic slip dresses. But the way Commission styles its clothes — oversize, layered — feels cool and casual and exactly how I want to look. — Emilia Petrarca
Peter Do stands out of the pack
On one of the last days of New York Fashion Week, up-and-coming fashion darling Peter Do presented his second-ever collection — what many considered one of the best collections of the season. While his suiting was impeccably thoughtful and beautifully fluid, the bags stole the show. There were double-saddle bags joined at the back holster style and macro cross-body sling bags in luscious leather. I had never wished to carry a holster until now — a shoulder-bag holster to be exact. — Vivian Chuang
Crimped hair at Christian Siriano
From zigzag parts to dip-dyed pigtails, '90s and aughts beauty trends were abundant this season, but none were as triggering as the crimped hair at Christian Siriano. Just one look at hairstylist Jon Reyman's sleek handiwork and I could instantly smell simpler times — a.k.a. the scent of hot Conair plates, singed hair, and roll-on body glitter before school dances. — Erica Smith   
Collina Strada took over the Angelika
On the last day of NYFW, Collina Strada, the colorful and sustainable brand I had been looking forward to seeing all week, took over the Angelika Film Center. Instead of a traditional show, the brand showcased the premiere episode of The Collinas, which starred Tommy Dorfman as she headed to New York City for the opportunity of an internship at the label. Even though I've never seen The Hills, the spoof was joyful and fun, and I loved watching it unfold in the historic theater. — Brooke LaMantia 
Sculptured hair takes the lead at Tia Adeola
Tia Adeola opened Fashion Week with a love letter to her hometown of Lagos. The entire show was an ode to Black culture, and what I loved most was the structural hair. The braids were embracing bamboo earrings adorned with the word boss. Seeing this as the first show of the season made me feel at home — Black beauty on the runway on Black models in a show that celebrated Black culture. It also made me miss my braids, so I've already scheduled my next appointment. — Asia Milia Ware 
A surprise appearance from the mayor of New York City
On Sunday, as I took my seat for In the Blk's showcase, I noticed flashing lights and a small huddle across from me. Curious as to who was causing the commotion, I stood up to see it was none other than the mayor, Eric Adams. I had no idea he was such a fashionable guy. — B.L. 
An ode to Black women
No Sesso's return to NYFW was an ode to Black opulence and womanhood. The nostalgia-filled, mostly denim collection featured corsets, gowns, and bustiers with sky-high updos reminiscent of the '90s and lengthy acrylics to match. The side bang on model Ebonee Davis was truly a moment. — Chinea Rodriguez 
More From New York Fashion Week
See All