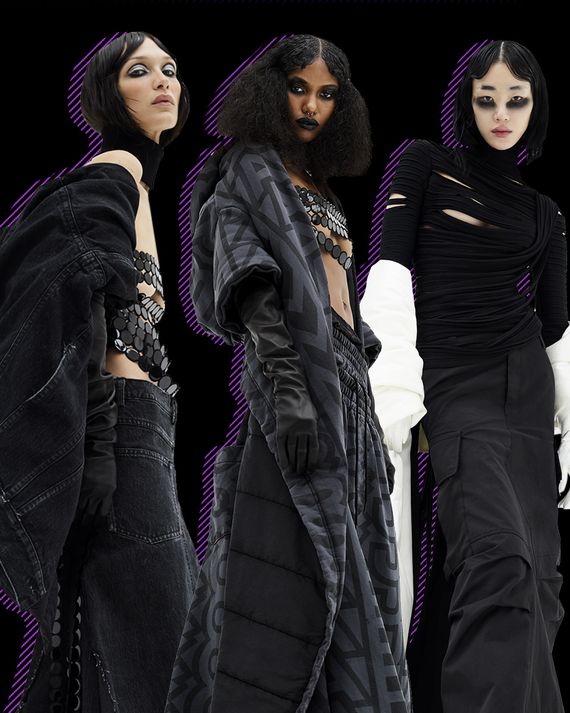 Photo-Illustration: The Cut. Photos: Amy Troost
On Friday morning, as editors were arriving in London for shows there, or just sleeping off New York Fashion Week, Marc Jacobs released images of ten new looks for fall. Sneaky fellow! All during Fashion Week, one heard the same refrain: "Where's Marc?" Of course, everybody knew the answer: Jacobs had put on a show last June and, in all likelihood, would continue to stage only one show a year, rather than the usual two. Still, for more than 30 years, he has been a dominant presence at Fashion Week, and before the pandemic caused changes in his company — the reduction of his design staff— he had consistently done remarkable, emotionally charged fashion. One could even argue, based on his great show with the choreographer and dancer Karole Armitage, in February, 2020, that he was at his creative peak. Hence the refrain and the lament.
"Where's Marc? Good question," said the man himself with a dry laugh, when I reached him on Friday afternoon. He was preparing to leave for London. The delight of the new work is that it is so rich in couture-level details and at the same time plainly grounded in the reality of the street. The first two looks, on the sisters Bella and Gigi Hadid, are in denim: long, dragging skirts that have been washed, frayed and bleached. But, as with the enchanting outfits worn by the models Selena Forrest and Sora Choi — black, witchy looks with loose, tangled cording and cargo skirts — there's more to the designs than meets the eye.
Jacobs said there was a lot of enthusiasm from his team — which includes Joseph Carter, head of women's design, and the stylist Alastair McKimm — and also from Bergdorf Goodman, to do something before the next runway show this summer. In the past, a new collection would have started with a blank canvas — some fabrics to stimulate ideas.
"But this time we made the decision that our approach would be to use the patterns and shapes and the ideas that we did last June — as the inspiration," Jacobs said. "Unlike the past, we're not going to do an about-face. We're going to do an evolution."
The collection last June was noteworthy for its elegantly oversized puffers, its new graphic monogram pattern on jersey and street-inspired separates, like cargo pants, and for shimmery layers made out of half-dollar-size paillettes.
For the new designs, Jacobs told me, "We literally cut apart and pinned together cargo pants from last June, and jeans and painter's pants and down jackets. And we ripped up and shredded T-shirts and the paillette dresses. In basic terms, we deconstructed and reconstructed. We didn't invent the wheel."
But Jacobs & Co. certainly elevated the method. Looking at the images of the sisters Hadid (with superb hair and makeup by Jimmy Paul and Dick Page, respectively), I was struck by the quality of the work — and by the thought that their skirts should be owned by a collector, because they are a wonderful extension of the deconstruction tradition. And they'd look amazing on the street today. (The clothes will be available at Bergdorf's in late August.)
As Jacobs explained, Bella's black skirt was originally monogram denim used for a padded engineer jacket and wide-leg jeans. "Those jeans were part of the pattern of this skirt," he told me. "So the front of her skirt was taken from the back of those jeans. I'm talking about the pattern pieces. The skirt was enzyme washed and then over-dyed. The Gigi skirt was a version of the logo denim from June, except it was enzyme washed and bleached and stone washed, so that it stripped all of the indigo out of it.
"You know, it's funny — we learned a lot about denim this time. There are so many processes that it's no different than doing beading or hand embroidery."
Jacobs laughed. After the skirts were treated or bleached, he said, "The seams were gone over with potassium and then washed with a pumice stone. They underwent six or seven processes, so there's a lot of work in making these things. They kind of feel — 'considered' is the word I prefer. Every detail is considered, and that to me is luxury."
What you can't see in the pictures is the stonewashed silk taffeta underskirts. "There's something so elegant about the denim and the silhouettes," Jacobs said.
The other styles are similarly strong, and ingenious in their construction. I asked Jacobs if the crazy cording on Sora and Selena's looks was hand-stitched, as the photos suggest.
Not so, said Jacobs. "The recipe for that is you cut up the jersey, on the length, and you cut it into one-inch strips. And you have somebody stand about 12 feet away from you, holding the other end of the strip. And, as you pull it, the jersey curls and curls until the raw ends curl in on themselves, and you get this great piping." It was all cut from T-shirts of last June and then embellished on slashed, over-dyed jersey tops.
Given the glut of products everywhere — despite the pledges by brands during the pandemic to show less — I suspect that most people would rather see ten remarkable looks rather than forty mediocre styles (which was often the case during Fashion Week).
"I have to say that every other day, or every third day, I was lamenting the fact that we weren't doing a show this season," Jacobs admitted. "I am a showman and I like the impression you get from a show — the music and the movement of the clothes. I like that. And every third day I'd feel like that, and then on those other days, I'd be, like, 'You know what? It's about embracing what you can do. It's what I have learned, what I have lost and what I have gained."
He added, "When we went into the studio and shot these clothes, I didn't feel that I had lost anything or compromised."
And what's crucial to fashion, as Jacobs and his peers know perfectly well, is that it's not just about creating things for people to wear. It's also about creating incredible things to see. That's the grateful surprise these ten looks really offer.
More From New York Fashion Week
See All