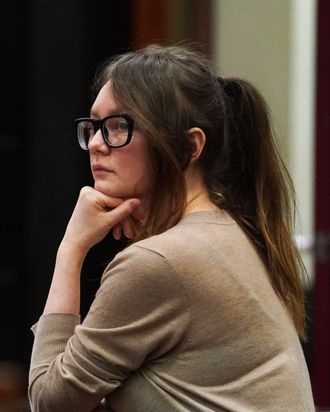 Anna Sorokin, a.k.a. Anna Delvey.
Photo: TIMOTHY A. CLARY/AFP via Getty Images
Despite being behind bars, Anna Sorokin — better known as Anna Delvey, the fake German heiress who conned Manhattan's banks and party people — has found a way to post through it. With the recent release of Inventing Anna, a Netflix adaptation of the New York story detailing the scam, reigniting past drama, Sorokin hopped on Instagram to call out one of her former friends: Rachel DeLoache Williams, whom Sorokin allegedly cornered into paying for a 2017 vacation that cost more than Williams's annual salary.
Williams says she did not participate in Inventing Anna's creation and, since its premiere earlier this month, has given numerous interviews refuting the accuracy of her portrayal and warning against the rehabilitation of Sorokin's reputation (as she sees it, anyway) and bank account. In her Instagram Stories, Sorokin fired back. Despite Williams's complaints about Sorokin profiting off her crimes, Sorokin wrote, Williams "conveniently forgets to mention" that she once tried to get Sorokin to co-write a book with her. "And the best part is — this time around, I've got all the receipts," Sorokin noted, though she did not post them. The Cut has contacted Williams for comment and will update if we hear back.
Below, a guide to this beef.
Briefly, what did Anna Delvey do?
For years before her arrest in 2017, Sorokin posed as an ambitious German heiress with a €60 million trust fund. Using the illusion of immense inherited wealth as collateral, she secured loans from people and banks as she racked up crushing tabs at restaurants, clothing stores, and the various Manhattan hotels where she lived. In 2019, a jury found her guilty of fraud-related charges including grand larceny, theft of services, and stealing over $200,000. She then served about two years of a four-to-14-year sentence, getting out early on good behavior and immediately going back to social media, touting her coming business endeavors.
At that point, Netflix had already paid Sorokin $320,000 for the adaptation rights to her life story, about $220,000 of which she used to pay restitution and fines. In May 2019, New York State froze her funds in line with the Son of Sam law, which bars people from making money off their crimes. Once she paid her debts, however, she was free to put the leftovers toward the resumption of her luxe lifestyle — and did. At least for the short time she remained out on parole.
Who is Rachel DeLoache Williams?
A former photo editor at Vanity Fair whom Sorokin befriended around 2016 and subsequently stuck with an enormous bill for a Moroccan vacation.
In an essay for her ex-employer, Williams admitted that the "convenience" and "easy materialism" were part of the friendship's appeal: Sorokin often guaranteed access, and she paid for things — including the trip to Marrakech, at least in conception. Williams said Sorokin pitched the whole thing as a means of satisfying her visa: She needed to leave the country for some time, and if Williams would accompany her "somewhere warm," she would cover airfare, the hotel, and all expenses, understanding they were outside her friend's budget. But a few days into their stay at one of the world's most exclusive resorts, Sorokin's cards started getting declined, leaving Williams on the hook for everything. Williams says Sorokin promised to pay her back but ultimately left her with credit-card debt totaling over $60,000 — more than Williams's annual salary, she claimed. After months of hounding Sorokin for reimbursement, Williams eventually got in touch with the New York County District Attorney's Office and helped with the investigation that brought Sorokin down. Though Sorokin would be criminally charged for the Morocco trip, a jury declined to convict her on those counts, and Williams's credit-card company subsequently forgave most of the debt.
Though Williams eventually turned the saga into a book — My Friend Anna: The True Story of a Fake Heiress — she does not support its reimagining as a Netflix series. In a new afterword to her book that was published on February 10 in Time, Williams granted that she had optioned her story to HBO, which isn't currently developing it into content. Mostly, she takes issue with her character's depiction (as a "natural-born follower," "Anna's greatest creation," and, Williams says, in ways that are just inaccurate) in Inventing Anna and disagrees with the show's "glamorization of criminality" and how Sorokin has profited from it.
In interviews with Good Morning America, the Evening Standard, and more, Williams has expressed pretty much the same sentiment. "I think promoting this whole narrative and celebrating a sociopathic, narcissistic, proven criminal is wrong," she told Vanity Fair. "One person's a criminal. The story profits her. This is a narrative designed to create empathy for a character who lacks it. The whole thing is very problematic."
And now Sorokin has responded?
She has. You can read her full reaction here, but, basically, she called Williams a hypocrite. Emphasizing that she was not convicted of any crimes pertaining to the Morocco fiasco, Sorokin said that Williams and her literary agent "were repeatedly harassing" her and her lawyer to "get me to agree to write a book TOGETHER with Rachel."
"I guess 'giving me platform' and 'glorifying crime' didn't seem to be such big concerns of Rachel's back then," she continued. "As long as the price is right, she's the one cashing checks and controlling the narrative, high morals can be put aside."
The Cut has contacted Williams for comment, though on her website, she explains her decision to publicize the alleged theft this way: "While still in debt and recovering from the emotional impact of having been deceived, I began to write as an act of catharsis. When later, news of Anna began to surface in the media, I felt it was important to provide an account of what happened in my own words. I hoped my story would serve as a cautionary tale."
Wait, I thought Sorokin was in jail?
Basically correct: U.S. Immigration and Customs Enforcement seized Sorokin about six weeks after her release from prison, in February 2021. In a recent Insider essay explaining why she would not be watching Inventing Anna, Sorokin said ICE took her into custody, at the office where she had showed up to get an extension, for overstaying her visa. Since then, she has been detained at the Orange County Correctional Facility in upstate New York, waiting to hear whether or not the U.S. plans to deport her back to Germany. But in many ways, ICE treats detainees like criminals — the obligation that they use facility phones to communicate with the outside world included. It's not presently clear how Sorokin is posting from detention — probably someone is doing it on her behalf — but evidently she's keeping up with the news.