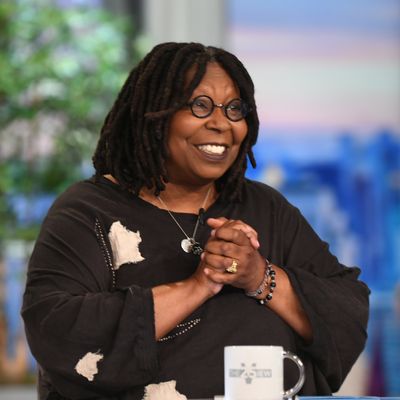 Photo: Jenny Anderson/ABC via Getty Images
What started as just another Monday ended in a massive damage-control effort for Whoopi Goldberg. The View co-host found herself in hot water after she proclaimed — on air — that the Holocaust "wasn't about race." She later doubled down on her belief during an appearance on The Late Show With Stephen Colbert, issued an apology, and, the next morning, apologized more broadly to the viewers. But is that the end of the story?
Goldberg may have apologized on The View, but critics are still calling for her to be fired from the show, and the persistence of conservative-media critics, who have pounced on the controversy, means this story won't be going away any time soon. On Tuesday night, ABC announced that it had suspended Goldberg for two weeks, effective immediately. Here's everything that has happened so far.
Whoopi Goldberg says the Holocaust wasn't "about race."
This whole saga began on the morning of Monday, January 31, when the panel on The View decided to discuss a Tennessee school district's decision to ban Maus due to nudity and offensive language. The decision has been the subject of many heated debates in the past week, so, of course, The View needed to weigh in. It started off as business as usual, until co-host Joy Behar theorized that the banning of Maus had less to do with nudity and more to do with history that "makes white people uncomfortable." And then, Goldberg said this: "This is white people doing this to white people." The hosts managed to move on from this statement, but Goldberg wasn't deterred.
"Let's be truthful about it, because the Holocaust wasn't about race. No, it's not about race," Goldberg said, to objections from her co-hosts. "It's not about race. It's not about race, it's about man's inhumanity to man. That's what it's about," she said. Co-hosts Ana Navarro, Sunny Hostin, Sara Haines, and Behar all tried to push back, but still, Goldberg persisted. "But these are two white groups of people." When Behar tried to reiterate that the Holocaust was also a racial issue, Goldberg stood firm, responding, "You're missing the point. The minute you turn it into race, you go down this alley. Let's talk about it for what it is. It's about how people treat each other. It's a problem. It doesn't matter if you're Black or white … Everybody eats each other."
Naturally, Goldberg's assertion that the Holocaust "wasn't about race" was not well received. (Nazis, in fact, believed that Jews and other ethnic groups were of an inferior race that needed to be eliminated. As the U.S. Holocaust Museum Twitter account put it in its response to Goldberg's statements, "Racism was central to Nazi ideology. Jews were not defined by religion, but by race.")
Whoopi Goldberg makes a perplexing appearance on The Late Show.
Hours later, during an appearance on The Late Show With Stephen Colbert, after much feedback and criticism, Goldberg addressed her statements and issued an apology of sorts. "I feel, being Black, when we talk about race it's a very different thing to me," she explained. "So I said that I felt that the Holocaust wasn't about race, and people got very, very, very angry." She went on to say, "As a Black person, I think of race being something that I can see." Acknowledging the response she received from the Jewish community, Goldberg said, "I understand, and I respect everything everyone is saying to me. And I don't want to fake apologize. I am very upset that people misunderstood what I was saying."
Goldberg's appearance on The Late Show was, to put it mildly, odd. She acknowledged that she had hurt people, but also said she didn't want to "fake apologize," suggesting that she might not truly understand how wrong she was in her initial statements. But she also made clear that she is not a Holocaust denier, something some critics had accused her of being. "I was saying, 'You can't call this racism, this was evil. This wasn't based on the skin. You couldn't tell who was Jewish, they had to delve deeply to figure it out.'"
Though she seemed reluctant to admit any wrongdoing, she did admit that she realizes people don't view race the same way she does. "I understand that not everybody sees it that way and that I did a lot of harm, I guess, to myself."
When Colbert asked if Goldberg had since accepted that the Nazis saw Jews as a race, she, again, pushed back. "The Nazis lied, it wasn't," she said. "They had issues with ethnicity, not with race, because most of the Nazis were white people and most of the people they were attacking were white people. So to me, I'm thinking, 'How can you say it's about race if you are fighting each other?'" Despite this, she said, she was listening to others, and was "going to take your word for it."
Whoopi Goldberg issues a Twitter apology.
Despite Golderbg's insistence that she didn't want to "fake apologize," she did release a more formal apology on Twitter Monday evening. "The Jewish people around the world have always had my support and that will never waiver," she wrote in part. "I'm sorry for the hurt I have caused."
It's unclear whether or not the apology was posted before or after she taped her segment on The Late Show.
"[I] stand corrected."
Almost a whole 24 hours after the controversy began, Goldberg addressed the issue on The View on Tuesday, February 1. "I said something that I feel a responsibility for not leaving unexamined because my words upset so many people, which was never my intention," Goldberg said on the show. "And I understand why now, and for that I am deeply, deeply grateful because the information I got was really helpful and helped me understand some different things." She went on, affirming that the Holocaust was about race "because Hitler and the Nazis considered Jews to be an inferior race." She concluded, "I regret my comments, as I said, and stand corrected. I also stand with the Jewish people."
Tuesday's episode also featured an interview with Jonathan Greenblatt, the CEO of Anti-Defamation League, which works to fight against anti-Semitism around the world.
People are calling for Goldberg to be fired from The View.
Despite Goldberg's apology on Tuesday, viewers and pundits are still calling on her to be fired from The View. The call is coming especially loudly from figures on the right like Donald Trump Jr. and Ben Shapiro, some of whom are comparing Goldberg's statements to those of Roseanne Barr, who was famously fired from her own sitcom after a racist tweet. Piers Morgan tweeted, comparing the situation to Sharon Osbourne's firing from The Talk (which came after an on-air blowup and reports about racist behavior behind the scenes). Even former View co-host Meghan McCain weighed in, calling Goldberg's initial statements "bizarre, incoherent, and dangerous."
A report from "Page Six" cited sources inside ABC that suggested that Goldberg was at risk of losing her job. "Why does Whoopi seemingly get a pass when others don't? Perhaps this time she won't. Many at the network — including her fellow hosts — believe Whoopi is too controversial for the show," a source said.
ABC has not let Goldberg go, but has suspended her from the show.
As of Wednesday morning, the network had not fired Goldberg, but had "asked her to take time to reflect and learn about the impact of her comments," ABC News president Kim Godwin said in a statement on Tuesday night.
"Effective immediately, I am suspending Whoopi Goldberg for two weeks for her wrong and hurtful comments," Godwin said. "The entire ABC News organization stands in solidarity with our Jewish colleagues, friends, family, and communities."
This article has been updated.