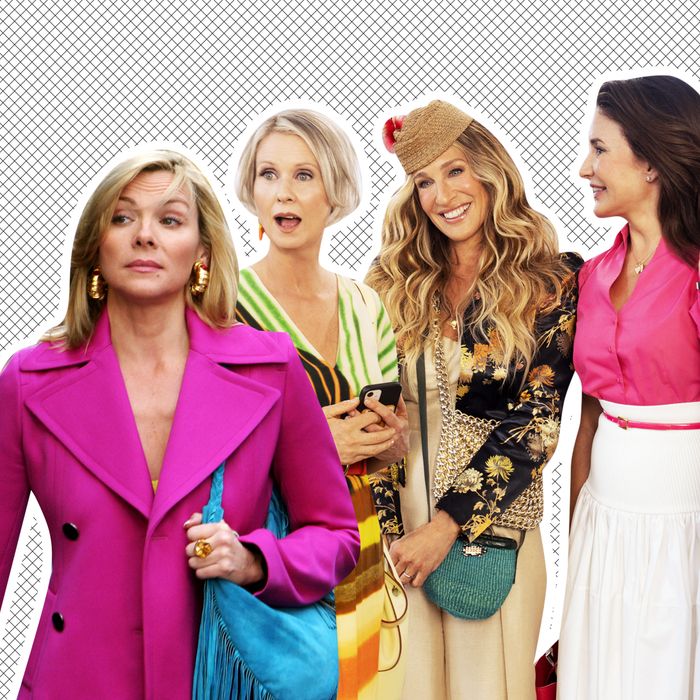 Photo-Illustration: by The Cut; Photos: HBO, Getty Images
Gird your Manolos: The Sex and the City reboot is here. And Just Like That …, the HBO Max project revisiting the life and times of, um, three iconic friends, has arrived like a giant dildo-shaped asteroid, forcing us and the show to confront a crushing reality: There is no Samantha Jones in this iteration of Sex and the City.
To explain why Samantha is missing is to open up a can of worms the size of an unusually large (especially for New York) walk-in closet. A lot of it has to do with decades of drama between Kim Cattrall and Sarah Jessica Parker, which has played out publicly over the past few years. Some of it has to do with the fact that Cattrall just doesn't want to play Samantha anymore, whereas all her other former co-stars seem to be thrilled at the idea of revisiting this franchise over and over again until we die. Cue HBO intro.
Chapter 1: You Can't Sit With Us!
This saga dates all the way back to 1999, the beginning of three decades of drama between Cattrall and SJP (slash the rest of the SATC cast). According to The Telegraph, Cattrall started asking for a higher salary after the show's second season, when SJP became an EP and got a raise of her own. The other three were apparently not so cool with Cattrall's attempts to negotiate herself a better salary (not very girlboss of them, if you ask me) and reportedly refused to sit with Cattrall at lunch. Another place where they didn't sit together: five years later at the 2004 Emmys, when SJP sat with Cynthia Nixon and Kristin Davis but Cattrall sat … somewhere else. Hmm!
When asked about the Emmy seating arrangements, Cattrall gave a cool and collected answer: "Are we the best of friends? No. We're professional actresses. We have our own separate lives." Fair enough!
Around the same time, SATC (the show) was coming to a close, and rumors started swirling about a movie, which was said to have been delayed because of salary negotiations. When asked about the delays, Cattrall told Jonathan Ross she felt it was time to "move on" once her co-stars "didn't seem keen" on letting her "participate in the financial windfall of Sex and the City." The Telegraph claimed Cattrall "openly refused to participate unless she was paid more," but I guess an agreement was eventually reached because the movie started filming in 2008. SJP told The Telegraph during filming that Cattrall "mentioned money, and no one should vilify her for it." That being said, there were rumors the two of them were fighting over who got the best costumes, so … do with that what you will.
Chapter 2: The Big Sleep
Whatever state their friendship or non-friendship was in, Cattrall and SJP managed to work together on the second SATC movie, which we thank God for because it brought us the wildly problematic line "Lawrence of my labia." I think we can all agree this movie was generally not the best idea (four wealthy white women go to Abu Dhabi to gawk at women in burkas, high jinks ensue) even by the poorly aging standards of the original show. Whether or not Cattrall saw the cultural appropriation of it all after the fact, I don't blame her for not wanting to return.
While SJP continued to talk about her friendship with Cattrall and painted the feud as sexist tabloid fodder, trouble was brewing. Cattrall began to make it clear she no longer wanted to play Samantha. She mentioned in 2016 it would be "a challenge to do a third installment" of SATC — an opinion Cynthia Nixon had actually expressed more strongly back in 2012, but no one seemed to remember that.
Behind the scenes, we found out, Cattrall was being presented with a fully written script for a third movie, which reportedly revolved around Carrie processing Big's death and Samantha receiving dick pics from Miranda's teenage son. I don't know about you, but I'd torpedo a movie in a heartbeat if it meant I'd be spared photos of 14-year-old Brady Hobbes's penis. Anyway, there was a lot of chatter about the possibility of a third movie, then a lot of chatter suggesting it had been called off, but things seemed relatively peaceful. Until …
Chapter 3: Kaboom!
Here's where things really imploded. In 2017, on the same day SJP confirmed there would be no third SATC movie, the Daily Mail published what essentially amounted to a hit piece on Cattrall, claiming she "torpedoed" the movie with "outrageous demands" like asking that the studio green-light other projects of hers if it wanted her to participate.
Unlike in the early aughts, these fully grown adults had social media to air out their many conflicts. On Twitter, Cattrall repeated her claim that she just didn't want to play Samantha again and iconically retweeted Perez Hilton's suggestion the show kill her character off. Meanwhile, her former co-stars posted some seemingly pointed remarks expressing their distress that the third movie would not be happening.
The next month, Cattrall reiterated her desire not to play the same character she had been doing since 1998 during an interview with Piers Morgan in which she called her choice "an empowered decision in my life to end one chapter and start another." She said she wished SJP and others from the show had been "nicer" about her decision and called the way the show handled her departure a "toxic relationship."
The following year, SJP managed to bring the Me Too movement into all this, claiming that women who spoke out against sexual assault "emboldened" her to speak her truth about … Kim Cattrall leaving Sex and the City. SJP then joked in an interview with Ellen DeGeneres that she might be the best actor to play Samantha, which Cattrall winkingly did support. Parker continued to discuss how heartbroken she was she and Cattrall were actually never friends. In 2018, Cattrall's brother died, at which point Cattrall responded to SJP's condolences with an Instagram post that made it clear she didn't want to hear from her ever again. "Your continuous reaching out is a reminder of how cruel you really were then and now," she wrote, copying in a link to a New York Post story alleging the SATC girls were cliquey and left Cattrall out. With the public feuding spinning out of control, a third Sex and the City installment seemed pretty far out of the realm of possibility.
Chapter 4: And Then There Were Three
That is, until last year, when HBO Max, home of many prominent reboots, looked at the three remaining leads and said, "You know what? We'll make it work." In January 2021, amid the deep doldrums of a pandemic-ridden winter, SJP herself teased the forthcoming series revisiting the lives of Carrie, Miranda, and Charlotte.
Many other old cast members are also involved: Big, Steve, Anthony, and Charlotte's husband, Harry, all show up in the first two episodes, and guest stars like Julie Halston and Bridget Moynahan are back as well. John Corbett, who played Aidan, said he'll be in "quite a few" episodes. The late Willie Garson who plays Stanford, also filmed a number of scenes before he passed away in September. Cattrall, meanwhile, is out-rebooting them all, joining Peacock's upcoming Queer As Folk revival as well as a How I Met Your Mother sequel starring Hilary Duff.
One of the few others not rejoining the crew is the show's legendary original costume designer, Patricia Field, who is focusing on Emily in Paris instead. A few new (notably non-white) actors have joined the cast, including Nicole Ari Parker, who's rumored to replace Samantha as the fourth member of the group (though she has soundly rejected that framing of her role). Parker said the show will address the "elephant in the room," presumably referring to the original series's predominantly white cast and many racist, transphobic, and otherwise problematic story lines. The first two episodes of the reboot suggest the execution on this isn't superb, but we'll see how the rest plays out, I guess?
In an interview ahead of the new series's release, Chris Noth, who plays Big, called the schism between SJP and Cattrall "sad and uncomfortable" and said of Cattrall, "I have no idea what her thinking is, or her emotions. I do know that I'm very close with SJ, and Cattrall's description of her don't even come close." Kristin Davis also weighed in on Samantha's absence on the Today show, noticeably managing to avoid saying Cattrall's name altogether. "We love Samantha," she said, claiming that the show "would never disrespect" Samantha in explaining her departure. Cattrall herself hasn't said anything explicitly about the show, but she does appear to be liking tweets praising her decision to opt out, which sort of … speaks for itself.
And where is Samantha Jones, you ask? Alarmingly present in the series, actually, even without Cattrall. Her absence is explained in the show's opening scenes: She stopped talking to the girls after Carrie dropped her as her publicist. She's in London now, most likely telling a bartender she wants to put his sugar cubes in her teacup. Maybe even becoming a WAG? Lifts martini glass suggestively.
Alas, the world refuses to let Samantha live out her days seducing every guard at Buckingham Palace. Some very optimistic insiders told the Daily Mail they have "high hopes" Samantha will return for the second season of the show. But they shouldn't count on it. In a post-finale interview with Variety, SJP herself revealed that Cattrall wasn't even invited to join And Just Like That … the first time around. "We didn't go to Kim for this," Parker said. "After we didn't do the movie and the studio couldn't meet what she wanted to do, we have to hear her and listen to her and what was important to her. It didn't fit into what was important or needed for us." And they have no intention of bringing her back should the show get picked up for a second season. When asked about that possibility in a separate interview with Variety, Michael Patrick King left no room for doubt. "No," he said. "Just like there was no thought that Kim would ever participate in and Just Like That … because she's said what she had said."
Even though Samantha sent some nice flowers to Big's funeral, which is very thoughtful of her, and even though she agreed to meet Carrie for a drink, fans have to accept that Samantha is never coming back, at least not in corporeal form. At least we'll always have texts …