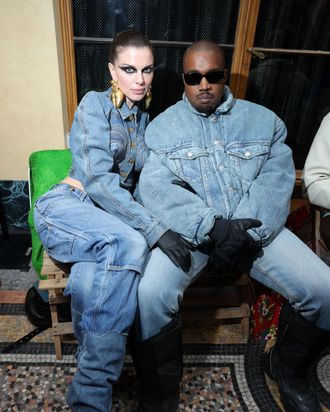 Photo: Victor Boyko/Getty Images For Kenzo
If the whole music thing doesn't work out, Ye, the artist formerly known as Kanye West, could definitely be a professional gift-giver. He's known to be pretty extravagant — remember that time he bought his estranged wife, Kim Kardashian, a hologram of her dead dad for her 40th birthday? And, for Julia Fox's birthday, he went all out.
Fox celebrated turning 32 on Wednesday, February 2, with a birthday dinner in New York City. And her lucky friends left with probably the best party favor ever: Hermès Birkin bags. Ye has been known to give Birkins to his significant others. He famously gave Kardashian a one-of-a-kind painted Birkin bag in 2013. But, as far as I know, he's never done anything quite like this.
Apparently Ye didn't just give Fox a present for her special day, he gave her friends something too, arriving with a whole bunch of Baby Birkins to hand out to Fox and her friends. It's unclear how many purses Ye showed up with. Entertainment Tonight reported that he gave one to Fox, and three to her friends, but photos shared by attendees and the stylist who provided the bags, @meechthestylist, seem to suggest there were at least five. Meanwhile, The Sun reported that he gave out at least ten of the $10,000 bags. "Ye was totally in his element. He loves making [Fox] and her friends feel special," a source told ET of the gift.
That said, not everyone went home with a new purse. Actor Tommy Dorfman shared a group shot of Fox with a few friends and the Birkins on her Instagram, writing, "I love you, am immensely proud of you, and jealous that I didn't get a birkin."
So, to recap, in the first month of their relationship, Ye has (a) thrown out Fox's wardrobe and completely replaced it, (b) touched up her makeup for Paris Fashion Week, and (c) showered her and her friends with Birkin bags. I can't wait to see what happens after they hit their one-month anniversary.