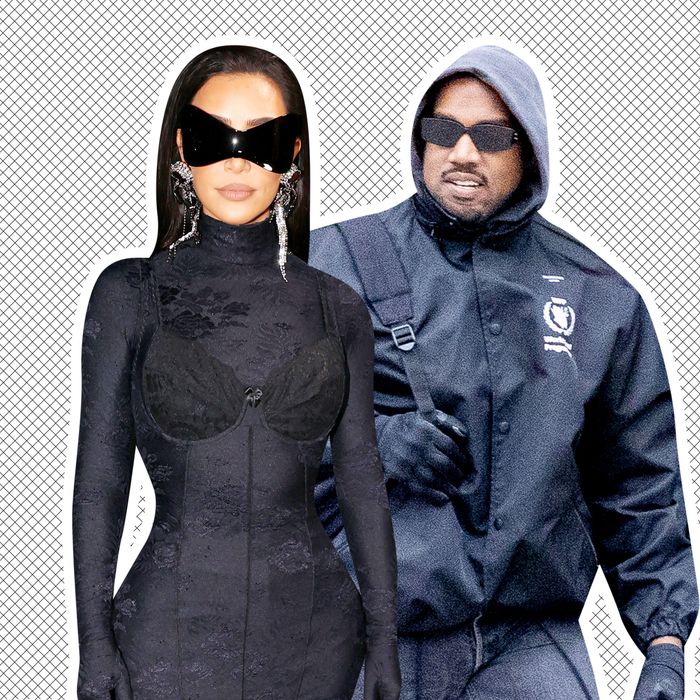 Photo-Illustration: by The Cut; Photos: Getty Images
I have a fun little riddle for you, and it goes like this. The person in this picture is not Kim Kardashian West:
I know. Take a moment. Despite the eerie similarity between the above woman and Kardashian West — the hair, the body, the outfit choice — that is actually Chaney Jones, a 24-year-old model.
This in itself may not seem notable. I mean, who doesn't look a Kardashian? What is notable is the fact that Jones was apparently invited to a listening party for Ye's upcoming album Donda 2. Yes, Kanye West was partying with a Kim K doppelgänger. A little on the nose given his habit of playing dress-up with his girlfriends. It's unclear when Jones and Ye met or whether the Kim K–inspired outfit choice was his idea or not. Regardless, I suppose imitation is the highest form of flattery?
While Kim herself wasn't in attendance, Kendall Jenner and Travis Scott were both seen arriving at the listening party in Malibu. Kylie Jenner, who recently gave birth to Scott's second child, was not seen at the listening party either. Also notably absent? Julia Fox.
Perhaps this is because Fox and Ye are reportedly in an open relationship, as an unnamed source told "Page Six" earlier this week. Per the source, "Their bond transcends typical norms because they're evolved beings who just want each other to be happy." Ye's evolved being is rumored to be "openly seeing" Jones, the aforementioned Kim look-alike.
Of course, Julia Fox is nothing if not candid. "I call him my boyfriend, and he calls me his girlfriend," she said on the Call Her Daddy podcast this week, confirming that, yes, things are official between the two of them. She added, "It just happened, and it felt very organic and not crazy or anything, just very natural." Perhaps hotel rooms full of designer clothes on the second date would be crazy for some, but not Fox.
She also briefly talked about the way she's been portrayed in the cultural conversation surrounding Ye and Kim's divorce. "It is unfortunate because women are always being pitted against each other, and obviously there is ten years of history they have prior, and I'm not going to step out of line and speak on something that I have no place speaking on," she said, referencing questions about whether Ye is trying to morph Fox into … well, a Kim K look-alike. She continued, "If anything, I feel like the conversation should be like, Wow, it's amazing to see how heavily influenced Kim was by Kanye."
Kim appeared to acknowledge this in her new cover story with Vogue. "I always think, What will be next?" Kim said in regard to her own fashion journey. "Because I always had Kanye, who knew exactly what the next fashion era would be for me. And there's something scary about being out there on your own, but also something so liberating."
As for what's next for Fox and Ye, the world is their eyeliner-smudged oyster. "There is a lot of 'us' and 'we' conversations, which is really nice," Fox said on Call Her Daddy. "But no, like I said, everything is very on a whim, very last minute, like, pack up, we are going here, now we are going here. I can't even get past next week."