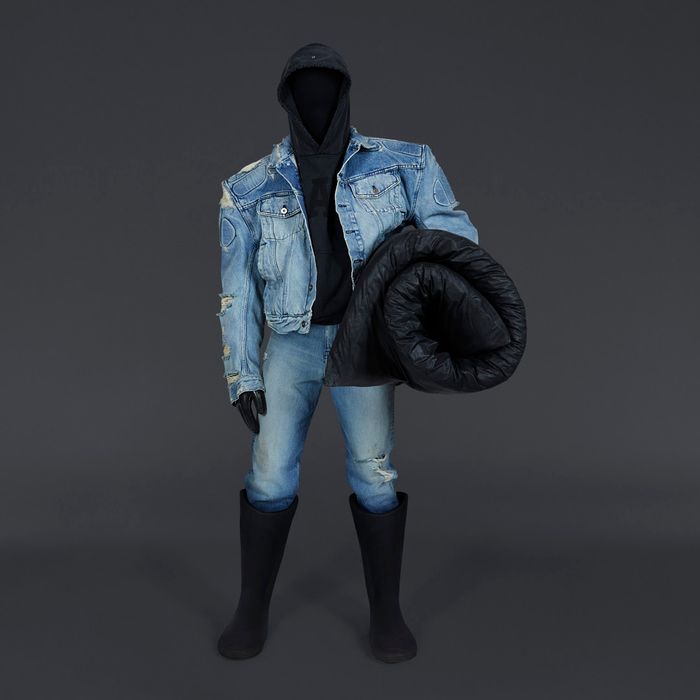 Photo: Courtesy of Yeezy Gap Engineered by Balenciaga
At the beginning of the year, Ye announced that his partnership with Gap would be extending into a collaboration with Balenciaga. For anyone following Kanye, this didn't come as a surprise. He's been wearing Balenciaga from head to toe for some time now. Partnering with Balenciaga's Demna, the pair created Yeezy Gap Engineered by Balenciaga, "a shared vision of utilitarian design."
The eight-piece capsule (shoppable on YeezyGap.com and Farfetch.com) is quite predictable for Kanye — an oversized hoodie, an array of T-shirts with the Gap logo, black sweats and a denim set including a padded distressed jacket and stone-washed straight-fit jeans. The tees and hoodies are designed with a flying dove on the back which represents "a collective hope for the future," according to the description. It's a blend of classic Gap styles with Ye's signature silhouettes and washes. Nonetheless, it's easy to wear.
The collection or "project," as they call it, launched at 9 a.m. EST this morning, and to my surprise, almost an hour after launch there were still some pieces left, but not in many sizes. I attempted to order the padded denim jacket on Gap's website, but after leaving it in my cart for slightly over five minutes, it was sold out and I only had the option to join the waitlist.
On Farfetch all of the items are available for preorder, which means they will make as many items as people order. You just have to wait until July 1, which is the projected shipping date (on Gap's site projected shipping is four to eight weeks). But Farfetch does have more of a selection of colors than Gap's website. Gap is selling each item in a black colorway and the denim set, while Farfetch has each item in an array of colorways including brown and gray and an additional logo T-shirt. The capsule prices range from $120 for a logo tee, a hoodie for $240, and $440 for the padded denim jacket, and the unisex piece sizes run from XS to XXL.
Balenciaga flooded their Instagram this morning with images of models covered in Kanye's signature black masks, photographed against a smokey gray background. This drop only included eight pieces, but there are 24 total images on the page featuring looks not included in this release like a black spandex jumpsuit, lots of leather, and a black denim set similar to the stonewash one that dropped today. See some of them here: