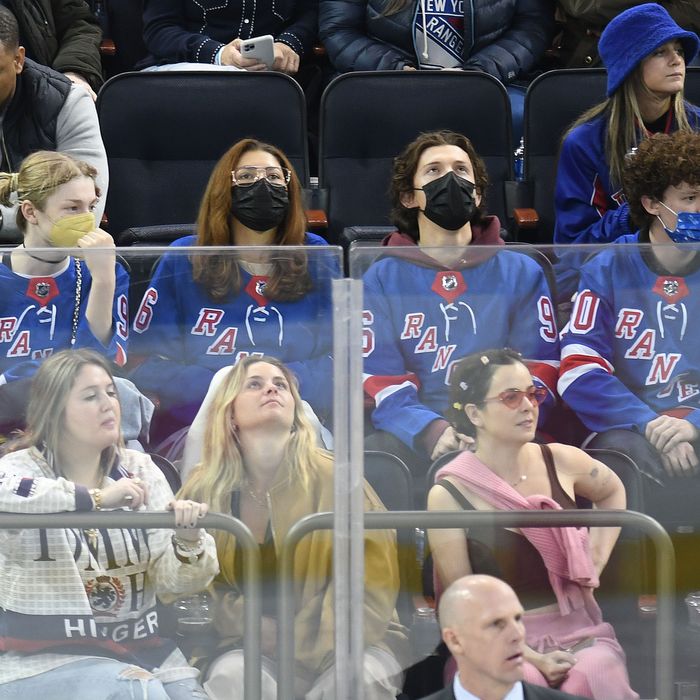 All my gorgeous friends at a hockey game.
Photo: Michael Simon/startraksphoto.com
Congratulations! You've made it through another week. As a small reward, take some time to enjoy a few paparazzi photographs of Zendaya and Tom Holland at a hockey game. Please, you deserve it.
One thing about the world right now is that it is … not great! Koalas are endangered, ice-skating is depressing, a vibe shift is coming (ominous!), and we're still technically in a pandemic. But look! Zendaya and Tom Holland wore matching Rangers jerseys to a hockey game! Hers says "Holland," and his says "Zendaya." Isn't that cute? The jersey number is the year they were born! No need to Google; indeed, they were both born in 1996. But don't let that distract you. There's no need to spiral about the imminent passage of time and the ephemerality of youth. Instead, come rest your weary head on these images. You are so tired. I can tell.
The two were joined by Zendaya's Euphoria co-star Hunter Schafer and Tom's younger brother Harry. (All British men are named either Tom or Harry. Those are simply the rules.) What do you think these four discussed? The discomfort of being third and fourth wheels on a power-couple date? Who Holland could play on Euphoria? The fact that Zendaya's song "Replay" is criminally underrated? All of the above? It's impossible to know, but probably Holland being on Euphoria.
Okay, the pictures are done now. You must go in peace to love and serve Tomdaya. Bye!