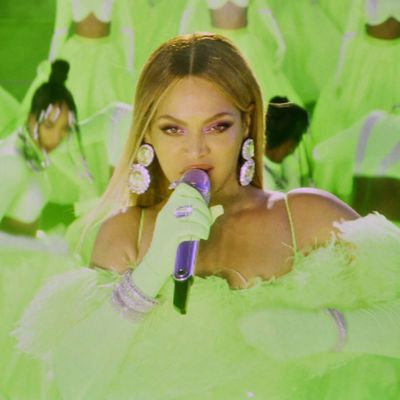 Photo: ROBYN BECK/AFP via Getty Images
Attention, Academy: The queen is here to resuscitate your little awards show. Beyoncé, who could win her first Oscar tonight, opened the 94th Academy Awards with a performance from a tennis court in Compton. Suddenly, I care very deeply about sports.
She and her backup dancers were dressed like gorgeous tennis balls during their performance of "Stay Alive" from King Richard, the Best Picture–nominated film that stars Will Smith as the titular Richard Williams. The movie follows Richard as he works to make his daughters, Venus and Serena, two of the most successful tennis players in history. "Stay Alive" is nominated for Best Original Song.
As mentioned, this is Beyoncé's first ever Oscar nomination — surprising, I know. She was shortlisted for Best Original Song for The Lion King's "Spirit" but didn't end up receiving a nomination. Same goes for her work on Dreamgirls, The Fighting Temptations, and, I'm assuming, Austin Powers in Goldmember.
While this may be her first nomination, Beyoncé is no stranger to the Oscars. She performed three of the Best Original Song nominees in 2005. She did a Dreamgirls medley in 2007. And she was part of that unhinged homage to musicals from the 2009 Oscars, which also featured Vanessa Hudgens, Hugh Jackman, Amanda Seyfried, and Zac Efron.
Fingers crossed she leaves home tonight with a golden statuette and no one makes her sing "Mamma Mia" in a top hat.