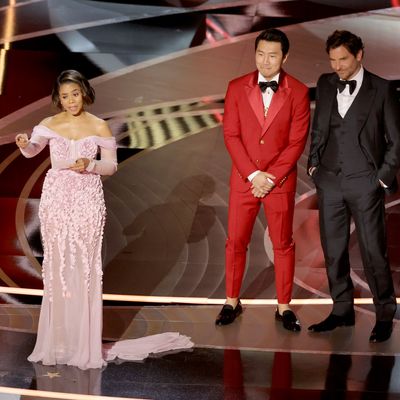 Photo: Neilson Barnard/Getty Images
Have you ever been the only single girl at the party? Imagine being the only single host at the Oscars. That's the life of Regina Hall — the other two hosts, Wanda Sykes and Amy Schumer, are married. But instead of letting her singledom send her down a shame spiral (sorry, so is that just me?), Hall decided to use the Oscars as her very own match-making service. Yes, the Academy Awards just got horny, and it's all thanks to Regina Hall.
From the opening monologue, Hall made it clear that she was here for one reason only: to find a man. "I'm single," she announced, unprompted. But her real moment of horniness came later, when she initiated a surprise COVID test inspection.
After announcing that a few audience members' pre-show COVID tests had gone missing, and that they needed to come backstage for another one, Hall called up the would-be test-takers one-by-one. Bradley Cooper, Tyler Perry, Timothée Chalamet, Simu Liu, and Will Smith (with Jada's blessing) were asked to join her for a new, invasive, but quick, COVID check. Smith declined, but the other four men jumped up on stage for the chance to get a "deep PCR test" that would involve taking off their "masks … and clothes." It's fine; it's totally legit! "I'm just going to swab the back of your mouths with my tongue," Dr. Regina Hall reassured the crowd.
After Cooper, Perry, Chalamet, and Liu made their way backstage for their "COVID tests," Hall stuck around to give presenters Josh Brolin and Jason Momoa a "COVID pat down." Hey, anything for science and safety, right? "You know, I don't think that's a thing," Brolin said, after graciously sticking out his behind to be checked by the co-host. "No, no, it's real, Josh, it's real," Hall replied before scurrying off stage.
As a fellow single lady, may I just say, thank you, Regina Hall. Your service will not go unrecognized.