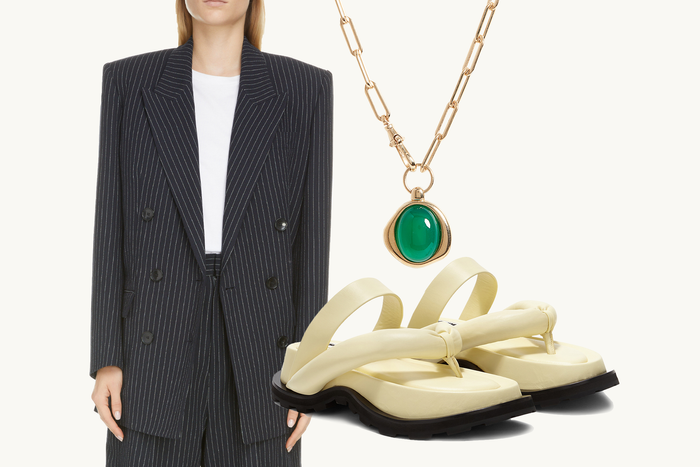 Photo-Illustration: Lauren O'Connell
Remember when New York was the epicenter of street style? When photographers would run around Soho's cobblestone streets, searching for the latest Internet-made style icon? That was definitely a moment, but these days, fashion hits can be found in any city — and that's incredibly apparent with the number of tastemakers taking over Los Angeles. Megan Adelaide Vega, based in Long Beach, is one such star, with an eye for effortless West Coast dressing. "My city definitely influences my day-to-day looks," she says. "From the beach being a couple of streets down from where I live, to the retro row on 4th Street and the music scene, it all plays a part in my style."
Leaning heavily on her city, art, and interior design as inspiration, Adelaide Vega loves to dress up with a combination of new designer pieces and vintage finds. When she buys something new, it means she's put serious thought into it. "It would have to be an investment — an item I know I love years down the road," says Adelaide Vega. After a few years of not dressing up, many of us are looking forward to ditching the sweats and stepping up our style for a (cautious) night on the town. For concerts, dinners, and girls' nights out, Adelaide Vega chooses timeless pieces with a twist. "I gravitate to colors more [toward] summer," she says. "Shades of greens and blues are my go-to's — wearing colors always makes me feel more alive. Details are everything."
Since Adelaide Vega has amassed a following for her moody pattern play, grungy edge, and soothing Cali photography, she's the perfect person to help us relearn how to dress up. If you aren't sure where to start this season, you can look to Nordstrom's lineup of spring designer buys. We asked Adelaide Vega to pick her favorite pieces, from Isabel Marant to Collina Strada, that put a dressed-up spin on that enviable sense of Cali cool. Below, eight laidback (yet standout) choices to turn heads on any coast.
"This is the perfect double-breasted jacket that everyone needs in their wardrobe. The details are everything. I love how it's slightly oversized with the soft pointed shoulders; the cut is long, yet tailored. I would style this jacket with the matching shorts, making it into a complete set."
"I love the mid-length of these boots and the signature square toe. Anything that makes your legs look longer is a yes for me! I can already see these paired with baggy jeans."
"I'm obsessed with this dress — it screams fun. Enter a room and everyone will look at you, but in a really good way."
"I've had my eye on this clutch for some time now. I love how it has a slouchy look to it, [where] you can hold it somewhat folded. It's a clutch to be worn for any occasion."
"I love everything Cecilie Bahnsen does. This top is so chic! I could wear it with so many things, and even better, it feels like spring/summer. On the colder days, you can wear this top with a cool turtleneck underneath it."
"Adds to cart immediately. Obsessed with these Marine Serre sunnies. Just look at the tiny moon charm — are you kidding me? Giving me '90s vibes with an artful spin."
"I love puffy sandals. The strap highlights the thong sandal set on top of the chunky sole, which gives it a Sporty-Spice moment. These are really good go-to sandals that you can wear with pretty much anything. I can't decide which color I love most: the pale yellow or the plum."
"Loren Stewart is one of my favorite jewelry designers. I love how much the green agate stands out. This necklace can be worn by itself or layered with other dainty necklaces. A timeless piece for sure."
This advertising content was produced in collaboration between Vox Creative and our sponsor, without involvement from Vox Media editorial staff.