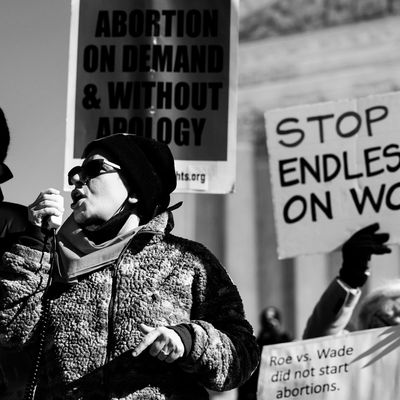 Photo: Anna Moneymaker/Getty Images
Conservatives in the Senate voted on Monday to block the Women's Health Protection Act, a bill intended to protect abortion rights as the Supreme Court prepares to rule on Mississippi's 15-week abortion ban this spring.
The wide-reaching act would have codified Roe v. Wade's provisions in federal law, protecting the right to an abortion until the fetus is viable, at around 23 weeks. The act would have also outlawed other measures like mandatory ultrasounds, biased counseling, and waiting periods — all strategies conservatives have used to chip away at abortion access. 
In September, the act passed narrowly in the House, though it was never expected to reach the 60 votes it needed to be brought to the Senate floor for consideration. Even some Republicans who've publicly supported abortion rights were opposed to the scale of the Women's Health Protection Act (including Maine senator Susan Collins, who has previously given lip service to the idea that she "supports codifying Roe"). On Monday, all Republican senators and one Democrat, Joe Manchin, voted against opening it up for debate.
The bill was anticipating the Supreme Court's upcoming decision on Dobbs v. Jackson Women's Health Organization, the 2018 Mississippi law that bans most abortions after 15 weeks of pregnancy — and which many expect will provide the now conservative-dominated Court the opportunity to roll back or eliminate Roe's protections entirely. SCOTUS has already empowered conservative lawmakers to do everything in their power to restrict access to abortion, even while Roe still stands: The Court has repeatedly declined to block the Texas law that bans abortion past "cardiac activity," or around six weeks — a direct violation of Roe's mandate that states allow abortions at least until viability. Its forthcoming ruling is expected to open the floodgates for anti-abortion legislation: Over two dozen states have "trigger laws" in place that would immediately restrict abortion rights assuming the Court upholds Mississippi's ban.
The Justice Department has already filed a lawsuit against Texas's anti-abortion law, which has been in effect for six months as of Tuesday. Following the Senate vote, the Biden-Harris administration pledged to "continue to explore the measures and tools at our disposal to stand up for women's equality," though, just months before a monumental SCOTUS ruling, the outlook on reproductive rights is increasingly grim.