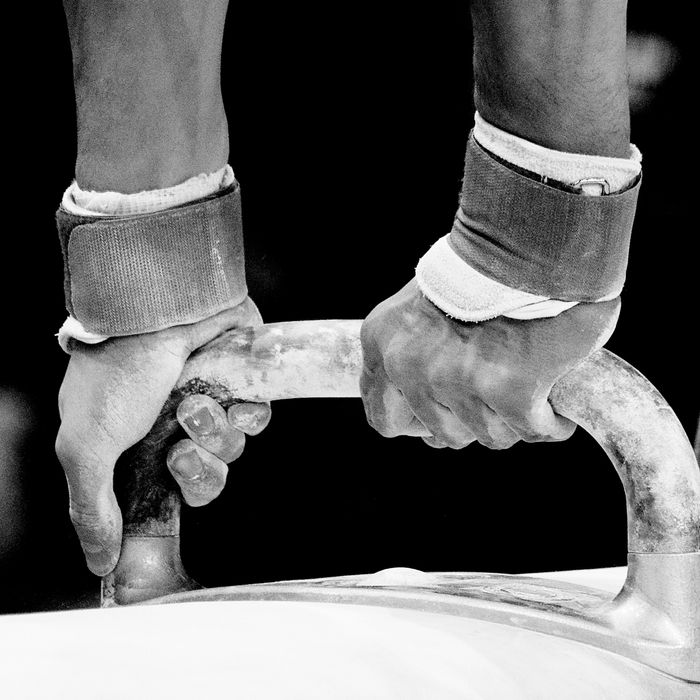 Photo: Barbara Svajer/EyeEm/Getty Images
The podium at this weekend's Apparatus World Cup in Doha included a surreal sight: On Sunday, a Russian gymnast named Ivan Kuliak wore a pro-invasion symbol on his chest while standing next to Ukrainian gold medalist Illia Kovtun. In the past few months, the white Z on Kuliak's shirt — an emerging pro-invasion symbol of ultra-right nationalists in Russia — has been spotted on Russian tanks and on the clothing of pro-war politicians, as well as on shirts, bus stops, and cars.
In the weeks since Russia began its invasion of Ukraine, a handful of Russian athletes have expressed antiwar sentiment, and they've been joined by many public-facing people and businesses who've openly condemned Russian president Vladimir Putin's actions. Over the weekend, thousands of Russian citizens took to the street to protest the invasion despite the risk of imprisonment, and over 3,000 protesters were arrested. Meanwhile, Putin has launched propaganda and misinformation campaigns to convince Russian citizens that the war is justified and largely restrict information coming in and out of Russia, including blocking access to Facebook and major foreign news outlets.
The International Gymnastics Federation (FIG) announced that it opened "disciplinary proceedings" against Kuliak, though Sunday was already likely to be his last chance to compete for the foreseeable future: The FIG's sanction on Russian and Belarusian athletes and officials, which was a direct response to the invasion, went into effect on Monday.
On Tuesday, Kuliak spoke with Russia Today, a state-controlled TV channel that sells apparel emblazoned with Z's, clarifying that the symbol was intentional. "I saw it on our military and looked at what this symbol means," he said. "It turned out to be 'for victory' and 'for peace.' I just wanted to show my position. As an athlete, I will always fight for victory and play for peace."