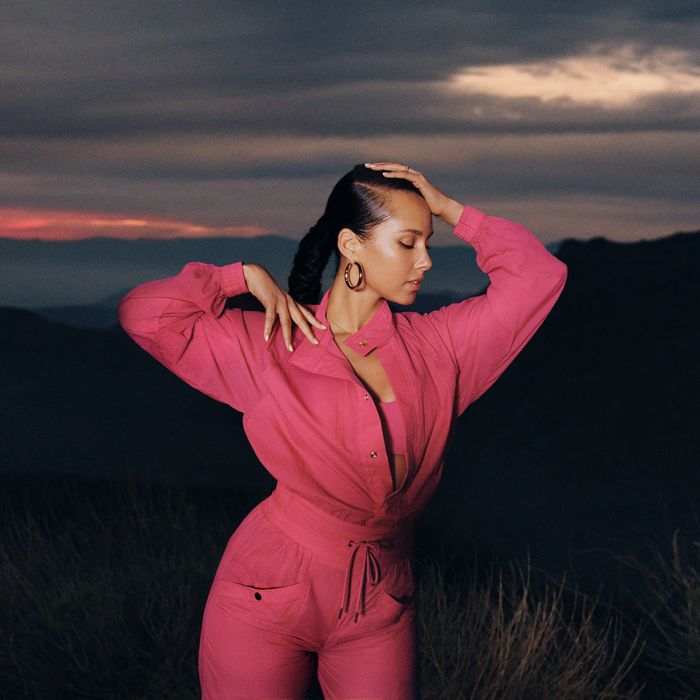 Photo: Courtesy of Athleta
Alicia Keys co-created an athleisure collection with Athleta, and to test out her creations, she went about her day — she went to the studio and dropped off her kids at school to test out comfortability; swam in her swimming pool to test that the dyes didn't run; meditated and went to dinner. I chatted with Alicia on what the design process was like and more.
You co-created this new collection with Athleta. Describe your new collection and what went into making it. 
I started by pulling my favorite silhouettes and talking through some of my favorite colors. We worked on creating mood boards that would really complement each other with a goal of the collection being beautiful colorways. They're very, very bright.
The collection goes up to 3X. I love that there is just this beautiful range of invitation for everyone to join. I wanted to be able to take my kids to school in the morning, go to Pilates, go to breakfast, the studio, and not have to change, and that's exactly the flow that you can have with this collection.
Your new song on Donda 2, "City of Gods," feels like another New York City anthem similar to "Empire State of Mind." Do you think this could be the new NYC summer anthem?
New York is just who I am through and through. I knew right away that the song had such an emotion and a feeling and the range of it makes you just wanna sing at the top of your lungs. I would've never expected that there would be another New York song, but I have to say, I do feel like it is prime to be as special, if not even more, than "Empire State of Mind." 
And, while you're forever a New Yorker, you live on the West Coast now, in La Jolla, California, right on the coastline. I'm still so obsessed with your home from your recent Architectural Digest spread. What struck me was your dedication to designer chairs. Do you have a favorite chair in your home? 
In the library, there is this couch. It's a full kind of couch that wraps around; you could lie on it. My piano is near; my oldest son plays piano, and I obviously also play in that room. You could take a nap on it, fall asleep on it, read your book on it, listen to piano on it.
You have such a good eye for art. You also have the largest Gordon Parks collection. Tell me about your love for art. 
Some of our favorites we love are Henry Taylor and we definitely love Gordon. Parks's work, it's spectacular. Jordan Casteel is another young artist that we really love. We love Kehinde Wiley, he's incredible. We love Derrick Adams, Nina Chanel, there's so many, but what we also say is you can also collect prints; it's just as powerful.
There's an amazing artist named Toyin Ojih Odutola. I kind of just stare at it and I'm like, How do you do that? I'm so not adept at drawing, so when I see all the color and all the detail, I'm really, I'm really fascinated.
My advice for people investing would be to really understand what you like, what you're into, and how would it look in your space. There's so many artists who are so special that are at a really decent price point. I know a lot of us sometimes tend to feel like art is not made for us or even museums or galleries. It's not inviting for young people. To come in and not only experience but participate, that's what Swizz [Beatz, Keys's husband] is all about.
You have your own skin-care line called Keys Soulcare. Outside of skin care, what does self-care look like to you? 
I love the idea of turning my routine into ritual. It's really important to be able to make it something special for yourself where you can pour into yourself and you can look at mantras and affirmations on the offerings and be able to like, think about that. Some of my affirmations are: I'm complex, layered, divine; I shine at full wattage; everything I do is an active creation.