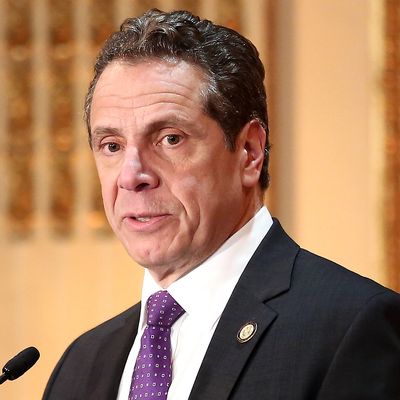 Pass!
Photo: Monica Schipper/Getty Images
With my apologies for piling on, it has come to my attention that Andrew Cuomo, disgraced former governor of New York, would like to make a comeback, please. This is the only conclusion I can draw from his release of a $369,000 ad spot on Monday. The ad doesn't end with "Cuomo 2022" or anything like that, but it does position him as the supposed victim of an alleged political smear and pastes out-of-context news clippings that read "witness tampering" and "an innocent man" against sound bites saying basically the same. You can watch it here if you want, but this is its thesis: "Political attacks won. And New York lost a proven leader."
As you will recall, Cuomo resigned in August after a report from New York attorney general Letitia James's office affirmed accounts from 11 women who said he had persistently harassed, bullied, and/or groped them. Cuomo denied any and all misconduct and, with his ad, would like to remind you that none of the criminal charges stemming from the report stuck. What the sizzle reel neglects to mention is that the district attorneys who looked into the allegations said they found them "credible." The DAs just didn't see a viable path toward putting Cuomo on trial for unwanted face kisses, weirdly suggestive touching, and uncomfortably sexualized remarks, though they found his behavior "deeply troubling." Indeed, the Oswego County DA was very clear in announcing the abandonment of the final outstanding charges: The decision not to prosecute "does not mean Cuomo is innocent," he said, merely that "the current sex-offense statutes in New York fail to properly hold offenders accountable."
Nonetheless, Cuomo has plowed forward with the I-was-framed narrative as he begins putting himself out there again. He recently informed Bloomberg that, actually, he has been "vindicated" in the court of public opinion. Meanwhile, a Siena College Research Institute poll published last week states that "voters continue to view Cuomo 2:1 unfavorably; don't think he's vindicated." By a 58-to-21 percent margin, most voters believe (just as they did in September) that he did sexually harass women in his orbit. Largely, his former constituents do not buy the whole "victim of a political hit job" thing and think his resignation was the correct and appropriate move.
But setting aside the debate, some lingering questions: First, does this mean … he's running? For what? And $369,000 of campaign funds — what campaign?? As to the former, the New York Times reports that the goal here appears to be image rehabilitation, rather than, say, laying the groundwork for another gubernatorial run. And while six figures feels like a lot of money to spend on that enterprise, it falls short of the millions Cuomo would likely be putting into TV time if he did have designs on reclaiming the governorship.
In answer to the second Q, Cuomo left office with more than $16 million sitting in his campaign account, a sum that a committed group of middle-aged women — extremely online and located all across the country — subsequently bolstered through sustained donations. Their ranks are largely composed of people who valorized Cuomo for his handling of the early pandemic, most of them previously unfamiliar with the name and the longstanding corruption allegations attached to it. (And seemingly pretty willing to overlook snags such as the COVID nursing-home scandal.)
Anyway, there is simply too much going on right now, no space in my brain to entertain the possibility of a Cuomo comeback tour. It's gonna be a no from me, thanks.