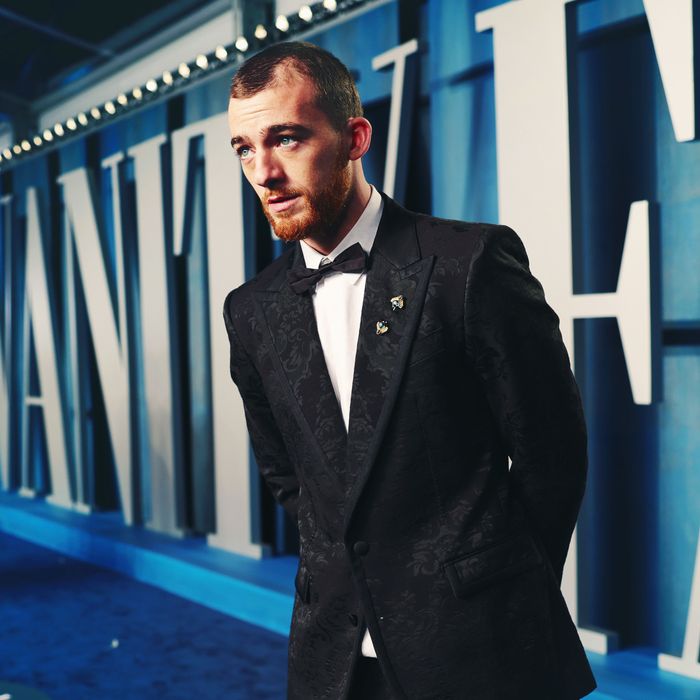 Photo: Rich Fury/Getty Images
Angus Cloud is a man of few words, and all of those words are perfect. Here, we see Cloud graciously giving an interview to Lauren Zima for Entertainment Tonight as he enters the Vanity Fair Oscars after-party. The clip begins with Zima asking Cloud, who plays Fez on Euphoria, about the show's season-two finale. "What do you tell the fans who had such incredibly emotional, strong reactions to the finale?" she asks. Cloud responds, "Um, I'd tell them … that's what's up. You know what I'm sayin'?" Yes, Angus. I know exactly what you're saying.
No words do Cloud's responses justice quite like his own. When asked about his reaction to the script, he asks, "I mean … what part of the script?" Zima clarifies that she's talking about the final episode, and he says, "Oh, yeah. I was kinda trippin' … like, oh, that's wild." Perfectly said! It was wild!
When Zima asks if the public's reaction to the show has been "emotional" for him, he says, "Yeah." She asks him to elaborate and he, bless his sweet, interview-averse heart, says, "No, thank you." So honest! So polite! So absolutely unbothered by this little entertainment-news program!
I will be adding this clip to my mental shrine of appreciation for Angus Cloud. Other sacred relics include his saying his favorite rom-com is Shrek, talking about the time he ate Hot Cheetos while sitting front row at New York Fashion Week, and this picture of him holding a pineapple.