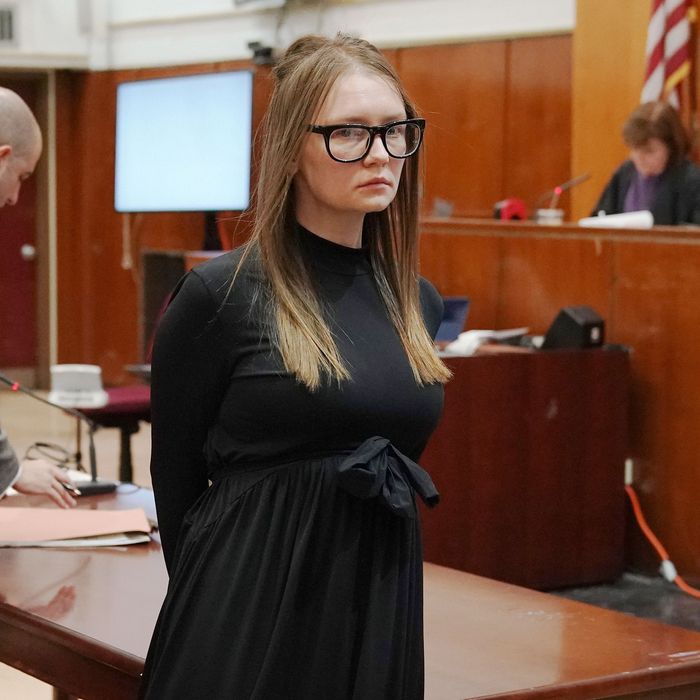 Photo: TIMOTHY A. CLARY/AFP via Getty Images
After initial reports that New York City's favorite grifter, Anna Delvey — née Sorokin — was deported to Germany on Monday, her attorney says that she is still in ICE detention while she fights her case.
After years of scamming New York City's elite banks, hotels, and jet setters out of hundreds of thousands of dollars, Delvey was arrested in 2017 and eventually convicted on several charges, including grand larceny and theft of services. She spent just under four years in prison, paying off her debts largely with the funds Netflix paid her to adapt New York's feature about her life into the show Inventing Anna. She was released on good behavior in February 2021, only to be seized by U.S. Immigration and Customs Enforcement six weeks later for overstaying her visa (originally from Russia, Delvey's family moved to Germany when she was a teenager). Since then, she's been held at Orange County Correctional Facility, an ICE detention center in Goshen, New York. In an essay written from custody earlier this year, she painted a grim portrait of her confinement, which she described as a "criminal-insane-asylum setting."
Despite reports that she'd been released from ICE custody and put on a flight to Frankfurt, Delvey's attorney Manny Arora clarified on Tuesday that she has filed an appeal to delay her deportation and is still in detention in New York. We've reached out to her attorneys for comment and will update when we hear back.