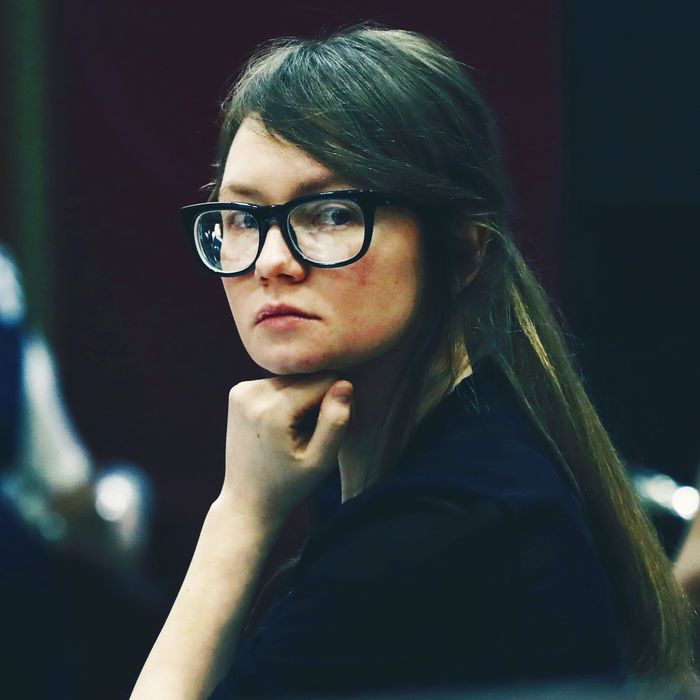 Photo: Richard Drew/AP/Shutterstock
Anna Sorokin, better known as the fake German heiress Anna Delvey, has been busy in the past couple months. She's had a resurgence of attention since the release of Inventing Anna, Netflix's miniseries inspired by the New York article about Sorokin's schemes. She's done multiple podcasts. She's had beef on Instagram. She's also currently being detained by immigration officials. (She was released from prison in February 2021 after serving her four-year sentence for fraud-related crimes. However, she was taken back into custody about six weeks later for overstaying her visa.) Now, she's reentering the art world.
Last week, a group art show called "Free Anna Delvey" debuted in a gallery in Manhattan. The show includes pieces from 33 artists, each work inspired by Sorokin. More notably, on display are five drawings by Sorokin herself. Sort of.
The five 22-by-30-inch pieces are re-creations of pencil drawings Sorokin made while incarcerated. Sorokin was unable to get the right size paper for the show in the detention center, so instead of Anna originals, the drawings were reproduced by Alfredo Martinez, an artist who served time in prison for his forged Jean-Michel Basquiat drawings. The two apparently connected after Martinez reached out to Sorokin via a "Page Six" article.
Martinez initially saw Sorokin's sketches on Instagram; her friends posted them for her while she was incarcerated. The drawings often feature Sorokin herself, on the phone or reading a book, wearing designer clothes. (You can tell because the drawings are labeled with arrows and notes that say "Tom Ford" and "Alexander Wang.") One picture features Sorokin reading Sally Rooney's Normal People. Another shows Sorokin on a sheet of ice — or rather, ICE. My personal favorite is a sketch of Sorokin talking to someone on the prison messaging system and saying, "Send bitcoin."
The "Free Anna Delvey" show runs until March 27, and each of Sorokin's re-created pieces are priced at $10,000. (As the New York Times noted, 15 percent of one piece's proceeds will be donated to a children's charity, though it doesn't specify which charity.) However, you can still see most of Sorokin's art on her Instagram.
It appears this is just the beginning for Anna Delvey, the artist. As "Page Six" recently revealed, she's currently working on a solo show. Unlike the group show, "the solo show will be more guest-list focused with a celebrity clientele," said Chris Martine, who is handling Sorokin's art sales. In other words, yes, it will be VIP.